3 Ways to effectively communicate survey results with remote teams
Your survey closes, now what? Well, conducting pulse surveys is only half the work. The real work starts when your survey closes and you begin working through the results, addressing areas of weakness and making the necessary changes to build a better culture… and thrive!
But how do you communicate your survey results and begin your transformation when your team are geographically dispersed? How do you get everyone on the same page, communicate thoroughly and implement the changes in alignment with the survey results without you being physically with your team, and them with one another.
Communication is such an important piece to the puzzle. It's the single most important way to take action and ensure the surveying process works for you. Here are some interesting statistics about communication and the importance it holds for employees:
Companies and organizations that communicate effectively are 4.5x more likely to retain the best employees.
33% of employees said a lack of open, honest communication has the most negative impact on employee morale.
Businesses with effective communication are 50% more likely to have lower employee turnover.
27% of employees who plan to leave within the first year cite feeling "disconnected" to the organization.
Source: Bit.AI
The most proper, or 'ideal way' of communicating has always been in-person. One can build a better rapport this way, energy and tone is plays a huge part in the delivery of the message, it's quicker than relying on technologies that can often be unreliable, and there's something to be said for being in the right environment when giving and receiving important professional information. Slouched on the couch or sitting at a makeshift home desk with barking dogs or crying babies in the background just doesn't provide the right ambience to receive information and feel inspired to act on it.
So with that being said, we're sharing three ways to effectively communicate survey results with remote teams:
Use technology wisely and creatively 
If you want to make an impact on your people and ensure they absorb these results and the steps that follow, a long drawn out lecture just won't cut it. Instead, prepare a presentation – something visually stimulating that takes your team 'behind the scenes' of how the surveys are conducted. Perhaps share shots of the survey platform and how it reads and presents results, this is what it means to be transparent, which employees truly value. Then present the findings and be honest about them. Poor results in some areas is not something to be ashamed of; the whole purpose of this exercise is to show your people that you take accountability and are committed to improving (with their help). Which is why you should go on to share the suggestions you have to improve the results. Showing that this wasn't just a data acquisition exercise but an action plan for a better future is the way to get buy-in from your people and inspire change.
Set up a virtual 'conference' 
Sharing your presentation virtually is pretty much one of the only ways – if not the only way – to communicate survey results with your team remotely. But it's how you position it that makes all the difference. Setting it up as a virtual conference as opposed to a team meeting or team catchup will demonstrate its importance. You may even want to create some hype around it in the weeks prior and urge your people to be prepared (i.e. dressed for the occasion).
Maintain regular catchups 
Employees value transparency and communication and no matter what stage you're at (even post-survey), they want and need regular communication, their questions answered and/or their suggestions considered. Employees may have great suggestions they'd like to share for ways to improve what came out as 'problematic' in the survey. They may ave questions, like, what will change? What is needed from me to meet objectives post-survey? Or, how close are we as a team to improving areas of weakness? Regular catch ups are important for line managers to keep their people on the right path towards success and to remind and inspire their people to keep working towards the goals. While, for employees, it upholds the communication and transparency they need and value, while keeping them informed and aligned.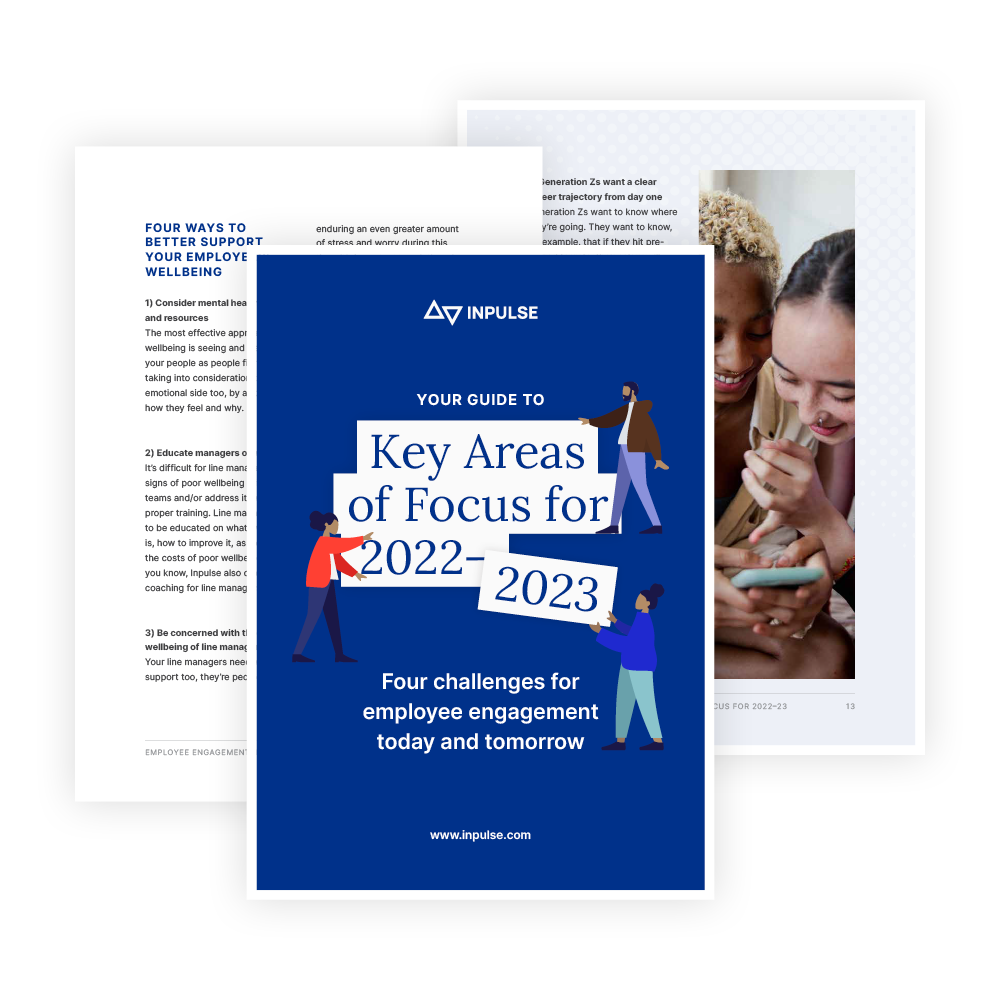 Discover Four Key Areas of Focus for Engagement in 2022–23