Full Feature List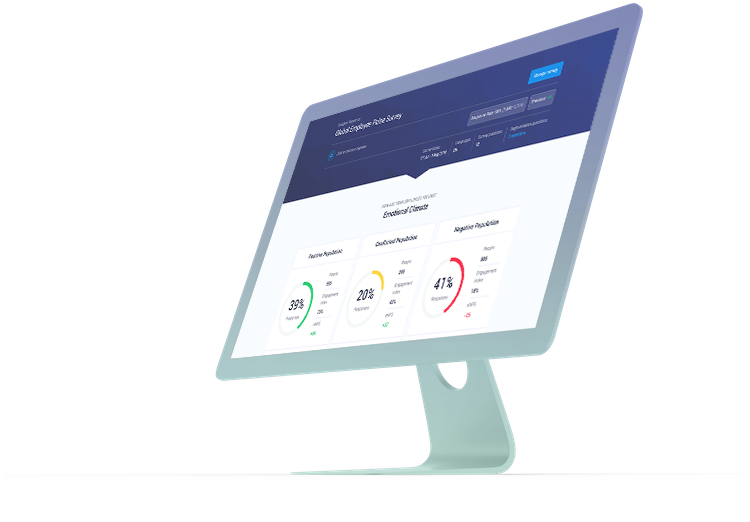 Survey Creation
All Your Survey Needs In One
Forget using multiple employee engagement online tools – with Inpulse you can create multiple different types of surveys.
Create Unlimited Surveys
However many surveys your company needs, the Inpulse software allows for an unlimited amount of surveys to be created and used.
Easy for your Employees and Managers
Inpulse surveys work across all your devices using its employee engagement online tools, meaning that hardware is not an issue.
Create Surveys in Multiple Languages
Inpulse supports more than 20 languages across the platform.
Universal Accessibility
Create a survey from any device, in language, anywhere in the world.
Trusted and Secure
Industry-leading data protection and security with high-level SSL encryption.
Create Survey Templates
Re-use previous surveys or create a new template for future surveys.
Multi-level User Management
Customise which users you want access to the survey results and administrator dashboards.
Enterprise Ready
Whether your company has a 100 employees or 50,0000 – the Inpulse servers are built for scale, allowing them to handle tens of thousands of employee surveys and millions of data points with ease.
Experts to Help You Ask the Right Questions
Inpulse's survey templates combine industry leading questions with our expert input to surveys on a variety of topics from engagement to tracking change to employee experience.
Survey Insights and Reporting
All Your Survey Needs In One
Forget using multiple employee engagement online tools – with Inpulse you can create multiple different types of surveys.
Bespoke Benchmarking
Benchmark engagement & performance within and across your organisation by using Inpulse's employee engagement diagnostic tools.
Engagement Heatmaps
We create a full heatmap across your company showing the themes and sentiment analysis for deeper more accurate and insights into why your employees are engaged or disengaged.
Advanced Segmentation
Rich data segmentation gives you the ability to isolate and analyze specific subsets of your surveys – giving you the ability to make informed decisions at a local level.
Real-time Results
See your results appear in real-time, with clear visualisations of the results that are accessible to all respondents once they have completed the survey.
Comparison Across Surveys
Compare full surveys, segments and/or populations across different surveys.
Track Engagement
Track how engagement changes over time across multiple surveys.
Visualise Your Results
Create a visualisation based on the aggregate results of multiple surveys.
Customised Manager Dashboard
Empower your managers to take action immediately by choosing what metrics to show on the dashboard.
Create Trust with Transparent Results
We make sure everyone has access to the results instantly so you can focus on taking action, having a conversation in the moment, and improving the employee experience. All of this builds trust and widens ownership of actions.
Powerful Analytics
Instant access to rich at-a-glance data. Inpulse's reporting feature allows you to benchmark and compare segments.
Survey Action and Partnership
Dedicated Partnership Manager
Your dedicated Customer Success Team will have all the employee engagement tools and techniques, templates and project management experience you'll need to help you take the right action.
Create Unlimited Reports
However many surveys your company needs, the Inpulse software allows for an unlimited amount of reports to be created and used.
PowerPoint Downloads
Instantly present the results to key stakeholders using a customized PowerPoint presentation.
Spreadsheet Downloads
Have full control on your results with Excel spreadsheet downloads.
Discover Your Engagement Index Report
Your team can review employee engagement feedback periodically, to ensure you're creating a better employee experience over time.
Identify Key Themes with Text Analysis
Thematic & Semantic themes from employee comments are identified using the platform's bespoke machine algorithm, saving you time scrolling through hundreds and thousands of comments and providing you with focused action points to discuss in your conversation.
Assign and Track Clear Actions for Management
Segmentation of results allows for conversations and actions to take place at a local level. Managers are given a step-by-step guide for how to follow up on the results, have a conversation with their team, and drive actions to follow up.
Management Workshops
Inpulse line manager activation workshop equips leaders to have meaningful conversations that make an impact.
Discover the powerful features of the Inpulse platform with a personalised demo.

Book a time today.