Free Guides
Use our guides to find out how to choose the right people success platform, how to create an employee engagement survey and why your approach to diversity and inclusion makes a difference.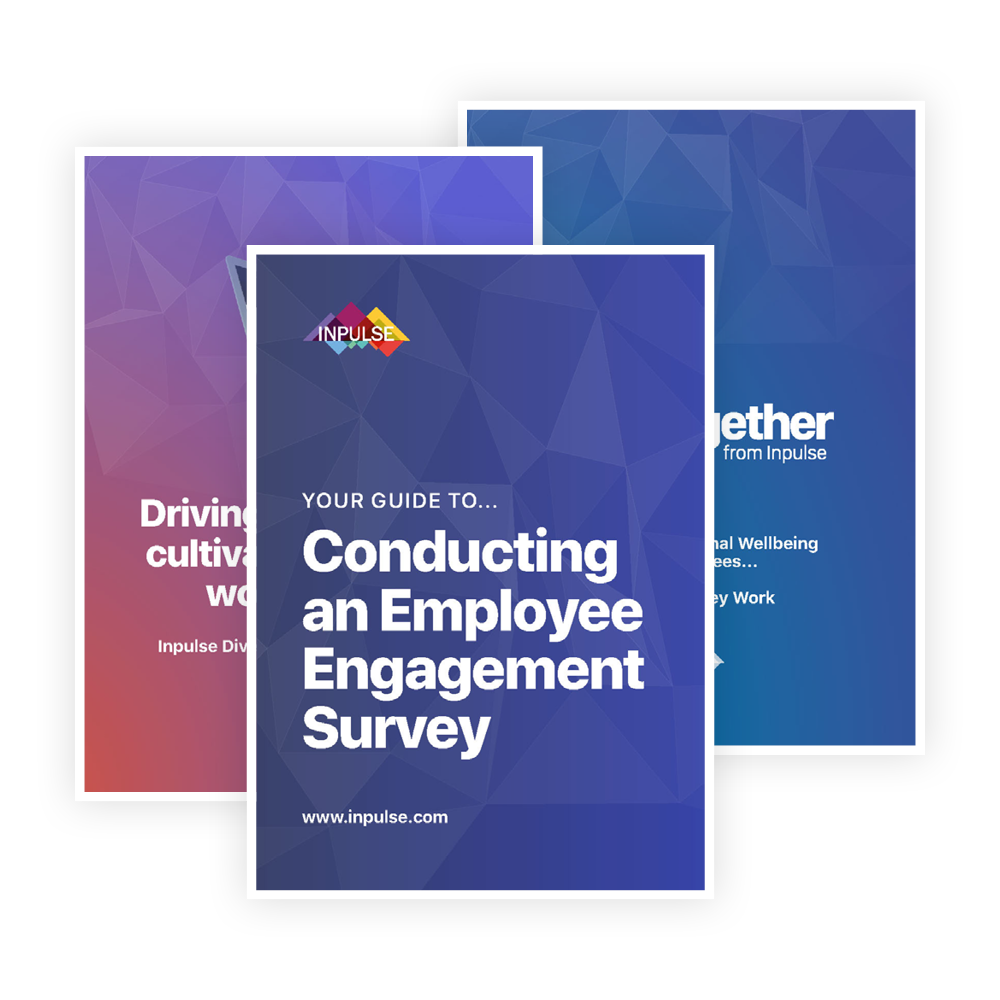 Free Guide: Key Areas of Focus for 2022–2023
There's a lot to think about in the world of employee engagement, especially after the last two years.
This guide covers the areas we believe are most important over the coming months. It also includes a host of data and our expert tips for achieving success in:
Retention
Wellbeing
Diversity, equality and inclusion
Hiring and engaging Generation Z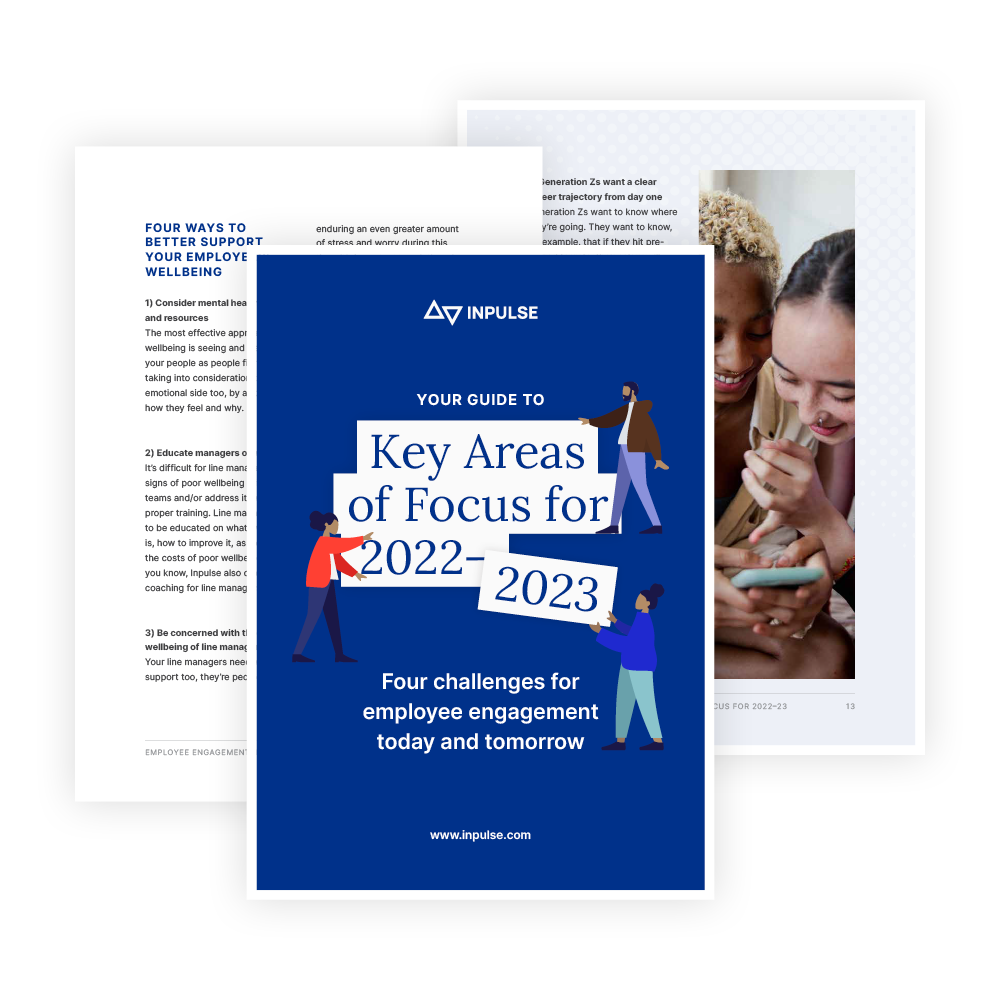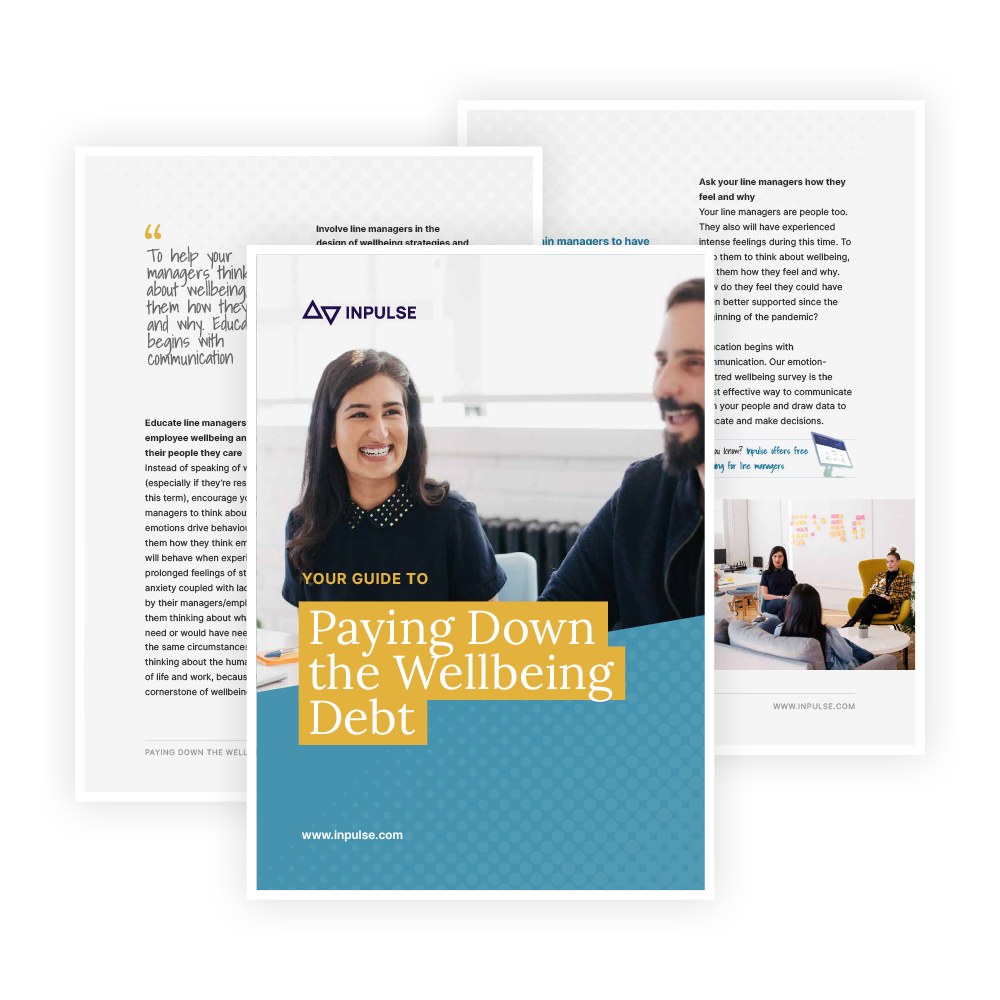 Free Guide: Paying Down the Wellbeing Debt
Understand the 'wellbeing debt' and find out how you can address it with your people.
This guide will explore:
Why there's a huge wellbeing debt and the impact it'll have for organisations this year
How paying down this debt will lead to more engagement, more productivity and higher retention
Practical steps to pay down the wellbeing debt
Feeling cared for has changed its meaning. How can we show employees we care?
How we can move from transactional to more transformational activities and conversations.
and more.
Free Guide: Engaging Generation Z in the Workplace
Establish a well-balanced, diverse company culture and gain an upper hand in the recruitment and retention of diverse talent in a competitive market.
Our free guide answers these questions:
Who are generation Z and what characteristics do they possess?
Do their characteristics influence the way they choose an employer, engage, collaborate and communicate?
If so, how?
What are they good at, what motivates them, what's important to them?
How can we attract and retain generation Zs in our organisation?
How can I give generation Z a voice and meet their needs?
How do I establish harmony between generations with different views, opinions and working needs?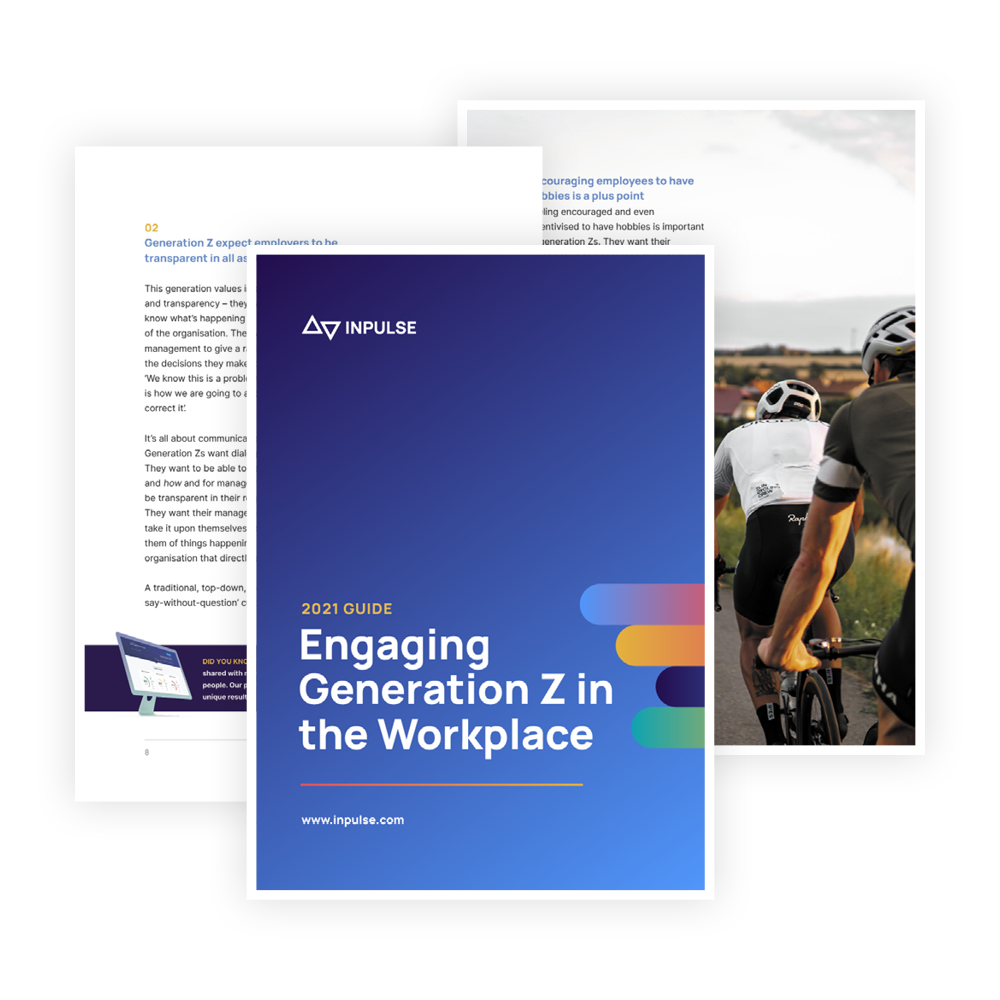 Free Guide: Retention – How To Keep Good People
The world of work has moved from the Information Age to the Social Age. Now, more and more people come to work for belonging, connection and purpose.
In this free guide, discover:
The changing nature of recruiting and retaining the skills and talent you need
The growing importance of understanding and connecting with individuals
The power of engagement in driving retention and how to maximise its impact
and more.
Free Guide: 2021 Employee Engagement Industry Trends
For the last couple of years, there's been a gradual shift in the way leaders engage and lead their people.
In our free guide, discover:
How to take an empathetic approach to engagement
How to develop a people-first culture
How to harness Artificial Intelligence and Machine Learning
How to release employees as brand ambassadors
and more.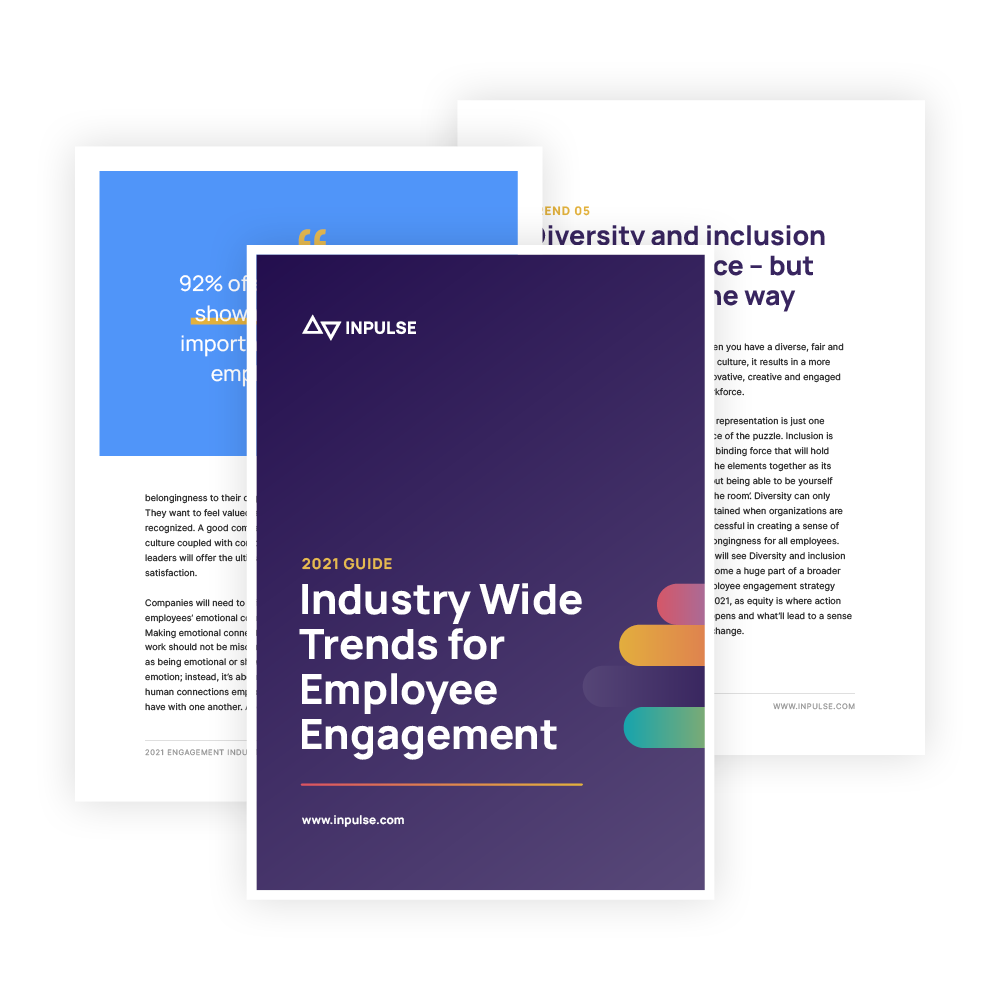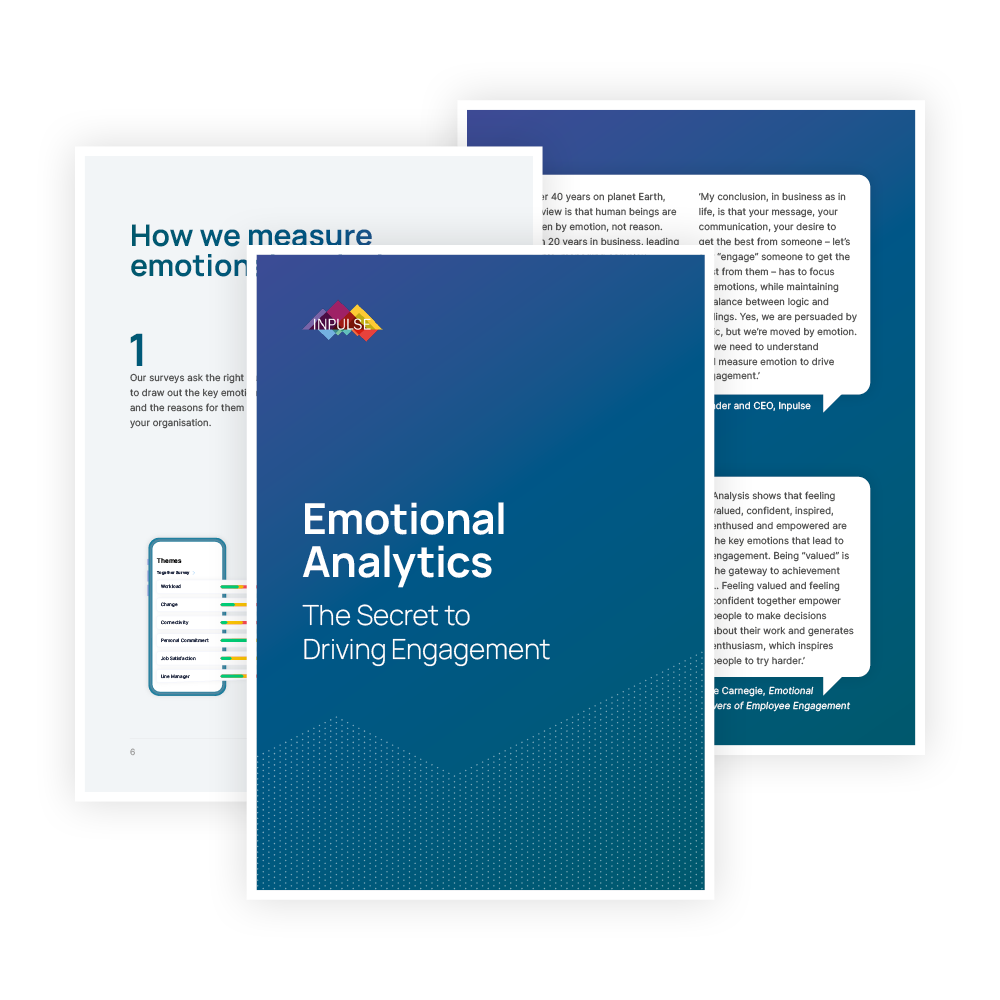 Free Guide: Conducting an Employee Engagement Survey
Discover how Emotional Analytics can answer:
How do employees actually feel about working for our company and why?
How do teams feel about their line managers?
What do employees feel about the recent changes in the organisation?
What do employees feel about management's approach to their wellbeing?
Free Guide: Diversity & Inclusion Surveys
Learn how to address and improve diversity and inclusion within your organisation.
Go beyond representation of minority group employees, and penetrate six key areas, for the improvement of D&I, including culture, organisational structure, leadership, belonging, opportunity and trust.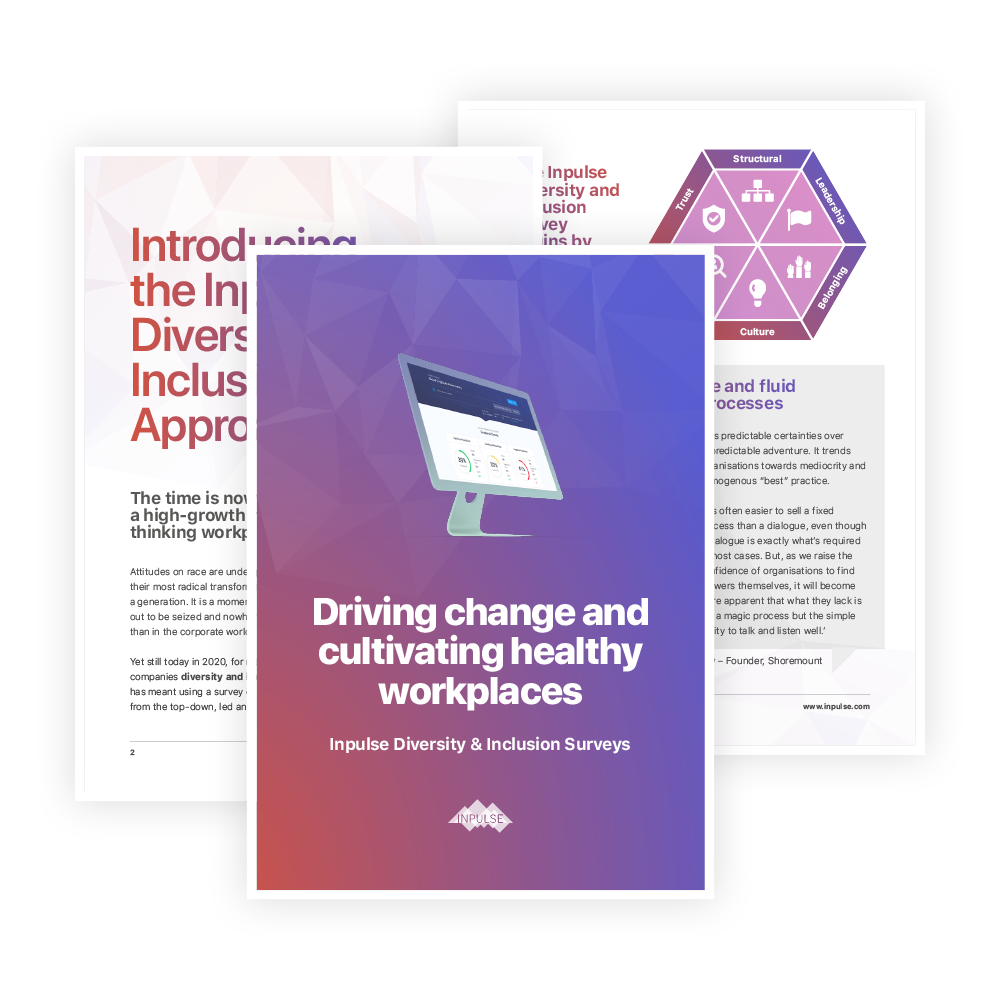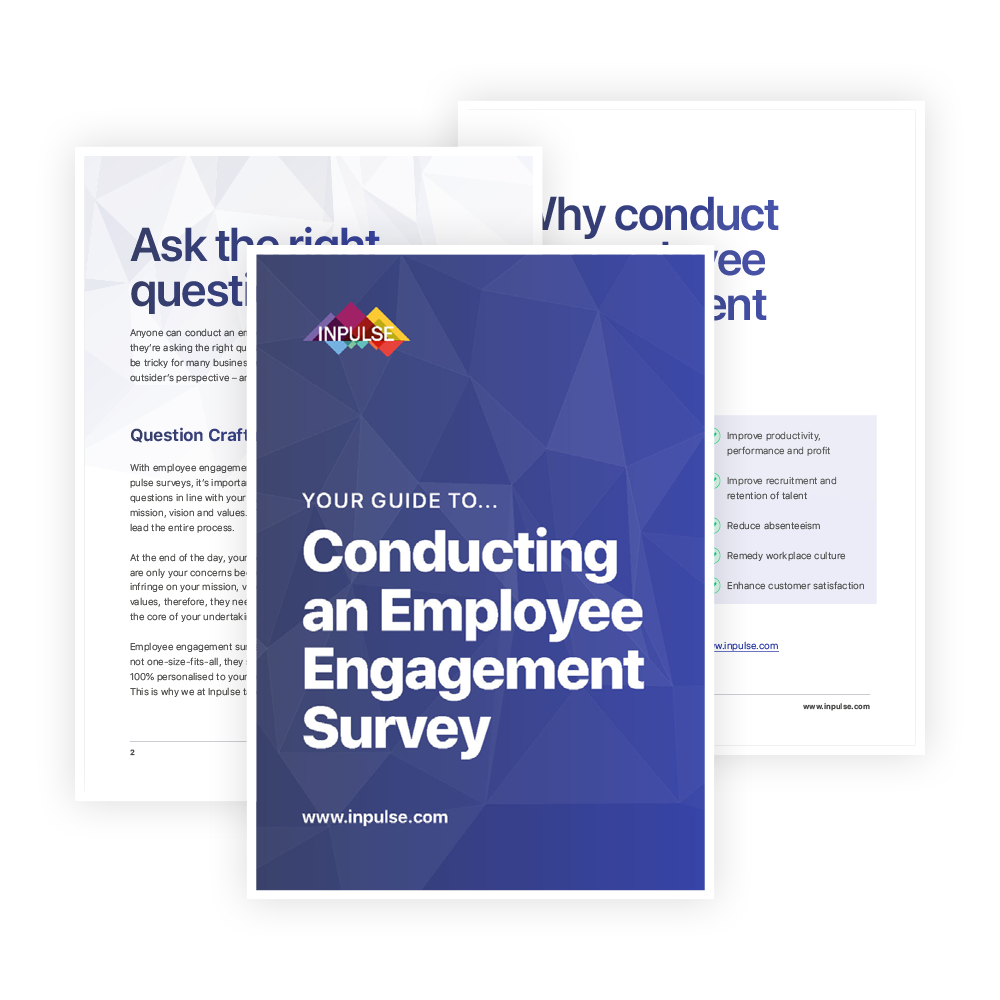 Free Guide: Conducting an Employee Engagement Survey
Learn how to conduct an employee engagement survey.
Learn to extract the most valuable data about your people, for the purpose of improving productivity, performance and profit, improving recruitment and retention of talent and more.
Discover how best to implement change with the support and commitment of your people, and how to save time, costs and avoid error.
Free Guide: How to Choose the Right People Success Platform
Mapped out an employee engagement strategy and now looking to take the next step?
Start by exploring engagement platforms best suited to your business. In the guide you will learn why it's important for an engagement platform to align to your needs, goals and vision, learn what to look out for to ensure sure you're at the cutting edge of engagement (tech, support and more) and discover the four most important factors to consider before choosing an engagement platform.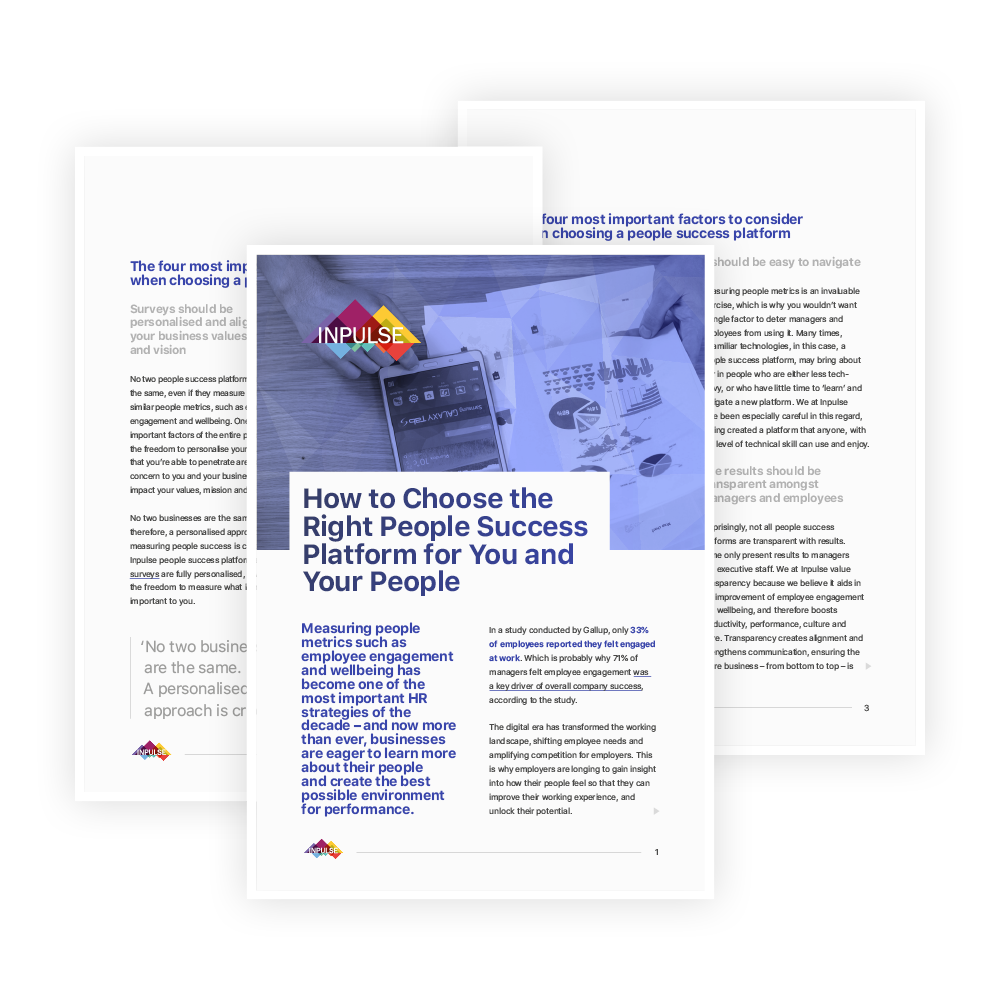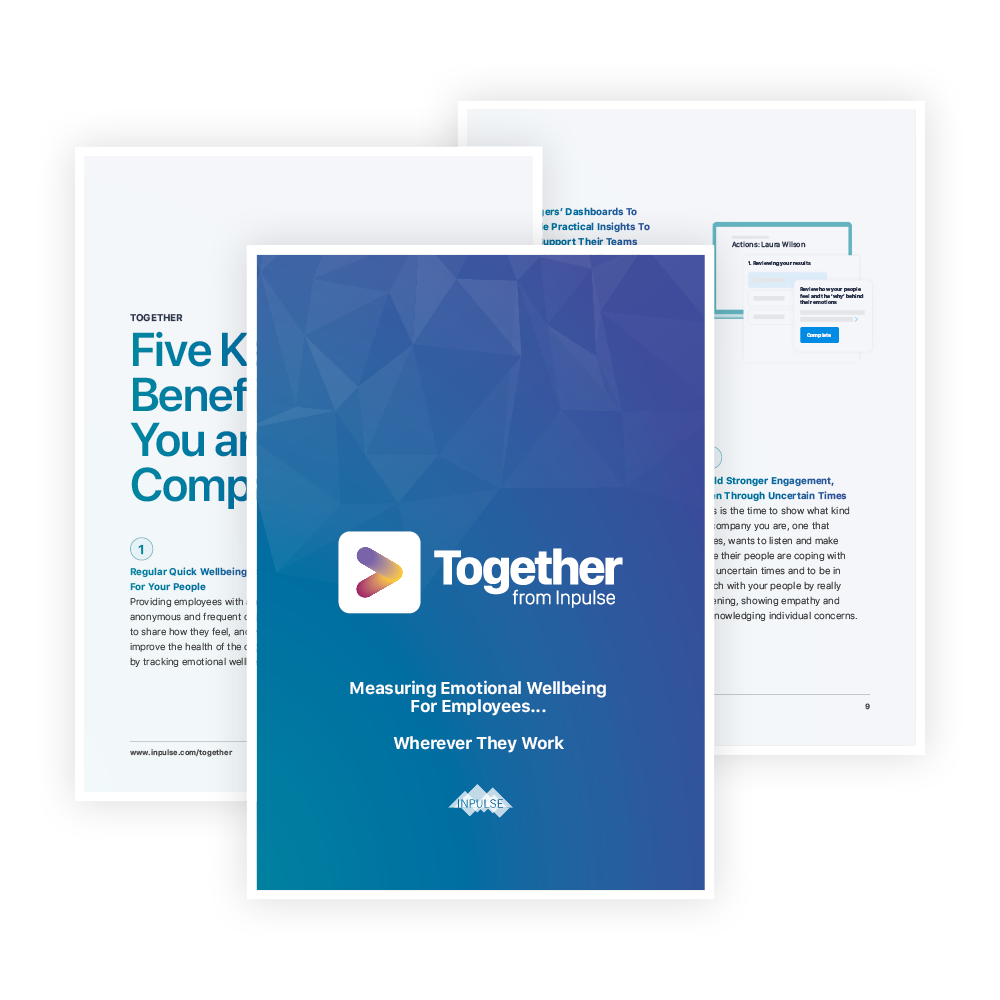 Free Guide: Measuring Emotional Wellbeing for Employees
Discover the wellbeing framework – the seven areas critical to improved engagement and wellbeing and uncover the science behind measuring engagement and wellbeing.
Learn to extract the most valuable data about your people, for the purpose of reducing absenteeism, remedying workplace culture and enhancing customer satisfaction.
Free Guide: Leading Your Company Through Change
Discover the psychology of change from a business and people perspective, the 'Head Heart Hands' model and Bridges Transition Model of transformational leadership and Inpulse's six step approach to managing change and transformation in the most effective and efficient way.
Walk away with tangible insights and actions that can be immediately implemented, and which we guarantee you'll see positive results from.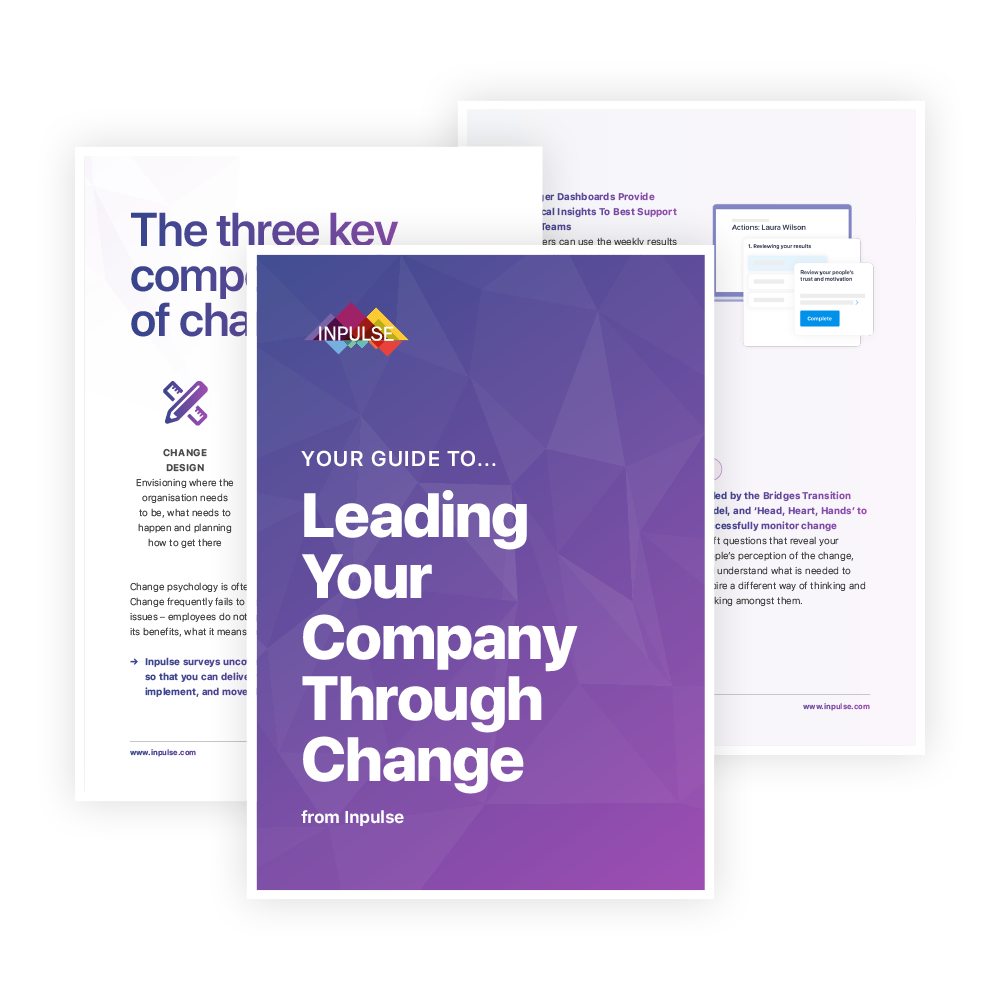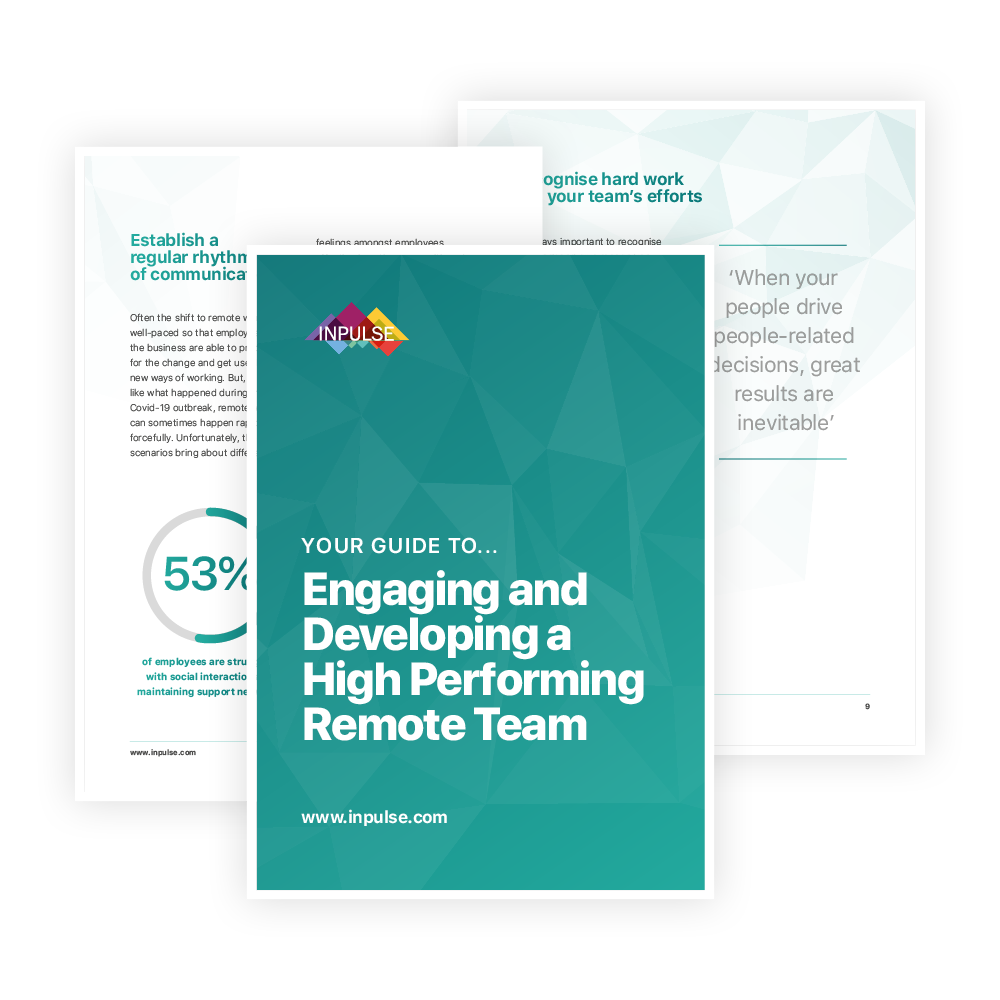 Free Guide: Engaging and Developing a High Performing Remote Team
Most managers lack the skills to manage a remote team, never mind engage and develop a high-performing remote team.
Effective remote leadership demands a change in management and communication style which most managers have never had to learn, nor exercise – until now.
Discover comprehensive tips and techniques for managing, engaging and developing high performing remote teams created in collaboration with our founder, Matt Stephens, and learn how to lead charismatically from afar, and improve employee engagement, productivity, performance and team culture and morale.