What are Emotional Analytics?
Emotional analytics show

how your people feel and why

and no other engagement tool can provide these powerful insights.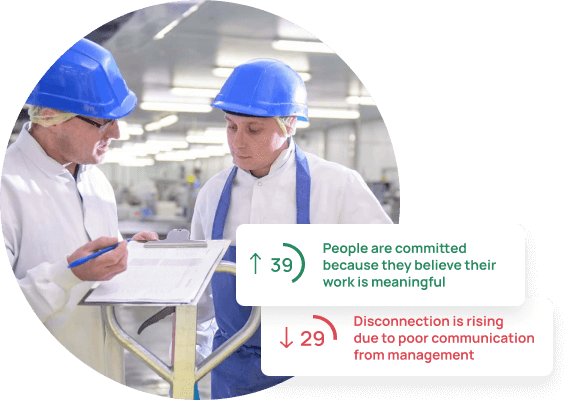 CHANGING THE CONVERSATION ON EMOTIONS
Emotions are the source, not the symptom, of the behaviours in our businesses. How we feel drives what we do and how we perform.
We can tell you that 54% of your workforce are feeling irritated, and the reasons why. These insights are truly transformative and can help you massively improve your employee experience and engagement.
Our Approach To Emotional Analytics
1. Survey Design
Our surveys are professionally created to ask the right questions to draw out the key emotional drivers at work in your organisation.
2. AI Results Analysis
Our AI-driven platform thoroughly analyses your results and categorizes responses into key themes. The platform accurately interprets free text responses and groups them into themes, giving you top level insight immediately.
3. Implementation Support
Our platform can show the dominant emotions at work in your organisation, our team can help you develop and deliver a strategy to positive influence those emotions and improve engagement, performance, wellbeing and retention across your business.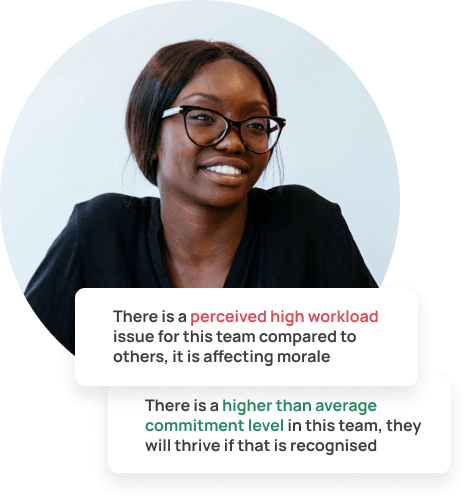 How We Use Emotional Analytics
---
Emotional Wellbeing
Many companies have rapidly shifted to remote and agile working. This change of working patterns is having a profound impact on the psychological wellbeing of employees. Our leading wellbeing surveys provide your employees with short regular check-in surveys, giving your leaders insights on employee emotional wellbeing and early warning alerts to spot issues of emotional distress like isolation, fear and anxiety which all have a huge impact on productivity.
---
Engagement Index
We base our core employee surveys around the psychological outcome Employee Engagement (EE). EE type metrics have been consistently linked to important behavioural and business outcomes such as profit, customer satisfaction and employee retention rates.
---
E-Sight
Our flexible employee feedback platform fits your organisation's needs with specific insights on your vision, purpose, culture and current context. We call this E-sight because of the extra insight you gain.
---
ENPS
Your company might already use the NPS (Net Promoter Score) to assess customer advocacy and loyalty. Therefore we offer the same tool to measure employee advocacy, allowing you to compare the two metrics.
WITH EMOTIONAL ANALYTICS INPULSE CAN SHOW YOU
---
How teams feel about their managers
---
How employees feel about recent changes in the organisation
---
How employees feel about management's approach to their wellbeing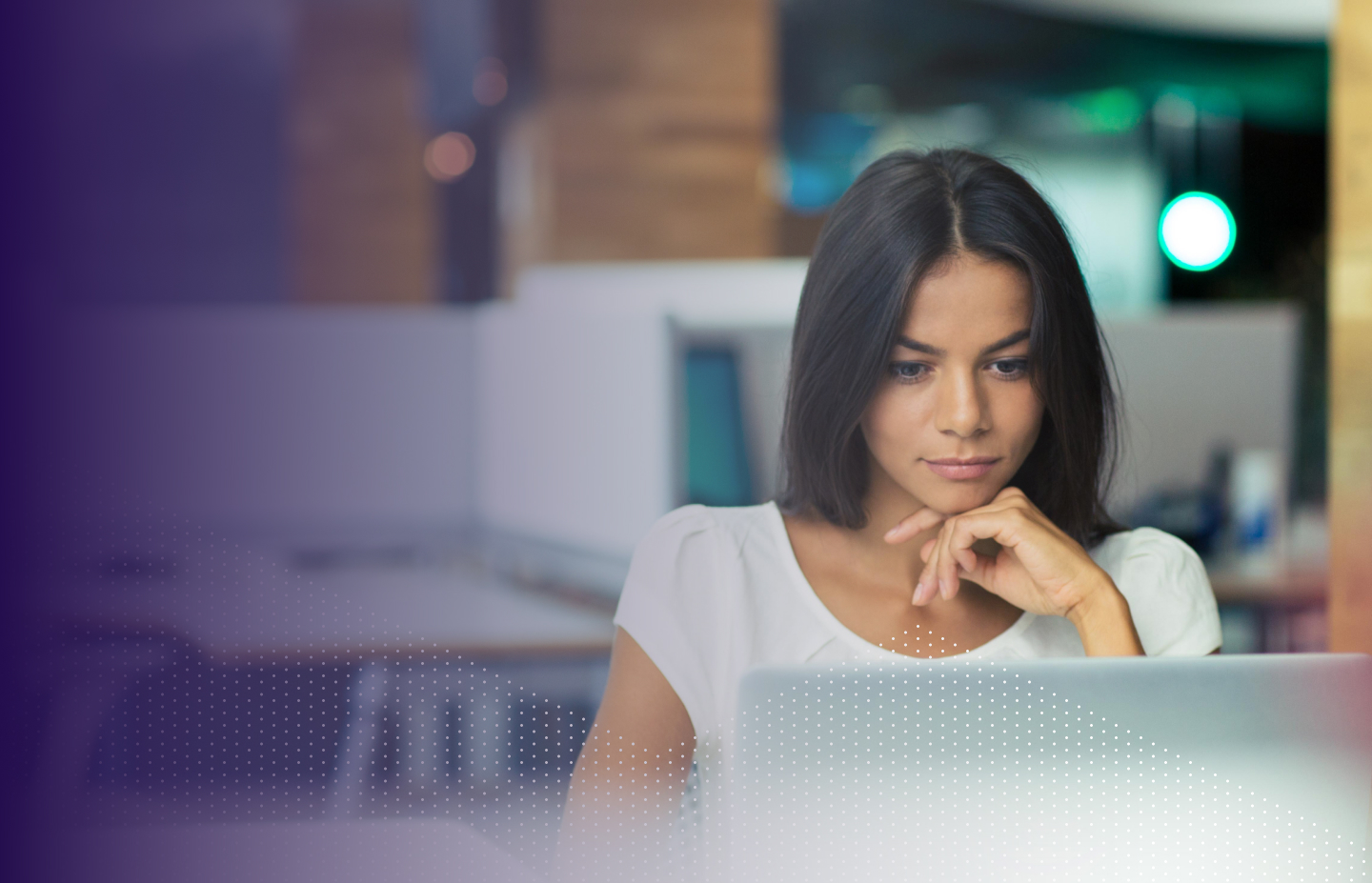 Let Inpulse help you use Emotional Analytics to grow your business
We can show you how teams and employees feel about managers, change and other key growth factors.
Our approach gives you high-level insights into your employees' feelings alongside action plans to improve the emotions and production within your organisation.
Frequently Asked Questions
How do I know if Emotional Analytics are right for my business?
How your people feel impacts everything, from employee engagement to employee experience. 58% of job performance is driven by how people feel. Emotional analytics is the key to company growth and sustainability.
What kind of insights can I get with Emotional Analytics?
Emotional analytics will show you which emotions are dominant in your workforce. You'll be able to filter your results by team, location and more, and compare emotional climate to previous surveys. Our emotional analysis will show you where to take action and how to improve problems like retention, low productivity and absenteeism.
Management does not want to ask employees how they feel
With our experience of over 1,000,000 survey responses, we can show you how important asking about emotions is for your employees. No other engagement platform offers emotional insights, but we know it's the key factor in improving employee engagement.
How quickly can I implement Emotional Analytics with Inpulse?