4 Remote Wellbeing Initiatives you can Start Immediately 
In a recent survey, one-fifth of employers reportedly feared that a greater decline in employee mental health would further impact business by stalling post-pandemic recovery and other areas of performance. 17% of the respondents said that poor employee mental health had already impacted the continuity of their business operations.
In the same survey, the greatest priorities for businesses entering the 'recovery' phase, was found to be:
Continuity plans (60%)

On-the-ground support for colleagues (59%), including mental health support (44%)
As businesses begin to rebuild and recover from the impacts of Covid-19, they're ever more conscious of possible threats to growth. Businesses are learning from the past, making predictions, and forming contingency plans around their recent historical findings and experience. 
Poor mental health caused by a change in lifestyle, working structures, finances, poor health and in some cases, death of loved ones is a serious struggle that's impacted society greatly. And for businesses, it's meant a decline in productivity, performance, profit, culture and more. For this reason, businesses are looking for ways to improve employee mental health and wellbeing, for the benefit of their people and the recovery of their business. 
Here are 4 remote wellbeing initiatives you can start immediately to ensure your people are in the best possible mindset to perform.
1. Implement weekly wellbeing seminars
PwC's wellness strategy includes weekly wellbeing seminars hosted remotely by Laya Healthcare. These seminars address subjects such as negative news/media, and ways to cope; to nutritional advice, mindfulness and fitness classes. 
One-to-one, confidential support with experts, including psychologists, parenting advisors and dieticians are also available to employees struggling to cope with the changes to their personal and professional lives. 
PwC's wellness strategy is centred around 4 key principles including mental, physical, emotional and spiritual health. "Our aim is to ensure our people feel supported and have an outlet to ensure they're keeping well while working remotely."
2. Encourage personal wellbeing activities
Employee wellbeing is not only your responsibility, it is the responsibility of the individual too. A business can only do so much – especially remotely. To stress the importance of maintaining personal wellbeing amongst your workforce, encourage your people to practise wellbeing activities at home. You can make this fun too, and have employees send pictures of their activities to a shared virtual 'wellbeing' group. It would certainly be a conversation starter, and will absolutely build team morale. 
Ideas for personal wellbeing activities may include: cooking, painting, exercising, playing football, picnicking at the park, reading a good book etc. Give it a try! 
3. Implement virtual 'happy hours'
Studies prove that mental health and wellbeing is known to decline at a faster rate amongst people who live alone, as well as those who are more extroverted and thrive on social interaction. Virtual happy hours a few days a week, or even just once a week, may help these employees to get the boost they need by virtually socialising with their colleagues. This will also assist in maintaining company culture and team morale – and very important – no work talk allowed!
In a time of doom and gloom, it helps to have some fun, so it may be an even better idea to kick the happy hours off with a quiz, karaoke, a talent competition or even a cook-off!
4. Drop a thoughtful message packed with tools and tips
Employees love to know that they're thought of and valued, and what better way to show you're thinking of them and support their wellbeing, than by dropping a message packed with tools and tips to help them through these trying times. You may want to include a list of helpful podcasts, books to read, hiking trails, helpline numbers, and a thoughtful, encouraging note from their manager wouldn't hurt either. 
P.S take a look at our recent Instagram post (@inpulseco) to find out what some of the Inpulse employees are doing to maintain their personal wellbeing!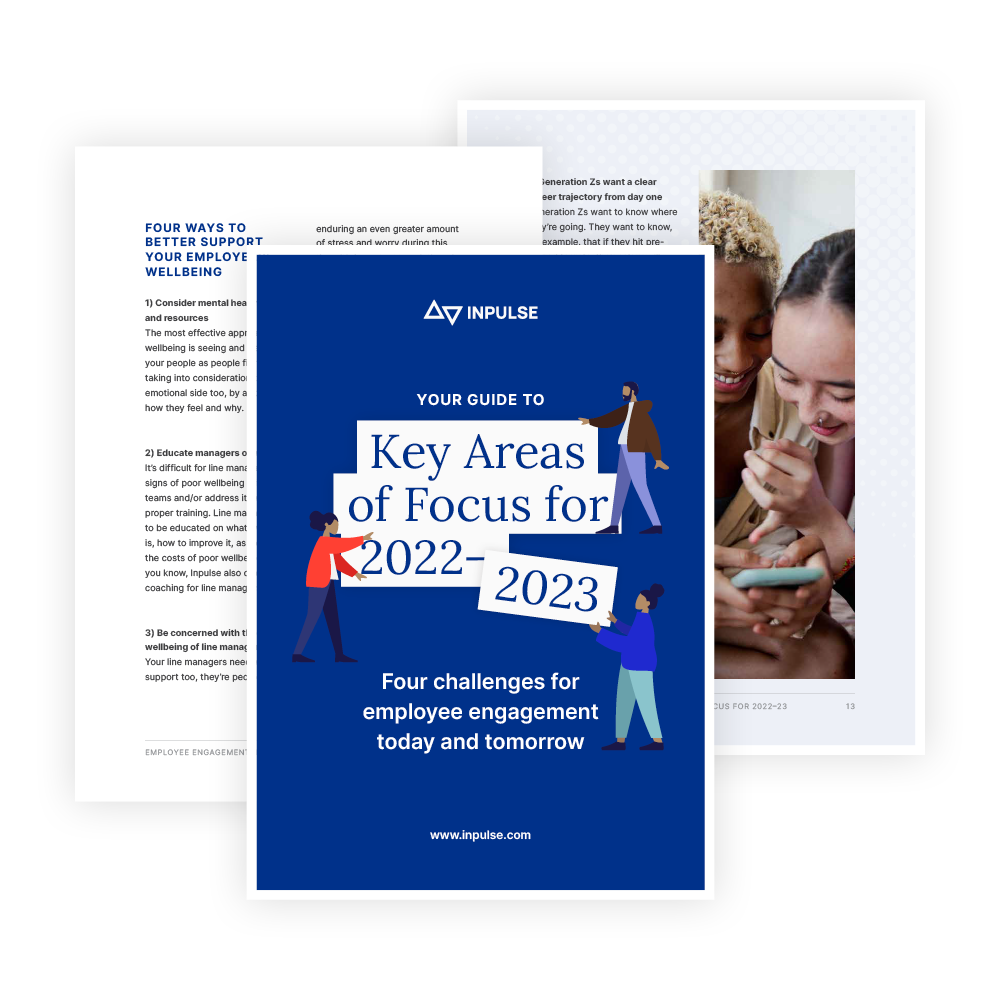 Discover Four Key Areas of Focus for Engagement in 2022–23