Lockdown in Winter – Expert Warns Working from Home Creates new Challenges for Employers and Employees
News release
Lockdown in winter – expert warns working from home creates new challenges for employers and employees
Shorter daylight hours and cold weather may impact employees' ability to physically exercise

Inpulse research shows 38% of all employees are struggling to live a physically healthy lifestyle

58% of employees feel they are self-aware, with 42% not self-aware. This has an impact on people's resilience – and how employers communicate with their staff

Young people living in house-shares particularly at risk
With daylight hours decreasing and lockdown increasing across the UK, employee engagement experts, Inpulse, are warning employers to communicate with their staff about the risks of not building physical and emotional resilience into their daily lives.
In a recent survey by Inpulse, 38% of employees said they are struggling with their physical health. The survey also showed that self-awareness and resilience is an issue for employees with 42% concerned about them. Being self-aware of strengths and limitations helps resilience and the ability to have empathy for others.
Indeed, Inpulse warns that younger employees living in shared properties are likely to be most hard hit by the winter challenges. Research by the London School of Economics and affordable housing developer Pocket Living found that young Londoners living in shared properties have on average 9.3 square metres of personal space to themselves during lockdown and 37 per cent of Londoners in house shares have been working and sleeping in their bedroom. Indeed, according to the Department of Work and Pensions, over 25% of private single renters are still sharing accommodation by the age of 35.   
Matt Stephens, CEO and founder of Inpulse, said: "Helping employees to be resilient emotionally and physically couldn't be more crucial as winter approaches and lockdowns increase.
"Not only are people more likely to feel the intensity of the pandemic as dark nights and clouds draw in, but more will simply find it difficult and less appealing to get the physical activity they need. Even a simple walk for fresh air and new perspective isn't so likely to happen in cold and wet weather. Younger people are particularly at risk, if you consider that many are working from bedrooms, in crowded, potentially overpriced homes that are shared with people they may not know well."
Research from Aon in its Rising Resilient report which surveyed employers and employees across Europe found that just 15% of employees are resilient within organisations that don't offer health and wellbeing initiatives, 29% are resilient if a partial health and wellbeing initiative is offered and 45% of employees are resilient if they work for an employer that offers a broad health and wellbeing programme.
Stephens added, "The danger to employees not getting employer support is that they can become burnt out, lose focus and ultimately struggle with productivity and undertaking their role.
"Employers can help by educating, facilitating and evaluating.
"They can educate employees about the importance of physical activity and impact it has on their mental or emotional wellbeing. They can also facilitate opportunities for their teams such as physical challenges of 10k steps a day, group virtual yoga classes, local walks or catching up with each other on calls while walking.
"It's important too, that employers evaluate the situation as every company will have unique pressures. By measuring their peoples' wellbeing and physical health through regular pulse surveys and team conversations they are one step closer to understanding the support their people may need.
"On top of this, employers who understand their peoples' self-awareness are able to discuss issues in relevant ways. For example, if someone has low self-awareness, they'll need softer and more empathetic communications, whereas those with high self-awareness can take stronger feedback and messages. Understanding this helps employers to communicate more precisely – and be heard."
For media enquiries contact: Kay Phelps, PRinHR:
Email: kay.phelps@PRinHR.co.uk +44 (0) 7710 043244
About Inpulse
Inpulse provides real-time emotion-driven employee insights that improve engagement to help increase the performance of a company. The Inpulse team provides support including analysis of data to provided unbiased perspective to decision-makers. T: +44 (0) 1582 818343; tellmemore@questagency.co.uk.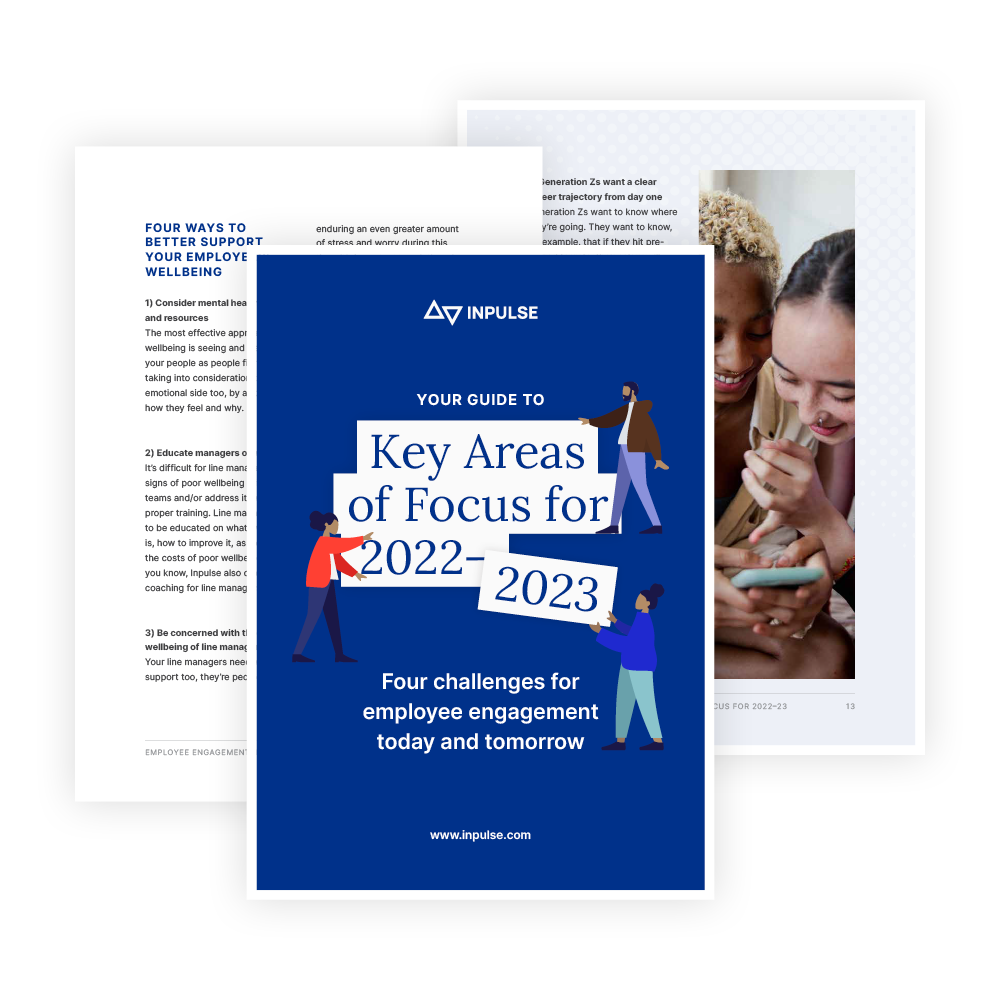 Discover Four Key Areas of Focus for Engagement in 2022–23