61% of employees feel anxious, distracted or stressed due to coronavirus, according to Inpulse survey
News Release
Employee engagement expert advises how HR can manage the impact of employee self-isolation, remote working and wellbeing
Tracking, measuring and helping employees feeling distress is possible with quick, check-in surveys
Mental health, Self, Purpose, Connection, Body, Financial and Mind are core elements to consider
With 61% of employees saying their most common feelings amidst the coronavirus pandemic are anxiety, stress or distraction, HR may well have their biggest challenge yet, according to Matt Stephens, author of The Engagement Revolution.
Stephens said:
"COVID-19 has meant that many companies have rapidly shifted to remote working, leaving HR with its biggest challenge yet – how to manage and maintain employees' mental and emotional health remotely through such uncertainty.
"This change of working patterns and self-isolation may make or break the trust employees have in the organisation and could have a profound impact on their psychological wellbeing, let alone productivity."
A recent survey from Stephens' employee insight business, Inpulse, showed that of the negative and positive emotions employees could choose, just seven percent selected 'focused' as a top emotion, while 'committed' only represented 14% of emotions chosen. Previously, 'committed' represented 21% of all emotions chosen in engagement surveys undertaken by Inpulse clients in 2020.
This shows a 7% decrease since the coronavirus pandemic. On top of this, 'anxious' represented 5%, 'stressed' was at 5%, and 'distracted' at less than 1%. These have now become dominant emotions, with 'anxious' being 28%, 'distracted' 22% and 'stressed' 11%. The survey question asked employees to pick no more than two of their most dominant feelings at work, choosing between committed, stressed, focused, valued, curious, anxious, distracted, indifferent and enthusiastic.
Stephens explained, "We hadn't seen levels of anxiety and stress like this in 'normal' times and it shows the impact COVID-19 is having on employees' wellbeing. We took a step back to reflect on how we can help employers protect both the health of employees and the business at this time.
Together provides employees with short weekly check in surveys
"We've made it possible for employers to pulse check employees' emotional wellbeing on a weekly basis to track, measure and help any that are feeling distress through these difficult days. Through a wellbeing framework, employers will be able to understand early warning alerts, spotting issues of emotional distress like isolation, fear, anxiety, workload and ultimately, loss of productivity wherever employees are based."
Inpulse Together measures 7 core elements for employees: Mental health, Self, Purpose, Connection, Body, Financial and Mind. These show employers whether employees are coping with the demands of daily living, self-awareness, motivation to achieve goals, supportive relationships, physical activity, financial security and the ability to recognise optimism or unhealthy thinking.
The Inpulse Survey had 120 responses and took place between 13th and 17th of March 2020.
End
For media enquiries contact: Kay Phelps, PRinHR: kay.phelps@PRinHR.co.uk +44 (0) 7710 043244
About Inpulse
Inpulse provides real-time emotion-driven employee insights that improve engagement to help increase the performance of a company. The Inpulse team provides support including analysis of data to provided unbiased perspective to decision-makers.
T: +44 (0) 7749 241843; tellmemore@questagency.co.uk.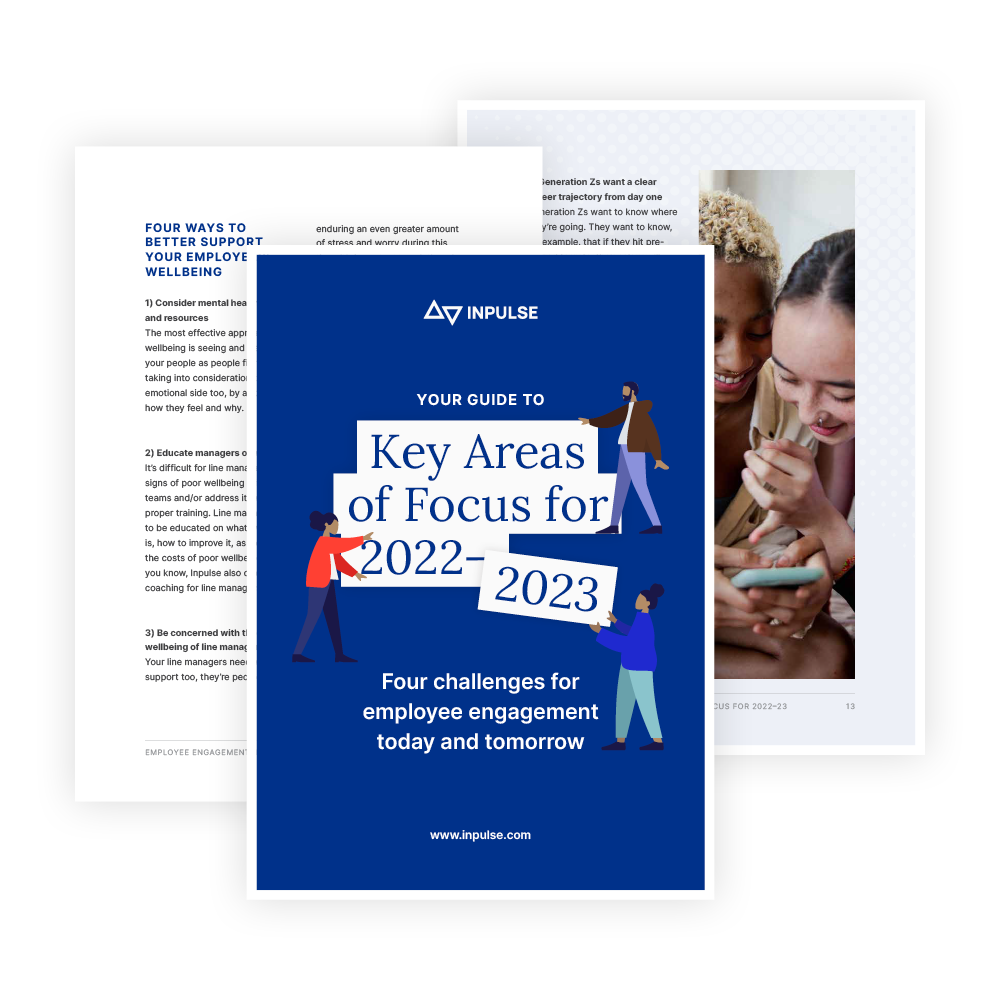 Discover Four Key Areas of Focus for Engagement in 2022–23