UK employee engagement firm engages employees by giving them 75% of its shares
News release
UK employee engagement firm engages employees by giving them 75% of its shares
Employee engagement experts, Inpulse, the firm that was able to measure that UK employee anxiety levels rose by 240% in the space of a year after the impact of COVID-19, is transferring 75% of its company shares to its employees. According to the founder of Inpulse, the move to an Employee Ownership Trust (EOT) empowers employees, clients and the business long-term.
Matt Stephens, Founder and CEO of Inpulse, explained, "Last year, after seeing how our employees dealt with all the changes brought about by the pandemic and how they rose to the challenge of helping clients through tough times made us consider ways of involving them more in the business. What better way to engage and reward our employees than offer them ownership of it at no cost to themselves."
"My conviction is to put the employee at the heart of the business and focus on clients' needs not shareholders'. The EOT was a perfect move to ensure our team is fully invested in Inpulse's future. We couldn't and wouldn't have done this without full trust and belief in each one of our team and this will only reinforce everyone's collective desire to support our clients." 
Inpulse supports employee engagement by helping clients measure and understand their employees' emotions – perhaps about wellbeing, diversity and inclusion, culture or change.
The announcement will have no material day to day impact on the company or Stephens' role as Founder/CEO.
He continued, "In effect, this is about making our business as successful as possible. We're providing the incentive for superlative performance, as well as supporting business mainstays of productivity and innovation. One of the biggest reasons we chose an EOT was because we are helping our team and because employee-owned companies tend to outperform others." 
Bertie Tonks, Chief People Officer at Collinson, added: "This is the sort of reason we love partnering with Inpulse. They don't just support engagement, they live it. Many companies choose venture capital or private equity funding, but Matt and the team live by their values. It's personal to each of them and is growing organically. I love it." 
According to the Employee Ownership Association, sales in employee-owned companies increased by 4.3% and operating profits increased by 5% in 2019. On top of this, the top 50 employee-owned companies realised 6.9% productivity growth. 
An Employee Ownership Trust transfers control of a business to employees, while having tax incentives for the shareholders. An EOT must pass control of at least 51% of a business to employees; after independent valuations, Inpulse's founders has passed 75% of the shares, via a Trust, to employees.
Stephens summarised: "We have complete independence to plan what's best for clients, plus this move helps us attract and retain our staff. I keep a shareholding, so I'm also fully invested, as well as able to look at new business opportunities." 
Ends For media enquiries contact: Kay Phelps, PRinHR, Email: kay.phelps@PRinHR.co.uk +44 (0) 7710 043244. About Inpulse Inpulse provides real-time emotion-driven employee insights that improve engagement to help increase the performance of a company. The Inpulse team provides support including analysis of data to provided unbiased perspective to decision-makers. T: +44 (0) 1582 818343; tellmemore@inpulse.co.uk.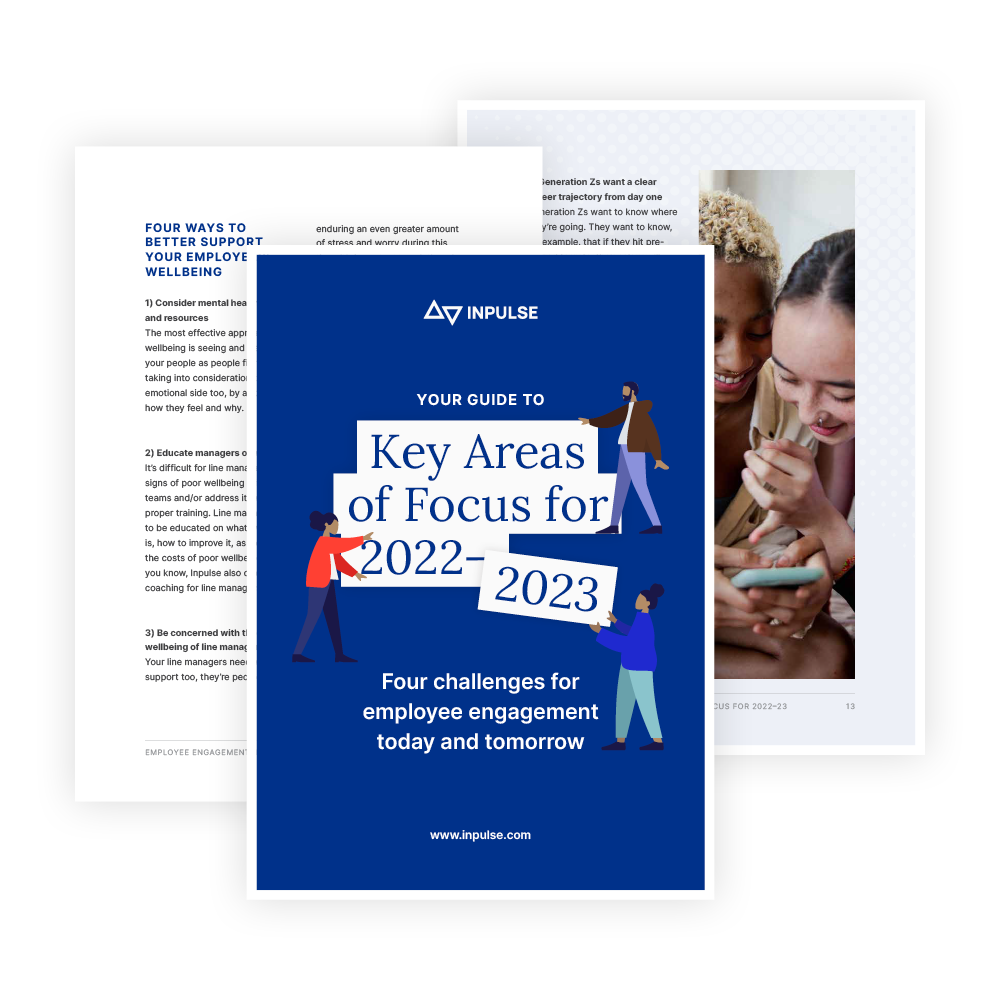 Discover Four Key Areas of Focus for Engagement in 2022–23