The great COVID divide – near equal national split on positive and negative employee emotions 
News release
Survey of over 2000 employees shows that 45% felt negative and 55% felt positive during April
The highest negative emotions of anxiety and stress show a 50% rise
Employees most likely to feel positive emotions of hopeful and committed
Physical and financial wellbeing score highly negatively
A survey of over 2000 employees shows that 45% feel negative emotions such as anxiety, stress and isolation, yet 55% feel positive, saying they feel hopeful, committed and valued, according to research from employee engagement and wellbeing survey experts, Inpulse.
The survey of 2364 employees across the UK showed that 55% of the respondents said they feel hopeful, committed, focused, motivated, happy and valued. Employees said they are focusing on giving their best to the company in this period, they have more time and space to learn new skills and they are enjoying the contribution they're making. The two highest positive emotions are hopeful and committed, showing at 14% and 12% respectively.
Conversely, 45% of workers feel anxious, stressed, isolated, bored, unappreciated and sad. They are feeling these negative emotions because of fears about job security, higher workload than before lockdown and general wellbeing. Their comments make reference to the pressures of parenting, teaching and working. The two highest negative emotions of anxiety and stress showed at 13% and 10% respectively, accounting for 30% of responses and a 50% rise in these emotions in the space of a month.
In particular:
Forty percent of respondents said they have had at least several days to everyday when they felt nervous, anxious or on edge.
Forty-five percent have had at least several days to everyday having little interest or pleasure in doing things.
Fifty percent have had at least several days to everyday not being able to stop or control worrying.
Sixty-eight percent have had at least several days to everyday of feeling down, depressed, or hopeless.
Matt Stephens, CEO of Inpulse and author of The Engagement Revolution, said: "The pandemic has not only isolated us, it's divided us – between those employees who are adjusting to our new circumstances and those who are finding it difficult to manage with very understandable concerns.
"The free text responses on the survey clearly show that those feeling stress and anxiety are focused on job losses, increased workload and, in particular, the challenges of parenting and working.
"Employees who feel positive, hopeful and valued tell us they're happy with the contribution they're making to their company, that they hope that lockdown will end soon and that they're growing through this time – quite a different focus."
"When it comes to supportive wellbeing programmes, companies must ensure they don't overwhelm employees with content but focus on information relevant to individuals' specific needs that can help support their resilience and help them manage their emotions and thoughts. How leaders respond to this modern-day crisis is also determining the welfare of their teams – they need to influence the ability of their people to keep going and stay motivated under very difficult circumstances."
The survey also clearly showed that two other high negative scores are undoubtedly driving negative emotions – financial and physical wellbeing. In response to the question 'I feel secure about my financial situation', 20% felt highly negative. While 19% were highly negative about the question 'At present, I lead a physically healthy lifestyle (a balance of a good diet, regular exercise and 7-8 hours sleep)'.
Over the month of April, Inpulse surveyed employees across UK clients gaining 2364 responses.
Ends–
For media enquiries contact: Kay Phelps, PRinHR: kay.phelps@PRinHR.co.uk +44 (0) 7710 043244
About Inpulse
Inpulse provides real-time emotion-driven employee insights that improve engagement and wellbeing to help increase the performance of a company. The Inpulse team provides support including analysis of data to provided unbiased perspective to decision-makers. T: +44 (0) 7749241843; tellmemore@questagency.co.uk.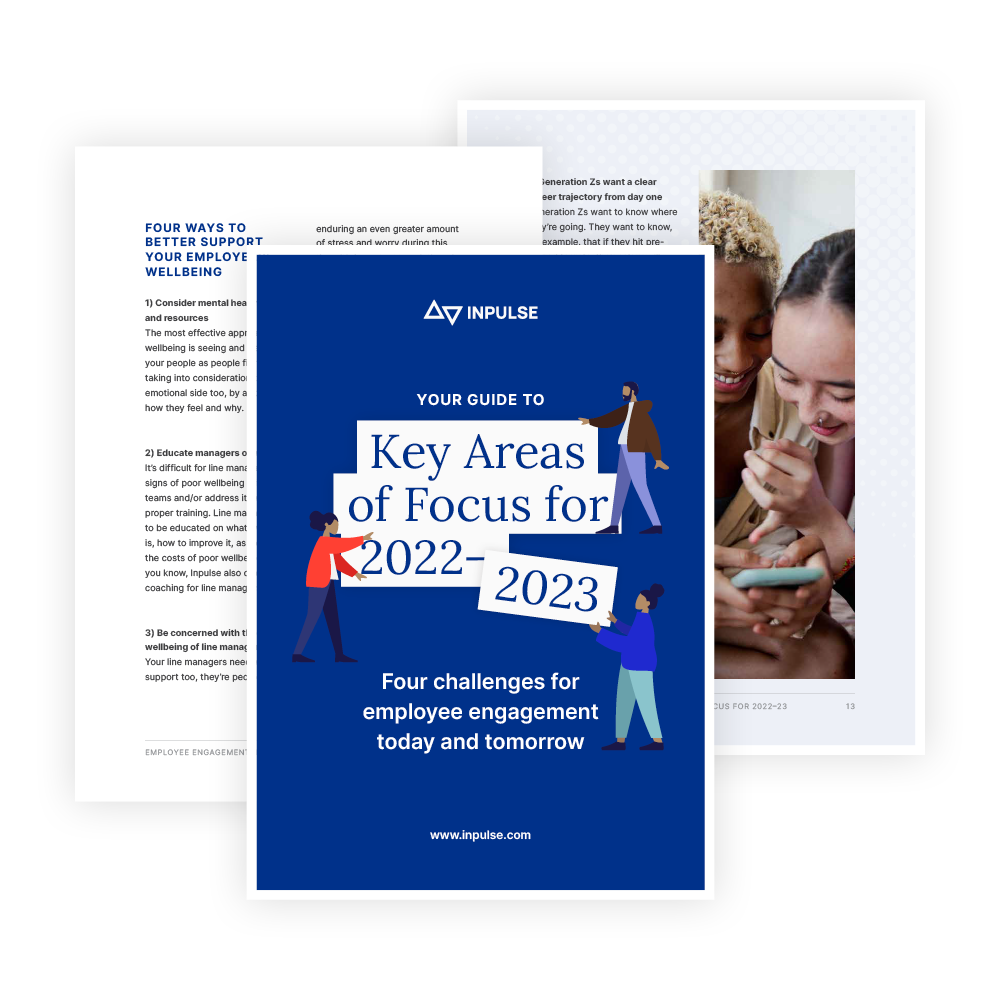 Discover Four Key Areas of Focus for Engagement in 2022–23