The Future Of HR Decision-Making Today…
You may have heard that 'People Analytics' is the hot topic in HR at the moment. However, in my experience, most companies are still trying to understand what this actually means. 
HR remains the lowest ranked user of metrics and analytics in the corporate world. Although I'm pleased to report this trend is now changing, you may recall Josh Bersin talking about the arrival of the 'geeks' in HR back in 2015.  
But the truth is People Analytics in HR is right at the beginning. CIPD CEO, Peter Cheese, identified People Analytics and HR data as key themes for HR, stating that the focus must be on "analytics, better numbers and being able to better measure what is really happening in organisations around human capital". 
Sounds pretty sensible, right? Which employers wouldn't want to understand a broad range of issues relating to their employees?  Think about how valuable it would be to obtain the information below, understand it and then use it to make decisions: 
Data relating to engagement – are your employees recommending you as a great place to work? Are they thinking about looking for a job at another company?

D

ata relating to

leadership – are your employees motivated by the way your leaders communicate the company vision or purpose? Do your people have confidence in their leaders?

Data relating to role – can your employees see how their work contributes to the goals of the company? Do they know what they need to do to be

successful

in their role?

 
 Obtaining this information on a regular basis and understanding the reasons 'why' behind the data can help you make the right decisions when it comes to leadership, communications, people strategies etc.  
 But be warned – without the right questions, data is worthless. Analytics must be understood in order to create a positive impact on a company and its people; from the way the data is collected, to when it is made available, to how it is used.  That's where Inpulse can help. With our flexible, real-time, transparent and fun surveys, which take seconds to fill in, you can obtain the information you need.  And with our experience and expertise in People Analytics we can help you formulate the right questions and analyse the results in order to support you in engaging and getting the most from your workforce. 
 When People Analytics is managed effectively, like through using Inpulse, the benefits are significant. A 2013 study carried out by the Harvard Business Review suggests that businesses which managed their workforce using People Analytics effectively improved company profit by up to 65%. 
At Inpulse we are hungry to keep innovating so we continue to be the UK's fastest growing platform through which to drive and measure People Analytics, such as engagement. 
HR cannot afford to ignore People Analytics – it's the future! So if you are interested in having your future today, ask for a free trial of Inpulse by clicking here.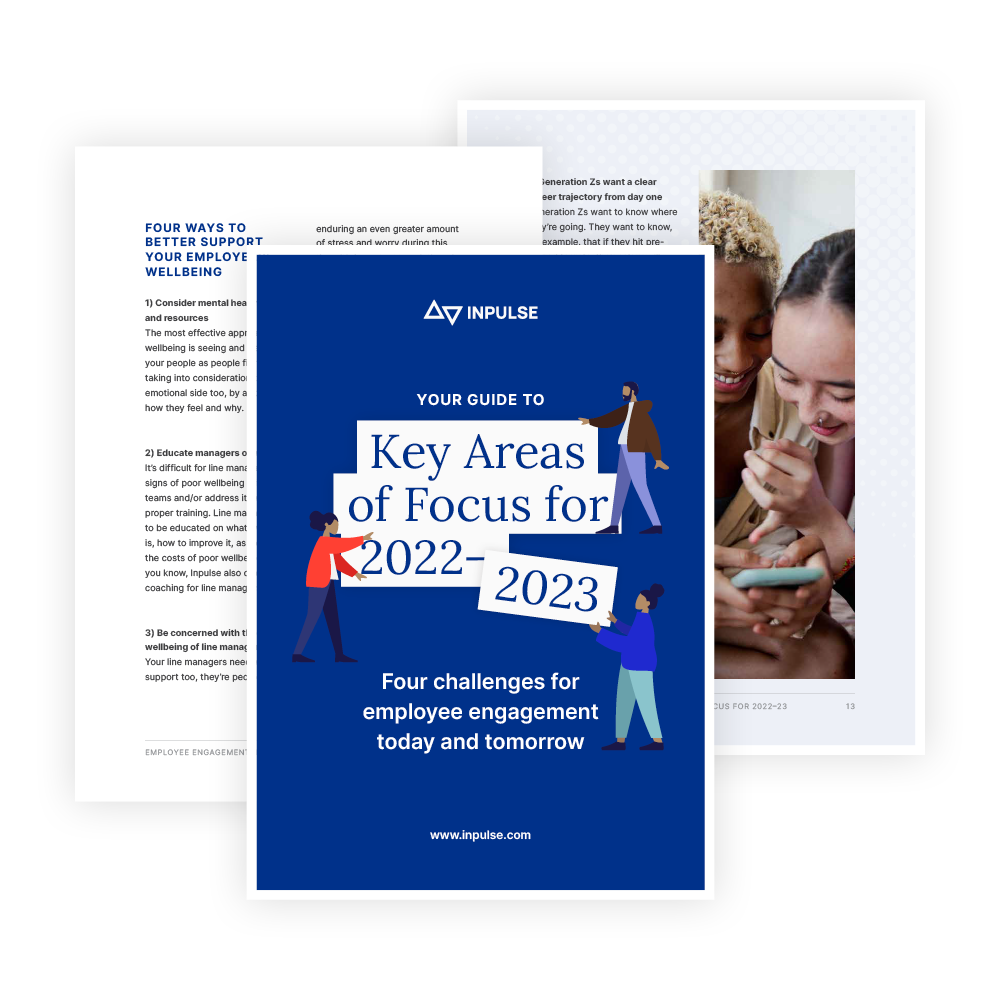 Discover Four Key Areas of Focus for Engagement in 2022–23