Steps to an Effective Change Management Process
In all areas of business, change is good. Change (most times) means improvement of processes and practises in various areas. Organisational culture, work experience, job satisfaction, productivity are just some of the basics, while customer satisfaction and the improvement of efficiency and minimising cost is critical. 
What is a change management process?
Change management can be described as a contingency plan of sorts. It ensures the organisation adapts to change seamlessly and smartly, rather than having to react immediately under pressure. 
We are especially seeing the benefits of a change management process during the Covid-19 outbreak. Organisations with an established change management process, which has been specifically designed for an imminent and abrupt change, will minimise their risk of financial and organisational damage. A change management process is not just critical in this climate though, it's always essential for the success of a business. 
The aim of a change management process
As the world evolves, as technology improves and as customers demand faster delivery of goods and services, and at a lower cost, organisations need to remain competitive if they are serious about staying in business. This will mean the reorganisation and refinement of business functions to improve productivity and even workplace culture and employee experience, to name a few. Planning; the improvement of critical resources (labour, materials and processes), and the establishment of an open, two-way communication channel between the workforce and management (achieved through pulse surveys and other means) will mean the difference between success and failure of the change management process.
Typical activities of a change management process
1. Identify areas to improve
To successfully implement a change management process it's essential everyone is aligned. To achieve alignment it's important you identify your goals and expected outcomes, so as to draw up expectations of teams and individuals. Everyone needs to be on board with the plan, and understand the areas of weakness that require improvement.
2.

Devise a change management model

Every individual involved in the execution of the change needs to work alongside a 'map' or change management model. This will help determine targets while working as a means for review and evaluation. But more importantly, it will outline the resources required, the objectives and the costs involved. This is an important step in the planning process and will provide everyone with a clear vision. 
 3. Identify resources
To successfully implement change, the improvement of resources is crucial. Perhaps people-training or education is required in order to carry out and maintain the changes, or perhaps an upgrade of software is needed. It's important that you identify the ways in which the improvement of your resources can help to accelerate the implementation and execution of your growth strategy.
4.

Improve communication

Communication is one of the key ingredients to successfully implementing a change management process. Two-way communication between the workforce and management is essential for every party to:
understand what is required of them

the areas that can be improved upon

the challenges that have arisen due to the change, and the impacts or implications that were not predicted. 
The best way to improve communication within the workplace is by introducing/conducting pulse surveys and improving employee engagement. Pulse surveys create a safe space for the sharing of feedback, concerns and suggestions which will make your change management process much easier and increase its chance of success. 
5.

Monitor and manage resistance

Many people are fearful of change and the 'unknown', which can cause them to reject the change. This can be managed, especially if you can detect the reason for the fear. There is usually a reason, which could be anything from feeling uninformed to the fear of failure or possible loss (e.g of processes they've taken a long time to establish). This is where communication will help. The first step is understanding their concerns and fears so as to manage it effectively. Here, again, pulse surveys will help you to uncover the reasons for their fears, and because they're anonymous, employees feel more comfortable sharing sensitive/personal information and the challenges that affect their working life. This data can help managers devise plans to make the transition more comfortable.
6. Celebrate success
 It's important that management recognise and celebrate the success of teams and individuals who've approached and implemented the changes successfully. This will aid in the boost of motivation and productivity and will inspire other teams to follow.
 7.

Evaluate, Revise and Continuously Improve

Every new process requires evaluation and perhaps revision. There may be some holes in your initial plan which you were unaware of before, and which are now noticeable after being in practise. Sometimes the only way to test your plan is to practise it – and then it's essential to keep a pulse on the 'test', to ensure it's working.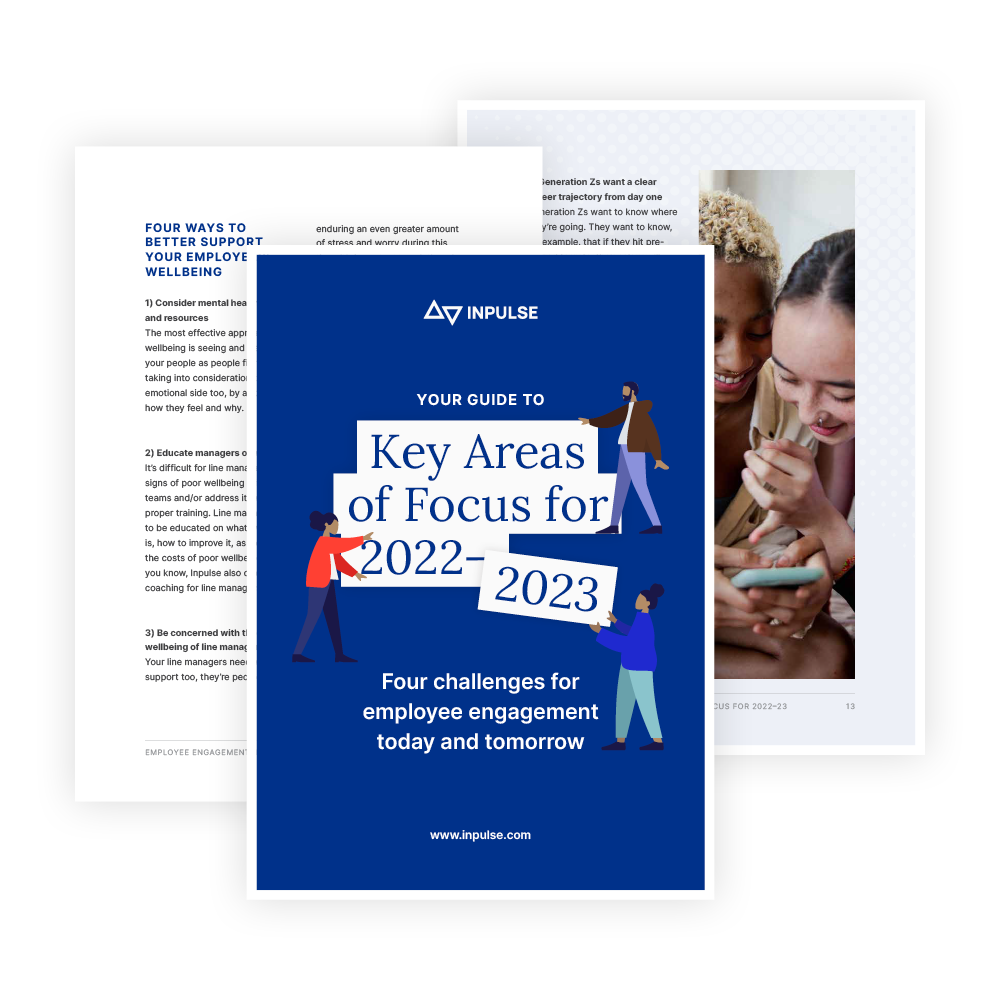 Discover Four Key Areas of Focus for Engagement in 2022–23