One year in lockdown: negative employee feelings rise significantly to dominate UK workplaces
News Release
Survey of thousands shows employee negative feelings at record levels

Less than four in ten people feel good about their work life

Sharp increase in people feeling stressed and anxious at work
Research reveals that one year on from the start of lockdown, one in four employees feel fewer positive emotions about their work life. The scale of negativity, according to Inpulse, the employee engagement and survey experts behind the data, has never been seen before.
According to Matt Stephens, the CEO and founder of Inpulse, the most dominant emotions people are feeling at work are now Anxiety at 28% and Stress at 26%, meaning there are far fewer employees who feel positive about their work. In the first lockdown, the two most dominant emotions were positive, showing as Committed (25%) and Hopeful (25%).
Stephens explained: "What's most worrying is the significant drop in number of employees who chose positive emotions. Typically, we'd see about 60% of people choosing positive emotions to describe how they feel about their life at work. This has now dropped to 35%, the lowest we've ever seen. It means that less than four in ten people feel any positive emotion about their work life".
Inpulse's survey included 4,007 responses from employees in 2021 and 3,441 responses from employees in 2020.
As emotions become dominant, they affect a workplace atmosphere and culture, positively or negatively, according to Inpulse.
Stephens said: "UK workplaces have gone through one of the most significant shifts in living memory. Not only for many people's working environment, but their emotional ones too. If not addressed, this can – and is – leading to a downward spiral. The shifting emotional climate impacts people, their wellbeing, their focus and ultimately their performance – and therefore a business' bottom line. Leaders can't control external factors like a pandemic or national restrictions, of course, but a key first step is to understand and recognise the effect the situation is having on their people and address it with honest and compassionate conversations".
Inpulse's research also showed that the percentage of people feeling Anxiety has increased to 28% now, a significant and worrying 17% rise due to workload and job security.
The number of people who are feeling Stressed has also risen significantly – a rise of 25% compared to last year. The reasons are due to overwhelming workload, fears of job security and their wellbeing.
Stephens summarised: "Companies must address this worrying trend of strong negative feelings. Our surveys show this is in large part being caused by a demanding and out of control workload. Just recently we've seen the very public case of workers at an investment company making this point about feeling like they have to work 80 hours a week. Sadly, this is being replicated across workplaces. Leaders must step in and start listening to their employees to address their very real concerns".
Ends
For media enquiries contact: Kay Phelps, PRinHR, Email: kay.phelps@PRinHR.co.uk +44 (0) 7710 043244.
About Inpulse
Inpulse provides real-time emotion-driven employee insights that improve engagement to help increase the performance of a company. The Inpulse team provides support including analysis of data to provided unbiased perspective to decision-makers. T: +44 (0) 1582 818343; tellmemore@questagency.co.uk.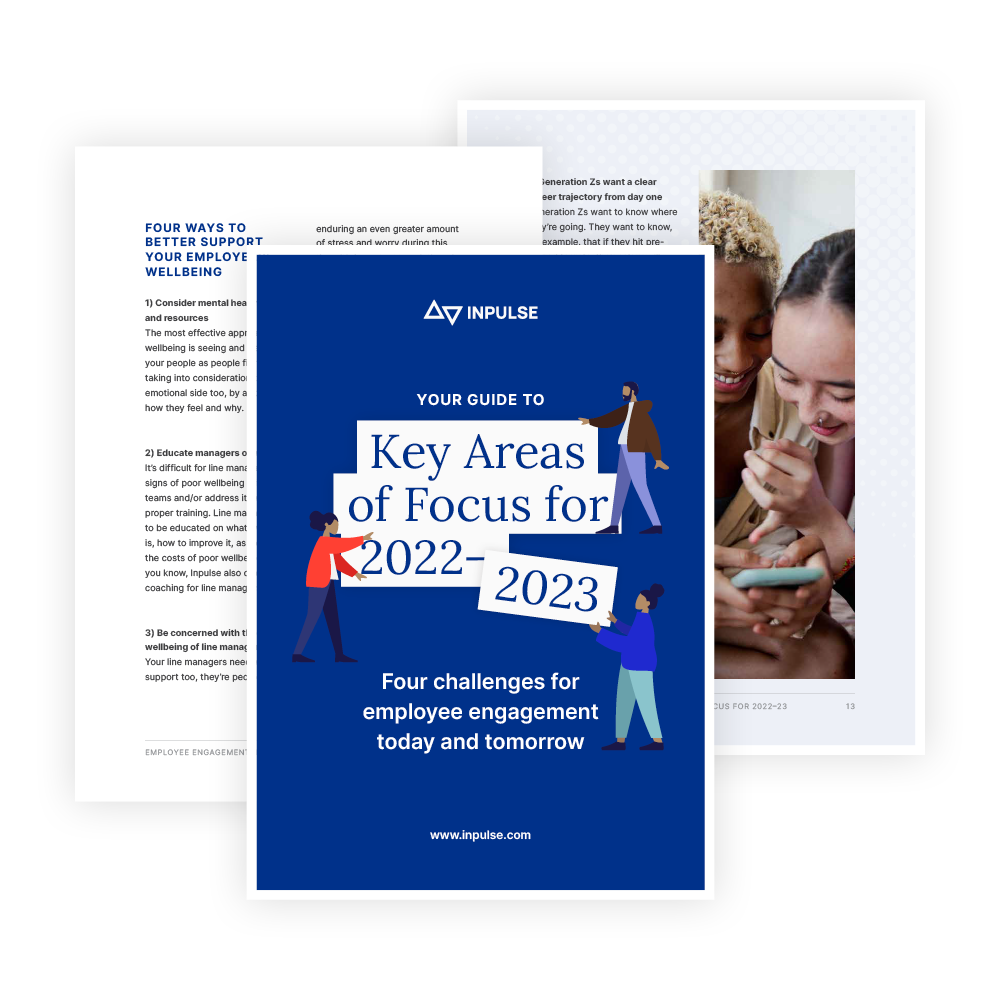 Discover Four Key Areas of Focus for Engagement in 2022–23