Engagement Analysts say: 'Don't Forget to Connect!'
By Emma Charnock, Engagement Analyst
An insight into how Covid-19 has impacted our ways of working and how to help your employees still feel connected
2020… the year when so much in our world changed.
One of the biggest changes has been how we interact and connect with our friends, family and work colleagues. Hugging is so last year, Zoom quizzes are the new family fave and WFH is probably the most used acronym of 2020! (In case you hadn't heard of it, WFH stands for 'Working from Home').
Covid-19 has brought many changes to our ways of working – from enforced home working to not working at all, under a new government furlough scheme. For many, there was delight at the prospect of working from home, especially after years of flexible working requests being denied. But for many, the thought (and the reality) of remote working has been a very different experience.
Using my 15 years of employee engagement experience, I am currently analysing over 10,000+ employee survey results, across a number of industries, to see how Covid-19 has impacted our ways of working. So far, the top three recurring themes I'm seeing, are:
Impact on employee's wellbeing – how they are feeling
Work environment – being able to work effectively from home
Workload – having too much or not enough work to do
At Inpulse, our Wellbeing surveys focus on people's emotions and analysis of our recent surveys showed a big increase in respondents selecting the 'anxious' and 'isolated' emotions. This isn't surprising as people are having to work remotely, away from colleagues. However, what might be alarming, is the damage that a lack of social interaction can have on our mental health.
We are social beings and emotional support provided by social connections helps to reduce the effects of stress and helps to foster a sense of meaning and purpose in our lives.
Back in 1995, BT's advertising slogan was: 'It's good to talk'. Well, 25 years on, the sentiment remains and right now, it's more important than ever that employers check in regularly with their employees; and not just to talk work but to see how they are coping.
So, armed with this knowledge, what can we do? These are by no means exhaustive but here are a few suggestions for how you can support, engage, and connect with your remote workers.
CONTACT remote employees more regularly. Ideally a quick daily check in or at least a few times a week. And remember, not everyone feels comfortable being streamed into your living room on a video call, so maybe try picking up the phone instead.

LISTEN to your employees. What are they really saying? What help do they need? You are unlikely to be able to solve all their concerns, but sometimes people just need an ear to listen to them.

Make employees feel VALUED. Recognise their hard work and show appreciation for what they have achieved in these difficult times.

SURPRISE and DELIGHT your employees. Be innovative and think of new ways to connect with your employees. I've seen some fantastic examples of 'home survival kits' that companies have sent to their employees. Who doesn't love receiving a parcel of goodies through the post?
We know from our analysis that the majority of employees are committed to their companies and focused on their work, so build on this and make them feel appreciated.
Employees are a company's biggest asset, and the state of their wellbeing can have the biggest impact on their productivity and ultimately, your company's success.
If you would like to learn more about Inpulse and our employee engagement survey platform, simply book a demo with one of our friendly success agents now!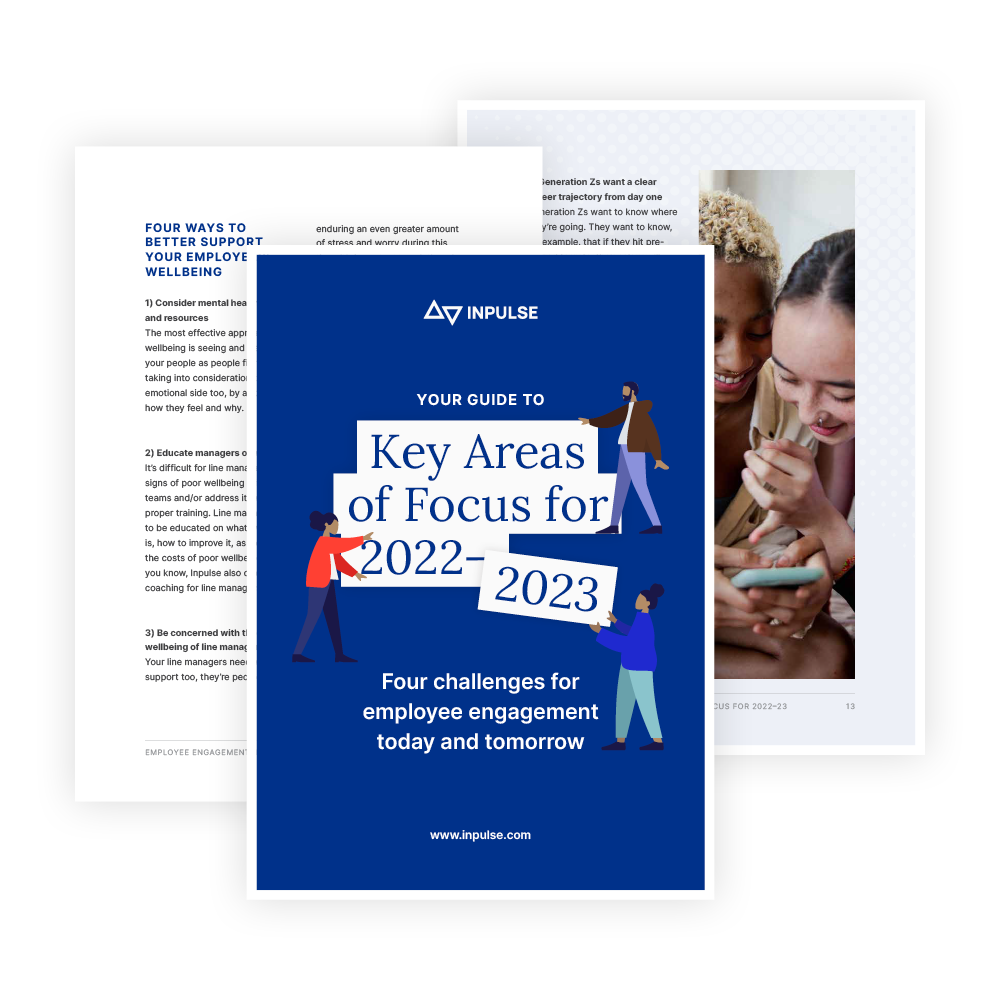 Discover Four Key Areas of Focus for Engagement in 2022–23