Diversity & Inclusion: Employee emotions range from 'valued' to 'uncomfortable'
News release
Diversity & Inclusion: Employee emotions range from 'valued' to 'uncomfortable'
Significant differences shown by Black or Black British in their feelings of opportunities and belonging in UK survey
New research from employee engagement experts, Inpulse shows the emotions people feel when discussing diversity and inclusion (D&I) at work.
Overall, respondents' most common positive emotions are 'valued' (28%), 'confident' (27%) and 'hopeful' (19%). However, people also feel apprehension and uncomfortable when discussing D&I, with 25% and 22% feeling these emotions. The survey showed too that males were more concerned about having D&I conversations at work, with 32% saying they feel 'apprehensive' compared to 17% of females and 20% of other genders.
Inpulse's diversity and inclusion index measures equality in key areas of a business: structure, opportunity, culture, belonging, leadership and trust. On top of this, emotional analytics investigate employee feelings and emotions to help employers understand what may need to change.
The survey showed stark differences in respondents' emotions about their feelings on 'Opportunity' and 'Belonging'.
Overall, respondents answered 54% positively to the statements for 'opportunity' which explores recruitment, career progression and development opportunities for people at work. The only ethnic group to answer below 50% was Black or Black British respondents with just 29% answering positively. 'Opportunity' also had

the greatest influence on the overall D&I index, suggesting this is an important issue to address if an organisation wants to help people feel more included and valued: respondents wanted to see diversity

amongst those in senior positions, to be given progression opportunities and to be able to develop their skills.

When it came to a sense of 'Belonging', overall respondents answered 56% positively. However, Black or Black British respondents answered 29% positively. Over half (57%) of Black or Black British respondents felt they could not "voice a contrary opinion without fear of negative consequences" and didn't "feel like my colleagues understand who I really am".
Matt Stephens, Founder and CEO of Inpulse, said, "Although our sample was small, the differences between employee views show that employers need to tackle head-on the different emotions people feel when discussing diversity and inclusion.
"It's not surprising that conversations about diversity and inclusion can feel uncomfortable, but we can see from the survey that open discussion can lead to people feeling more valued, confident, and hopeful. It is important that organisations do not avoid having these conversations because of fear when in actuality, opening and continuing good conversation leads to such positive outcomes."
"In fact, we can see too that 'Leadership' is also a key influence on the overall Diversity and Inclusion index, highlighting the influence senior leaders have on creating a culture that is representative and inclusive. People are looking for senior leaders to make D&I a key priority for the business."
The survey had 83 responses and closed on 31st December.
For media enquiries contact: Kay Phelps, PRinHR, Email: kay.phelps@PRinHR.co.uk +44 (0) 7710 043244.
About Inpulse
Inpulse provides real-time emotion-driven employee insights that improve engagement to help increase company performance. The Inpulse team provides support including analysis of data to provide unbiased perspective to decision-makers. T: +44 (0) 1582 818343; tellmemore@questagency.co.uk.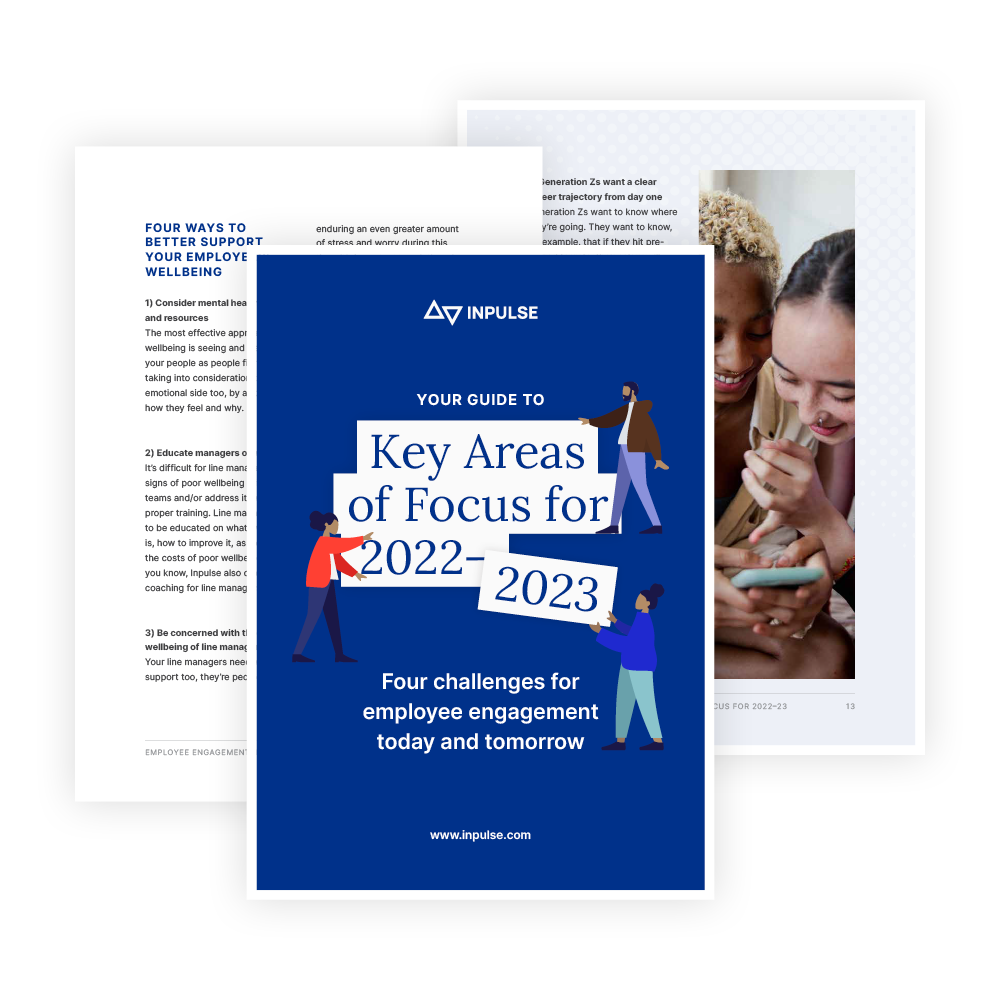 Discover Four Key Areas of Focus for Engagement in 2022–23