Full-Time Work From Home Policies: Not-So-Obvious Solutions to your Most Obvious Concerns
Workforces have been working from home full-time since lockdown began almost two months ago. For some industries and organisations, this arrangement has proved difficult, and in some cases, impossible – especially if we think of industries such as hospitality and even real estate where in-person relations are obligatory for the success of the business. For online businesses, however, full-time remote working has not posed much threat: in fact, it may have created opportunities and saved costs. 
Most online businesses, specifically tech startups (fin-tech, ed-tech, proptech and more) have a flexible working policy; whether it's working from home or implementing flexi-hours. According to a survey by the Smarter Working Initiative, 65% of UK employees in the technology industry have the option of flexible working. This is often a 'selling-point' to attract young, millennial talent, but it's also a way to save costs on office space and improve productivity, culture and employee experience. 
Take software company, Asana, for example they encourage their employees to set their own working hours to achieve their ideal work/life balance. In an employee-wide survey carried out in 2019, Asana was in the 99th percentile of employee satisfaction among tech companies.
Obvious concern #1: Productivity
We'd love to say productivity is guaranteed to soar, but the truth is, it depends on a number of factors:
If your employees are able to self-motivate, are naturally self-starters, and can uphold a healthy level of communication and collaboration when necessary, then it's unlikely productivity will be affected by a WFH policy. Now you're probably wondering how you can test this. Well there are two ways: one is by conducting an employee survey that'll reveal the truth about how your workforce feel about remote-working, and whether their personality and skills would suit such a policy. The second is, of course, testing it out and reviewing the results. 
Obvious concern #2: Maintaining your people-management strategy
(culture, employee engagement, employee experience, job satisfaction, motivation and more)
Tweaking your employee management strategy will be crucial
Your approach to employee engagement, staff motivation, feedback and the all-encompassing employee experience will change. As your people shift from one 'controlled' environment (in-office) to one that's flexible (at home) and essentially out of your control, you will need to find alternative ways of maintaining your people-centric principles. If you thought engagement and employee experience was important in-office it's even more important out-of-office: it's the key to alignment, cohesion and improved productivity. 
The solution: invest in weekly check-in/pulse surveys and keep up to date about what your workforce feel and what they want.
What communication tools and collaborative platforms will you use to maintain alignment within teams and track progress and performance?
For new ideas to emerge; for the improvement and refinement of processes, for people to remain aligned, engaged and motivated, and for employees to feel part of a team working towards a common goal, communication and collaboration is indispensable. It will mean the difference between success and failure of your home-working policy (and, in fact, the entire business). 
The solution: There are hundreds of amazing communication tools and platforms that make it easy for you to effectively manage your remote staff, and make it possible for teams to work in sync. The beauty of technologies such as Slack, Zoom, Trello and more, is that teams can work as closely as if they were in the same room.
How are you going to keep a pulse on employee wellbeing and provide support?
Employee wellbeing does not fall away because your workforce is working remotely. Remember, they're not freelancers, they can and will look for opportunities elsewhere if their needs are not met. Employee wellbeing is a critical element of employee experience and can mean the difference between hiring a candidate and attracting real talent. 
The solution: Ramp up communication between management and workforce using smart HR platforms such; provide training and/or workshops, provide regular feedback and give recognition where it's due.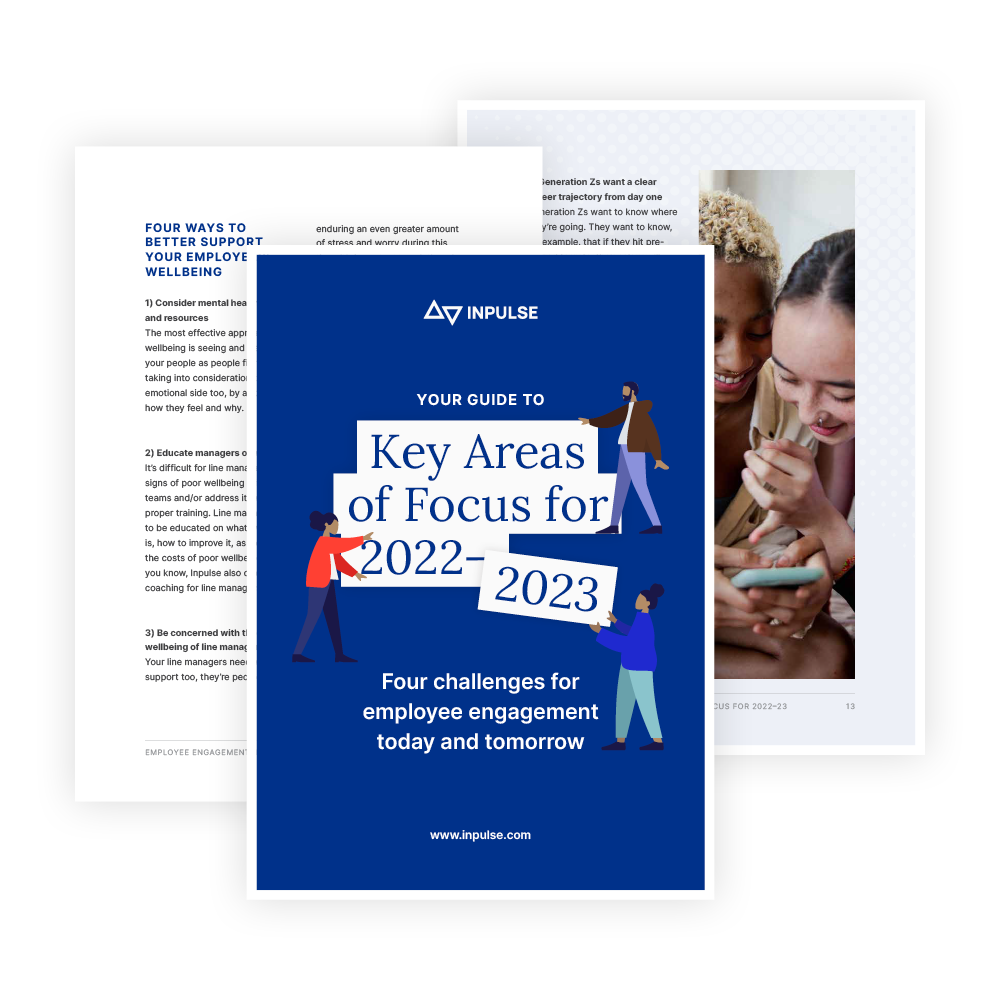 Discover Four Key Areas of Focus for Engagement in 2022–23