Why it's beneficial to know your organisation's engagement score
Do you know where your organisation stands when it comes to employee engagement? Do you know for certain whether engagement is healthy or not? 
HR leaders should know their employee engagement score, and thankfully most do. After all, employee engagement is a high on the agenda amongst most HR teams, especially now when organisation's are relying heavily on staff performance to remain competitive during the pandemic. 
But pandemic aside, a healthy level of employee engagement is always important – it's the key to building and sustaining a healthy workplace culture, improving employee wellbeing, recruiting and retaining talent, boosting performance and productivity and so much more. Employee engagement is the fuel that drives a company forward, it is a key ingredient for success.
3 of the most important reasons for keeping abreast of your organisation's engagement score
1.To address poor engagement before it becomes problematic
It goes without saying, if you find that your engagement score is less than favourable, you can take the necessary steps to improve employee engagement before it becomes even more problematic. When employee engagement is low, problems arise – they may start small, but they grow. When engagement-related problems grow, you'll find yourself losing grip of crucial areas. Whether it be the sudden and consistent slump in productivity and performance, or the constant loss of talented people. By addressing engagement by conducting pulse surveys and tracking employee emotions, you'll avoid problems in the future, and even dispel the problems that may be simmering beneath the surface at this moment. 
2. To demonstrate your knowledge of one of the most important people-related areas 
This is the kind of data all HR leaders should know. Conscious leaders always keep their pulse on engagement because they're aware of how impactful it is to other parts of the business. Because HR is people-centric, and engagement greatly impacts the success of an organisation, HR leaders are frequently pressed for this kind of information from top management. An HR leader who's unsure of where the organisation stands when it comes to employee engagement, is truthfully, an HR leader who has no plans to improve. Even if engagement is expected to be healthy right now (although no one can no for sure without taking an engagement test), employees are human, their feelings towards their role, the organisation, decisions that have been made, changes pretty frequently. HR leaders need to keep abreast of employee emotions to ensure employees are not only kept satisfied, engaged and loyal, but are given a voice and are considered when big decisions are made. 
3. To understand areas of strength or weakness
There's really nothing to lose by finding out the health of your employee engagement (especially during these challenging times). If you discover it's low, you've equipped yourself with pretty powerful knowledge – you know something about your people and your organisation that you didn't know before, which is highly beneficial for decision-making and for general clarity. A low engagement score tells you there's something lacking: your employees are feeling badly about something, or many things, and it's causing disengagement. Finding out what's provoking those feelings through pulse surveys will address their ill feelings and therefore improve engagement and set the company up for success (and you shine as a leader too). If employee engagement is found to be high, you know you and your team are doing something, and it's beneficial to investigate further and find out what's working. This can be found out by conducting pulse surveys too! Knowing what's working will help you identify what you and your team need to protect and maintain. Knowledge is power!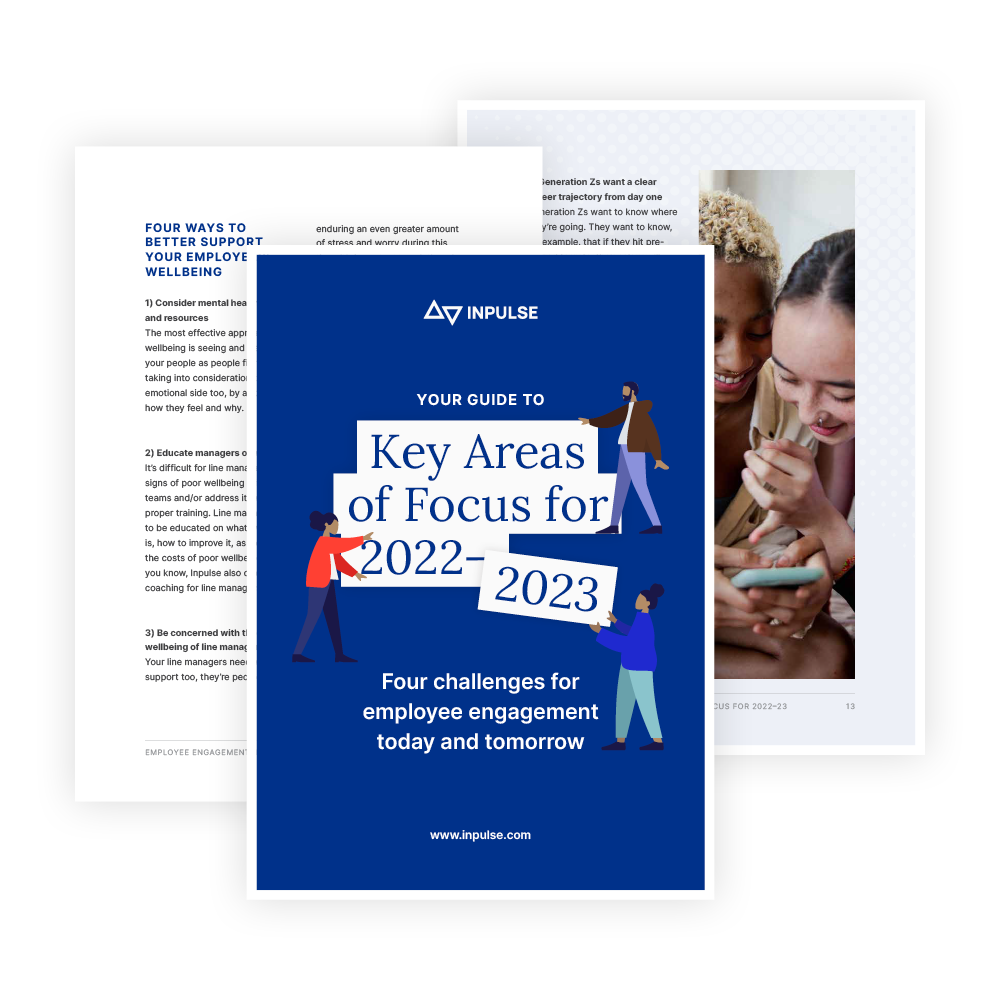 Discover Four Key Areas of Focus for Engagement in 2022–23