Why is engagement so low in the UK? Career growth, communication and Employee Change Surveys
Many organisations in the UK are becoming more clued up on the importance of engaging their employees and are beginning to understand that engaged employees are more productive, motivated, and loyal – ultimately leading to an increase in customer satisfaction and business performance! But despite this, the UK is still one of the least engaged workforces. *
In fact, 90% of UK employees who responded to an employee engagement survey in Gallup's 2023 State of the Global Workplace, reported that they felt 'disengaged' from their employee.
There are multiple different factors that you can tap in to, and combine together to create an environment where employees feel engaged and motivated at work. These are:
Ensuring effective communication.
Supportive Line Managers and Leaders – We have an insightful webinar on Line Managers post survey which you can listen back to here.
Providing opportunities for career growth and development.
Ensuring a positive work-life balance.
Creating a welcoming work environment including offering employee recognition and reward schemes, along with a positive culture.
It is a good idea to get your business to offer employee engagement surveys and change management software, including Pulse Surveys, to improve engagement. This is because these surveys assess the level of engagement within the organisation, and ask questions related to job satisfaction, such as how you perceive the actions and work of your leaders, and whether there is the opportunity for anonymous feedback. The Inpulse employee engagement surveys have a human approach and gather the exact thoughts of the individual employee. This, alongside Pulse Surveys, ensures you're finding out problems your employees may be having right now, rather than finding out something that happened 6 months or a year ago.
Best practices for the employer
After the pandemic, we saw that many UK organisations adopted a range of strategies in order to enhance employee engagement. In fact, '58% of organisations that employ front line workers have invested in improving their employee engagement in the past year.' These were strategies such as offering open and honest feedback and communication channels, encouraging employee development and training, as well as many new benefits, employee recognition and rewards, celebrating employee achievements and promoting a healthy work life balance.
Additionally, there are legal requirements for best practice in the workplace for employee engagement. These include making sure all aspects of the business have the relevant health and safety and are clear on equality and employee rights. These must be followed by the organisation and helps to ensure a healthy and positive work environment. Be sure to check out our free guide on Equality and Employee rights, here.
Also after the pandemic, the preference for remote work in the UK increased, and many employees now put remote work top of their list for boosting employee engagement. Therefore, organisations have adapted to this where possible, and now accommodates for remote employees. However, despite this, there are still many industries that are unable to employ the remote worker benefit such as within the construction and manufacturing and the transport and rail industry. In these industries, there are many 'offline workers' who do not have the option or possibility of working remotely, and also do not have access to many engagement initiatives that hybrid or remote workers typically get. Employers need to find ways to connect and communicate with the offline workers to avoid dips in their wellbeing, productivity and engagement. For ways you can help offline workers connect, check out our free offline worker guide.
As always, employee engagement is an ongoing process that requires much effort from the organisation. Investing in an employee's engagement and development, helps UK businesses enhance their business, and creates a more productive and motivated work culture.
So, why is employee engagement in the UK so low?
A lot of these go into the above factors, such as creating communication opportunities and adopting employee engagement initiatives, but the main reasons for low engagement are:
Little to no communication between employer and employee.
Job insecurity.
Lack of trust with the leaders and/ or lack of support.
High levels of stress, and anxiety relating to workload.
No options for career growth, or limited career growth, and training opportunities.
Lack of employee benefits and positive workplace culture, inclusivity, recognition and work-life balance.
To find out ways your business can adopt new or improved engagement techniques and opportunities, contact us here. We'd love to hear from you!
* https://www.raconteur.net/talent-culture/why-low-employee-engagement-uk/
Stat from the 2022 Gartner Frontline Worker Experience Survey.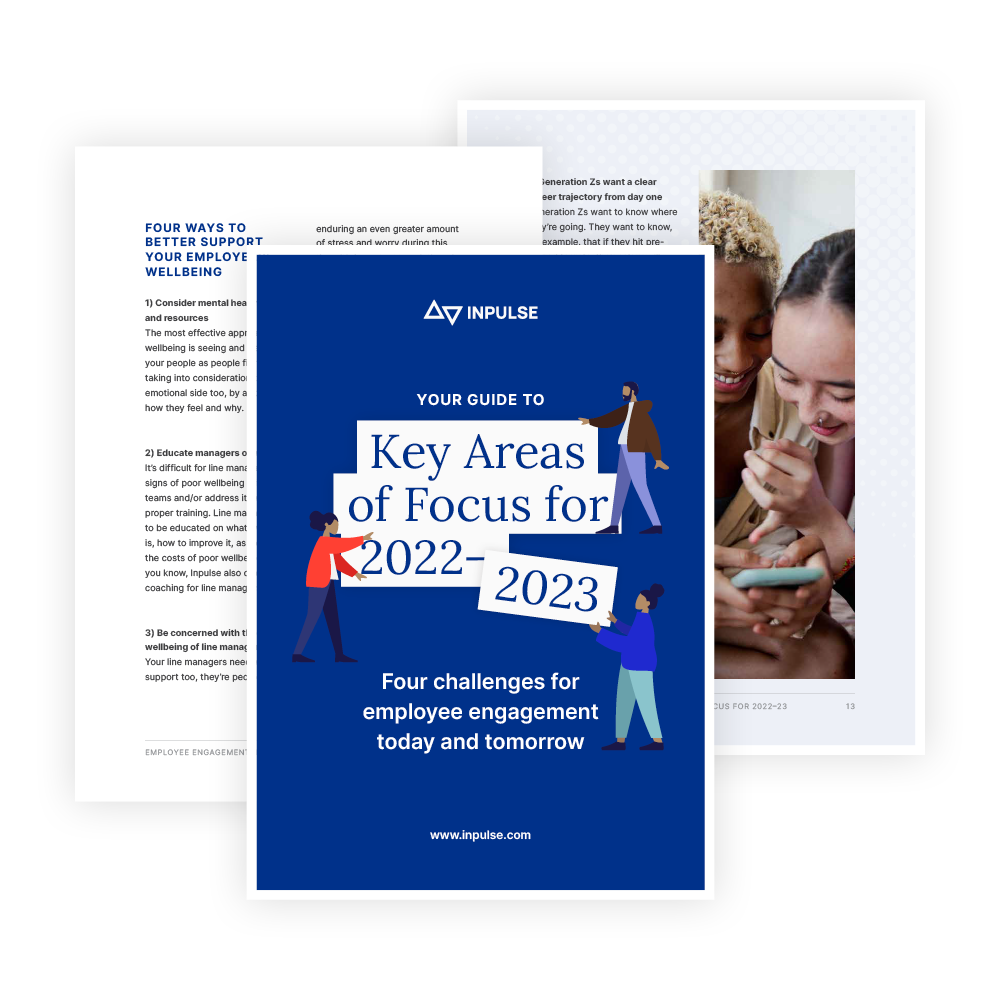 Discover Four Key Areas of Focus for Engagement in 2022–23