What is Employee Wellbeing?
Employee wellbeing is a word you've probably heard often, especially now when organisations are being called to maintain, or implement wellbeing strategies to support their workforce during the crisis. 
But it's important to remember that a wellbeing strategy is not just beneficial to your workforce and your organisation when times are tough, it's a crucial pillar that works alongside engagement and performance. Without employee wellbeing, your employee engagement and performance strategies will not work optimally, and will therefore affect your results, turnover, absenteeism and more.
Many argue that there are many factors that influence a person's wellbeing – factors out of the control of the organisation – and they're right. Home/family-life, past traumatic experiences, lifestyle choices etc all impact one's wellbeing and cannot be addressed by an organisation's wellbeing strategy. But there are many factors that the organisation does have control over which, if improved upon, will greatly impact the success of the business.
It's also important to note that employee wellbeing is not about minimising mental or physiological ill-health of employees, it's about optimising health and happiness on a broader scale amongst your workforce. Your wellbeing strategy should include, and be built around the entire workforce; it is not reserved for those who struggle with or show signs of ill-health of any kind. 
Optimising health of employees
Here we are talking about physical, mental and social health and wellbeing. In a wellbeing strategy, it would mean implementing and/or encouraging practises that positively feed one or more of these areas, such as introducing a form of exercise to improve physical wellbeing (or at the very least, encouraging/incentivising the workforce to exercise more regularly). Leading companies like Google and Apple have introduced yoga in their workplaces, for example. These companies found that yoga improved concentration and focus (improves productivity); increased energy and minimised fatigue (boosts performance) and promoted team spirit (improves workplace culture).
Creating a positive, high-growth environment 
One's environment greatly impacts their wellbeing. If an environment is stressful, chaotic, toxic, it will affect one's performance and engagement because their wellbeing is neglected (this is how wellbeing ties in with performance and engagement).
Simply put, if an environment is positive and encourages growth, you will see a distinct difference in performance and engagement. 
A few ways to achieve a positive, high-growth environment is by:
implementing HR policies that are fair, encourage communication, growth and engagement 

encouraging team-work, cohesion and support from colleagues/team members, team leaders/managers and high-level management

 Creating a positive, high-growth culture where team members work in sync, and there are no barriers between staff and management
Encouraging personal development 
One area of wellbeing many forget about, is what a person feels about themselves, their role, their future and the organisation. Areas such as personal development are important to most individuals – especially those who are ambitious (and who you'd want to have working for you). By providing training, for example, engagement, performance and wellbeing will be greatly impacted. Not only will the individual feel supported in their endeavour to grow, but they'll feel more inclined to perform – and will be able to do so with the training and skills they've acquired. In fact, not only would you see a rise in performance, you'd see a dip in staff turnover: in a recent study, 94% of participants said they'd stay with a company if they invested in their career. 
Providing role-related 'perks' that improve quality of life 
Wellbeing also refers to an individuals circumstances and quality of life; essentially finding a happy medium between career and out-of-office life. This can be affected by their work, the level of stress they endure and their working hours, amongst others. Many leading companies have paid careful attention to the work/life balance of their employees – especially those in very demanding roles such as top management. To avoid burnout, retain and attract talent, and ensure their employees are happy, motivated to perform, do not feel fatigued/overworked, and are in the best possible 'shape' to carry out their roles, companies like Etsy have implemented a flexi-hour policy while Zoom has implemented a buddy-up new-hire initiative, has a generous time-off policy; holds 'happiness events' and more. According to their employees, managers 'take the stance that working 24/7 doesn't improve your performance at all'.
Showing support
Simply showing concern and support for people is a great way of nurturing wellbeing. There needn't be face-to-face interaction to practise your wellbeing strategy. Now, at a time where most people are working from home and are feeling the effects of the pandemic both emotionally, financially, physically etc, a simple check-in goes a long way. Team leaders who are closer to the individuals in their teams ought to ask how their people are coping; how their families are and whether or not there is something more they could do to support them during this time.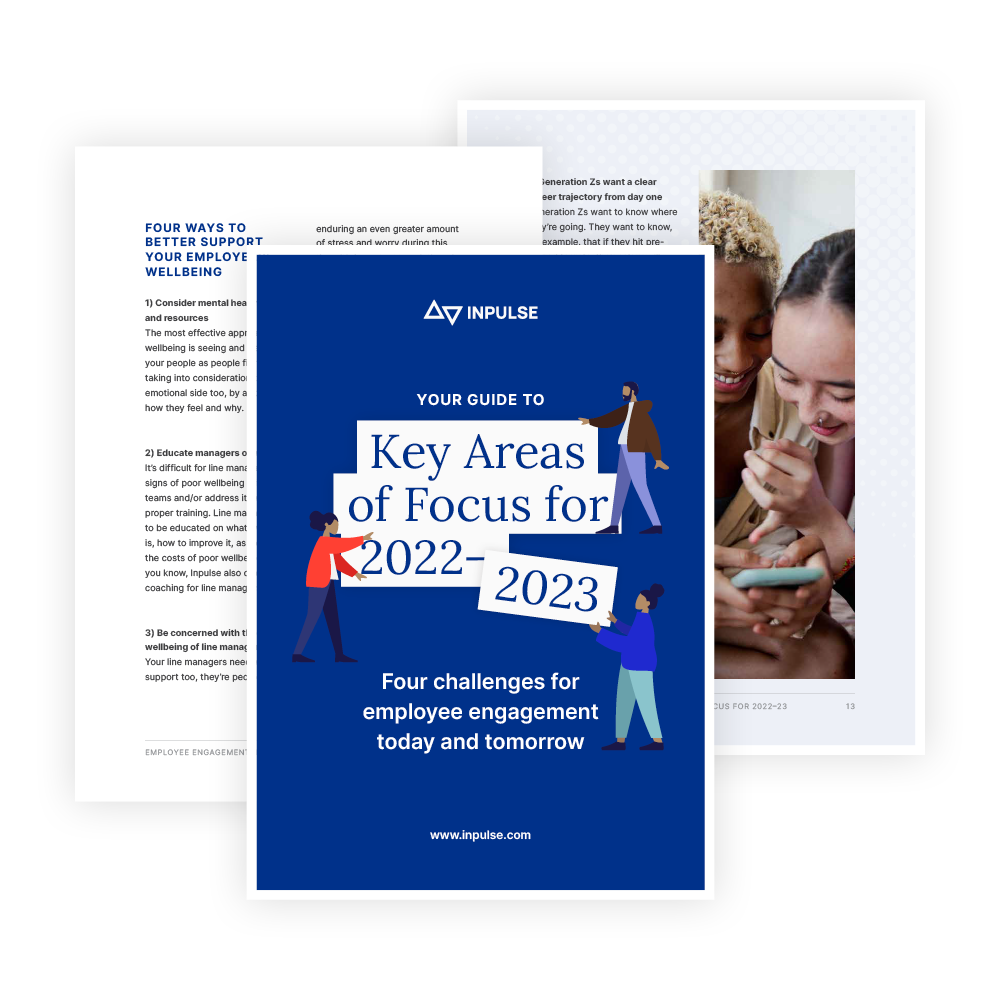 Discover Four Key Areas of Focus for Engagement in 2022–23