Q4 Employee Engagement Ideas
Yes we are now in the last quarter of the year, but it's not too late to reassess and shift priorities for the sake of employee engagement. In fact, this is one of the most important times of the year to take control of engagement.
Every quarter brings with it new challenges; it's not unusual for employee emotions to change from one quarter to the next. For example, the last quarter of any year is synonymous with high staff turnover as many employees who've thought about leaving will do so during this time in order to start with a new employer at the beginning of a new year. We've also noticed that employees are now feeling more confident to quit their jobs after the pandemic and the gradual economic recovery.
Employee emotions are also a bit unpredictable during the last three months of the year. Some may feel tired and therefore less productive and engaged. Others may feel anxious or even excited about planning for the festive season which may distract them from working tasks. Others may see the end of year approaching and feel less motivated to engage and maintain productivity. There are many factors that impact employees during the fourth quarter which is why we're providing you with Q4 Employee Engagement Ideas!
Prioritise employee retention: show interest in employee emotion & working needs
Employee retention is always important, but even more so now. Employees are feeling more confident to move after the pandemic, while Brexit has caused a severe skills shortage. Replacing talent with talent is not easy – there is a war on talent! To find success in employee retention, let's think about why employees look for greener pastures in the first place. We could argue that it's for better pay, a shorter commute, greater diversity, more opportunities for growth – and these may very well be true, but every employee will have a different reason depending on their unique circumstances, all of which are out of an organisation's control. The core reason and most important one is this: employees leave because they feel their needs aren't being met by their current employer and they see no way out. The answer is in asking your people how they feel and what they need in various aspects of their working experience so that you can:
show them you're listening and committed to taking action to make their working experience a fulfilling one
show them that leaving is not the answer – communication is
Create a culture and working experience that current employees and potential talent want to be a part of
keep a pulse on where your workforce is mentally and emotionally for better decision-making
By far the most effective way to ask your people how they feel and what they need is with our pulse surveys and automated Engagement platform. It's easy to use, saves time and avoids complexity, and ensures you take the smartest approach to enhance engagement.
Be present and approachable
It's incredibly important for line managers and HR personnel to be present and approachable especially during Q4. Presence is important to maintain and protect employee productivity – employees need to see that you're there, you're committed, you are aware of their performance and giving recognition where it's due. Lack of presence will not only cause already disengaged employees to check-out completely, but may cause others to feel less inclined to perform. Being present, however, doesn't mean you're approachable. Managers need to be communicative, converse one-on-one, provide feedback and encourage their people to speak to them.
Up the communication with your people
Managers are the role models and set the tone for engagement and performance (which is why it's important to engage the engagers). Employees want to see that their manager is engaged and involved. Regular pulse surveys are one way of demonstrating your presence and approachability as well as your commitment to them and your role. Pulse surveys are also a communication channel employees can feel secure in and get comfortable with because it's a regular exercise. Other ways of upping communication include: being physically there, talking to your people, asking questions and showing interest in what they're working on and how they feel, and acknowledging work ethic and positive results. Things shouldn't slow down just because it's the end of the year! 
Talk through visions and goals for the coming year
Employees are hyper-aware of their feelings towards their organisation during Q4. This is often a time of reflection; they're thinking about the future and the changes they may want to make. The best thing you can do during Q4 is to talk about the future – have them think about the positive things the organisation is working towards and their role in making those dreams come to life. Involve your people in the visions and goals you have for the coming year so that they feel a sense of ownership, and are motivated to see them achieved.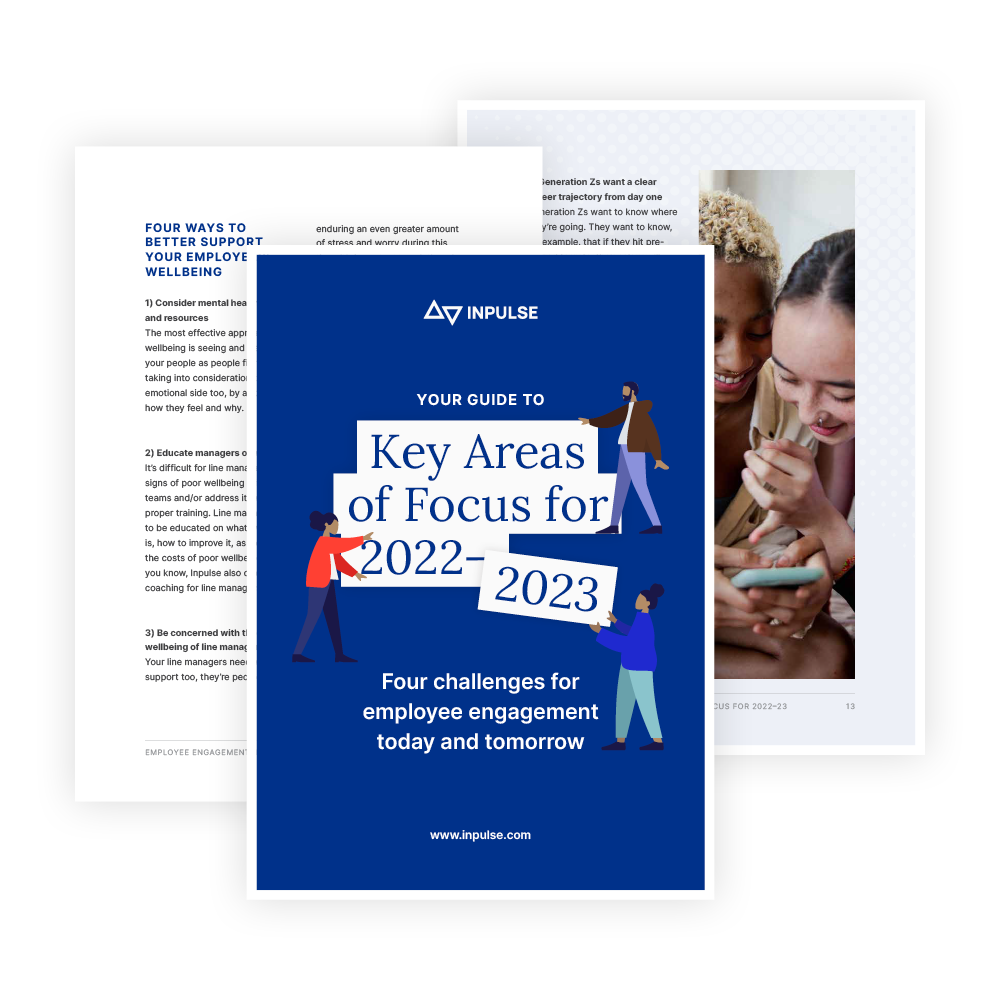 Discover Four Key Areas of Focus for Engagement in 2022–23