Post-Pandemic shakeup: The future of employee engagement
It goes without saying – the world has gone through a period of great change since the start of the pandemic, and we'll continue to see industries transform and evolve to meet consumer and employee needs. Workplaces around the world and across industries have been turned upside down which begs the question: what does the future of employee engagement look like? Well one thing is for sure, it's going to look a little different – for many more reasons than leading a remote workforce and relying more heavily on technology!
Before we dive into the future of employee engagement, let's first understand the current workplace trends which seem to be here to stay according to various studies and surveys:
Nearly 60% of employees want to work remote full-time after the pandemic, according to one survey.
Technology is a priority as companies seek to unify dispersed, digital workforces.
Remote working has removed geographical barriers when it comes to recruiting talent. More employers are hiring in other markets/parts of the world.
In the face of mental health adversity, companies have been forced to respond by providing resources, cutting costs and taking other measures to support well-being.
To measure employee performance with a remote workforce data will become evermore important and a core part of how HR operates in the coming years.
Remote working has redefined the employee experience.
Ensuring employees have the skills they need to advance in their roles (and careers) and navigate uncertainty is a top priority among business leaders.
Taking the above mentioned facts into account, we unpack what this means for employee engagement:
Companies go fully digital
According to KPMG, "77% of CEOs surveyed will "build on their use of collaboration and communication tools and 67% are more likely to invest in technology, compared to 33% investment in worker skills."
What this is likely to mean for employee engagement (and what we at Inpulse have been promoting for years) is the use of smart technology to measure employee engagement. As mentioned, data will become evermore important and a core part of how HR operates in the coming years (as this is the only way HR can successfully assess employee performance from afar, and the only way to know how employees feel, what they want and need and their level of engagement). With data being the key strategic component, and technology being the vessel from which to extract data, we have never been more confident in the Inpulse platform. Gathering employee feedback through the use of automated machine learning (AI) to understand employee emotion, and using this data to make strategic business decisions is the future of employee engagement – and we're doing it today.
David Millner, Founder and Consulting Partner at HR Curator, believes a top strategic focus for HR over the next few years is data. He says "The shift to remote work caused by the pandemic meant employers had to increasingly rely on tools to gauge how engaged and productive employees were, and, by extension, turn to data insights for direction. Data is the new currency when it comes to the workforce, and as long as HR retains that human touch, the advent of data should not scare any HR practitioner."
"Data is the new currency when it comes to the workforce, and as long as HR retains that human touch, the advent of data should not scare any HR practitioner." David Millner, Founder and Consulting Partner at HR Curator
Data has never been more important
Why is data so important right now and for the years to come?
Millner's opinion is that [data] provides understanding of three critical areas. He says, "first, it shows how successful HR practices are in adding value at the strategic or business level. Second, data allows HR to identify ways to enhance practices and the employee experience. Third, it enables HR to show how its various functions align with related strategies and commercial demands."
The importance of data going forward was highlighted by a recent Mercer report: more than 60% of executives believe the top, most impactful HR 'trend' is using talent analytics to make decisions rooted in data.
"People analytics is not going to go away and it will be an integral part of the way that all HR functions operate over the next few years." says Millner.
Companies will compete like never before for talent
The war on talent has been redefined by COVID-19. With geographical barriers just about eliminated by remote working and with new HR procedures and practises that support remote leadership, employers can and have been hiring talent in other countries and continents they never would've thought of looking before. Due to this, there's now an abundance of opportunities out there for talented employees, which will make it even more difficult to retain talent – and, surprisingly, difficult to recruit them! What this means is that a) working to improve employee engagement is no longer a maybe, or a good idea for one day, it's an absolute must – today – if the war on talent is to be won. And then b) Talent will find it more and more difficult to compromise on what truly matters to them. This is why it's so important to understand what your people feel and what they need from you, their role, their team, their working experience etc. If you don't know, you can't meet their needs. And if you're not meeting their needs, they can easily find an employer who will.
Skills training is the secret weapon
One challenge with remote working which companies and employees have yet to figure out, is whether the development of skills and career progression will be compromised. Will younger employees be able to successfully develop and advance their skill sets from afar, in the same way generations before them were able to in the office? How will younger employees be seen/standout (especially amongst a sea of faces on Zoom) so as to progress in their careers? And will they be able to climb the career ladder as swiftly as we've seen in previous years? This is not lost on younger employees, which is why skills training is going to be a key driver for them in the workplace. And then there are those whose roles will evolve to suit the new world of work and consumer needs and will therefore need further skills and education to make this pivot – and this is not lost on those employees either. If their organisation's aren't looking ahead and protecting them they'll disengage, underperform and perhaps even leave.
A KPMG report found that CEOs view talent risk as the top threat to growth thanks to the pandemic, and "building skills and critical competencies" is the top priority in 2021 for 68% of HR leaders, according to Gartner. What's more, Deloitte data found that more than half of respondents indicated that anywhere from 50%-100% of employees will need to change their skills over the coming three years.
Organizations really need to stay on top of what their people feel and what they need in a time as crucial as this, especially if they want to keep their people engaged and performing, retain and attract talent and maintain a competitive advantage. Would you like to know about our pulse surveys and engagement platform? Get in touch with our team!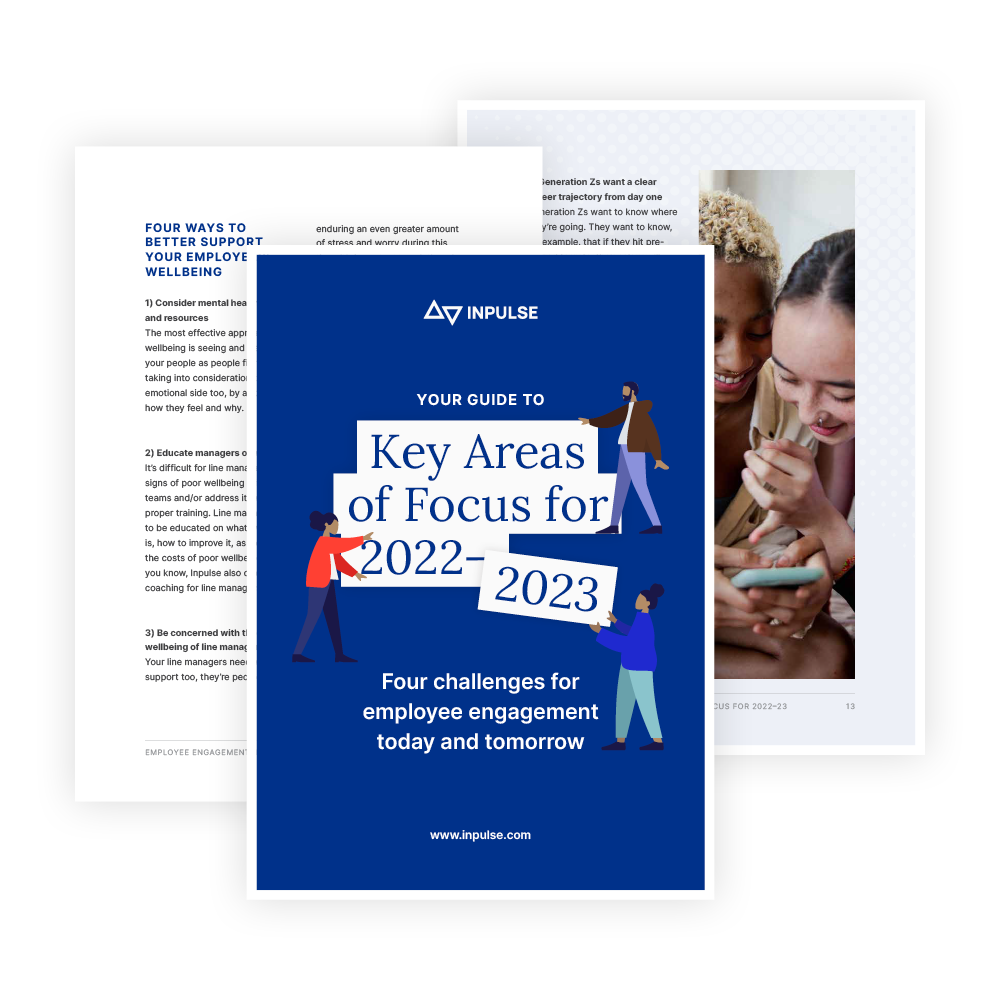 Discover Four Key Areas of Focus for Engagement in 2022–23