Key Takeaways from our Retention Webinar
Just the other day we discussed retention on our webinar series and we discovered even more interesting insights. We decided to document them here for you, incase you weren't able to join.
P.S Have you registered for our next webinar?
Engaging Gen-Z's in the Workplace: Learn how to adapt your Employee Engagement
The facts
There's a skills shortage in the UK
This is due to factors such as Brexit and the pandemic. "Skills shortages are affecting traditional high turnover businesses such as hospitality, care, retail and warehousing and is spreading to higher-paying sectors such as finance, IT, accounting and engineering" (The Guardian, August 2021)
41% of the global workforce will consider leaving their employer in the next year (Microsoft, 2021)
95% of workers are at least contemplating a job change (Monster, 2021)
Job vacancies in UK highest level for 20 years at 950,000 (ONS, August 2021)
The top 6 reasons people leave jobs (Indeed, 2021):
1. Need more of a challenge
2. Looking for higher salary
3. Feeling uninspired
4. Wanting to be valued
5. Seeking a better manager relationship
6. Searching for job growth and development
Philosophy of retention
At the heart of Inpulse are two questions:
How do you feel?
Why do you feel this way?
Why? Because we believe that:
How we feel drives what we do and how we perform. Emotions are the source of behaviour not just symptoms.
Analysis of our unique data has shown there is a direct link between how someone feels and how engaged they are.
We need to go beyond the 'what' and 'how' to understand the 'why'. Understanding why people feel the way they do enables organisations to shift emotions, improve performance and maximise retention.
Greater importance placed on the Human-Element in Workplaces:
Organisations are shifting from employee experience to life experience – where they do, there's a 20% increase in employees reporting better mental and physical health (Gartners ReimagineHR, 2020)
74% of employees expect their organisations to take a stance on societal and political issues (Gartners, ReimagineHR, 2020)
43% of organisations plan culture change in the next year (IoIC/Gallagher state of the sector, 2021)
70% of organisations are focusing on wellbeing and mental health in the coming year (IoIC/Gallagher state of the sector, 2021)
2021 is the year of empathy – with leaders at the core – and they'll want to track progress (source: IoIC 2021)
Practical Steps to Maximise Engagement
1. Be clear on what talent you need and who you need to keep
Focus where it matters most – e.g high performers need extra attention as they know their worth and want to grow.
Also think about character, chemistry, competence or culture – what do you need most?
2. Connect with people at each stage of their employee lifecycle
Communicate from onboarding to exit – it'll help to address concerns immediately before they escalate. And involve your people in retention strategies (for greater ownership and accountability).
*Our surveys are the most effective way to establish regular communication that yields results.
3. Create a purpose that inspires
Be clear about purpose and vision, and drive purpose locally. Provide a regular line of sight so your people can see the value they bring.
*It's the responsibility of local line managers to collaborate with their people to create visions and goals.
4. Give Employees a Voice
If you don't know what your people are thinking and feeling, you won't know what to change or address. Your people need a safe place to speak up, regularly, so that you can make sound decisions.
*Regular pulse surveys are the best way to achieve this.
5. Equip Leaders and Managers to Build Trust
Leaders and managers are the key to wellbeing and engagement. They need the skills and support to connect with their people.
*We equip your managers through our manager coaching, for optimal results.
6. Focus on Learning and Development
This shows you are comitted to investing in your people (+ high performers), provides clear career paths and opportunities for growth, and forms a two-way bond.
*By running pulse surveys you can identify the skills your people need and want to develop, to avoid unnecessary costs and enhance commitment and motivation.
7. Communicate, communicate, communicate
Help people feel part of something worthwhile. Share successes and discuss challenges to demonstrate progress and create community. Minimise uncertainty which builds doubt and concern.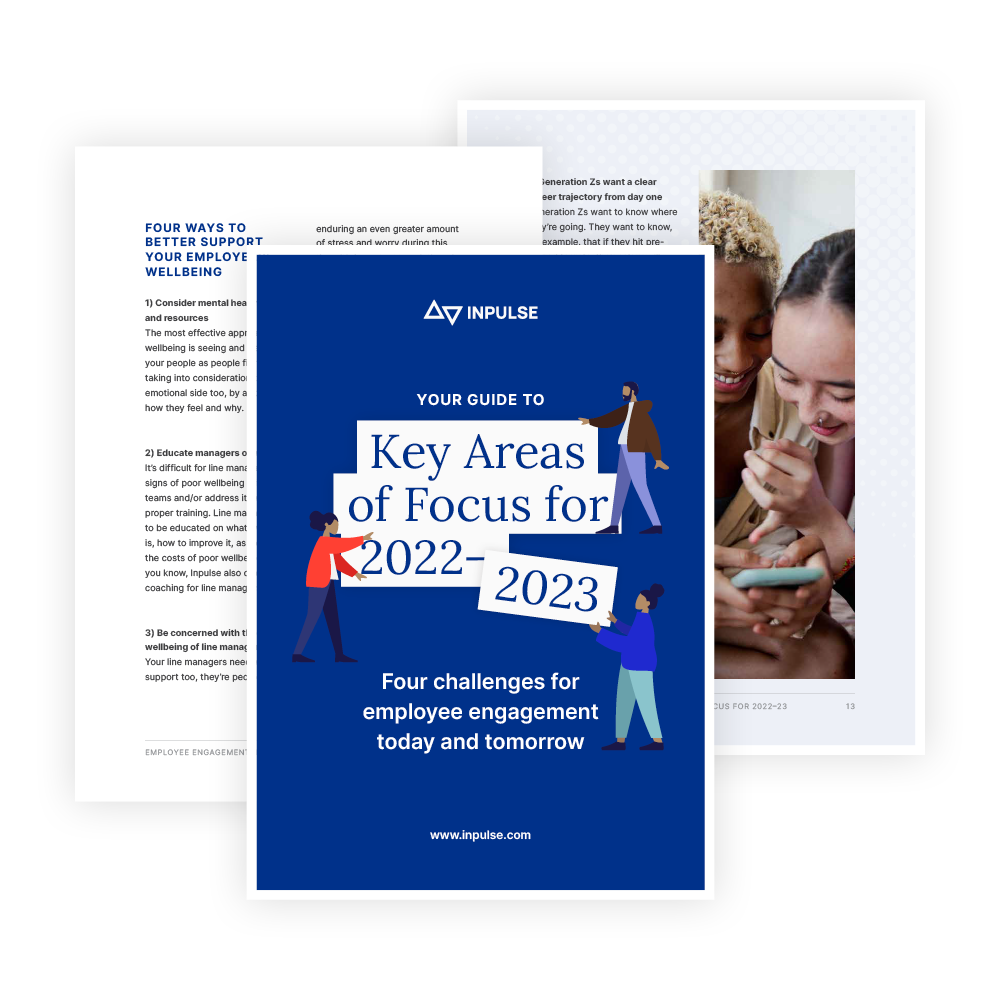 Discover Four Key Areas of Focus for Engagement in 2022–23