Key decisions for HR to drive engagement in 2020
If you asked your employees just a few years ago to consider one department within the organisation that resembled a 'police department', it's likely they'd have said 'HR'. Why? Because just a few years ago this department was solely associated with hiring, firing, performance reviews, warnings, grievances; all the functions that created unease amongst the workforce.
Today things are different. Strategic organisations have recognised that engagement between HR and people is linked with heightened performance and greater results. By making a few simple transitions, their HR departments are fostering growth and are a key player in organisational strategy, and yours can be too:
From hire and fire to EMPOWER, ENGAGE, SUPPORT
To drive engagement, it's necessary to shift focus from extreme administrative HR operations including hiring and firing, to retaining invaluable staff through empowering, engaging and supporting. This can be achieved through listening to the needs of your workforce through surveys, one-on-one communication, focus groups etc. Employees that feel heard and supported are more inclined to perform, self-motivate and remain loyal to the organisation.
From 'police', to MENTORS AND COACHES
Are you getting the most out of your workforce and nurturing their potential enough to see them, and your business thrive? Through mentoring and coaching, your HR team can refine and use current workforce skills and align these with the business goals and objectives for improved execution, subsequently reducing cost of error and boosting revenue. Mentoring and coaching creates a platform for direct engagement between organisation and people, with the assessment and improvement of both talent and task performance. While HR practitioners can facilitate this process, investing in survey assessment tools will assist in the collection of complex data including employee goals, emotion and motivational drivers. Remember, investing in your people is investing in the future success of your business.
From avoiding technology, to VALUING TECHNOLOGY
Organisations are recognising the importance of technology in their HR departments and those that use it consistently are reaping great rewards. Today, HR technologies bridge the gap between management and workforce, helping to streamline processes. The use of these advanced tools, such as big data and analytics, provides insight into employee behaviour, assisting in the development of staff motivation strategies and employee experience. This has been proven to directly impact performance and revenue as processes are tailored to the strengths and needs of the workforce. This data would've otherwise gone unknown without the use of advanced HR technologies.
From meeting basic needs of employees, to CREATING EMPLOYEE EXPERIENCE
For too long, HR concerned itself with admin-related workforce tasks, managing from above in an often unapproachable manner. Today, the department is smartly strategic, concerned with both business and people and consistently working to nurture the growth of each – individually and collaboratively. An inspiring employee experience and office culture has become an important ingredient for success. It promotes self-motivation and helps in retaining good staff, which impacts organisational growth through increased productivity and performance.
From having little impact on strategy, to having IMMENSE IMPACT ON STRATEGY
No longer is HR excluded from high-level strategising in successful organisations; now the department is a core component, providing the organisation with clear workforce metrics, including needs of staff, incentive/motivational proposals, skills, employee behaviour, performance, team strategies and more. Engagement and advanced HR tools produce this critical data, allowing the HR department to speak objectively on behalf of the workforce. This 'micro strategy' works as a guide for macro, organisational strategy and ensures the rapid rise in  performance to meet organisational goals.
From focusing on employee inputs, to FOCUSING ON EMPLOYEE OUTPUTS
While employee inputs are important, having HR focus on what needs to be done is far less productive than critically analysing the outputs. Outputs provide insight into areas that could be improved upon, which is why modern-HR departments are more concerned with these metrics. This means employees have more autonomy and control over how they approach and perform tasks, and are guided by feedback received on outputs.    
From annual performance reviews, to REAL-TIME FEEDBACK
In most organisations, annual performance reviews are being replaced with real-time feedback. This positively impacts business culture and, of course, results. Real-time feedback institutes a culture of support, where employees see the organisation as a partner in growth, rather than an objector criticising their performance. Real-time feedback is conducted once again through engagement channels: communication, surveys and advanced HR tools which provide objective feedback. This is an approachable method that produces a host of advantageous outcomes, but most importantly, boosts your bottom line.
Your people are your business; invest them, invest in success.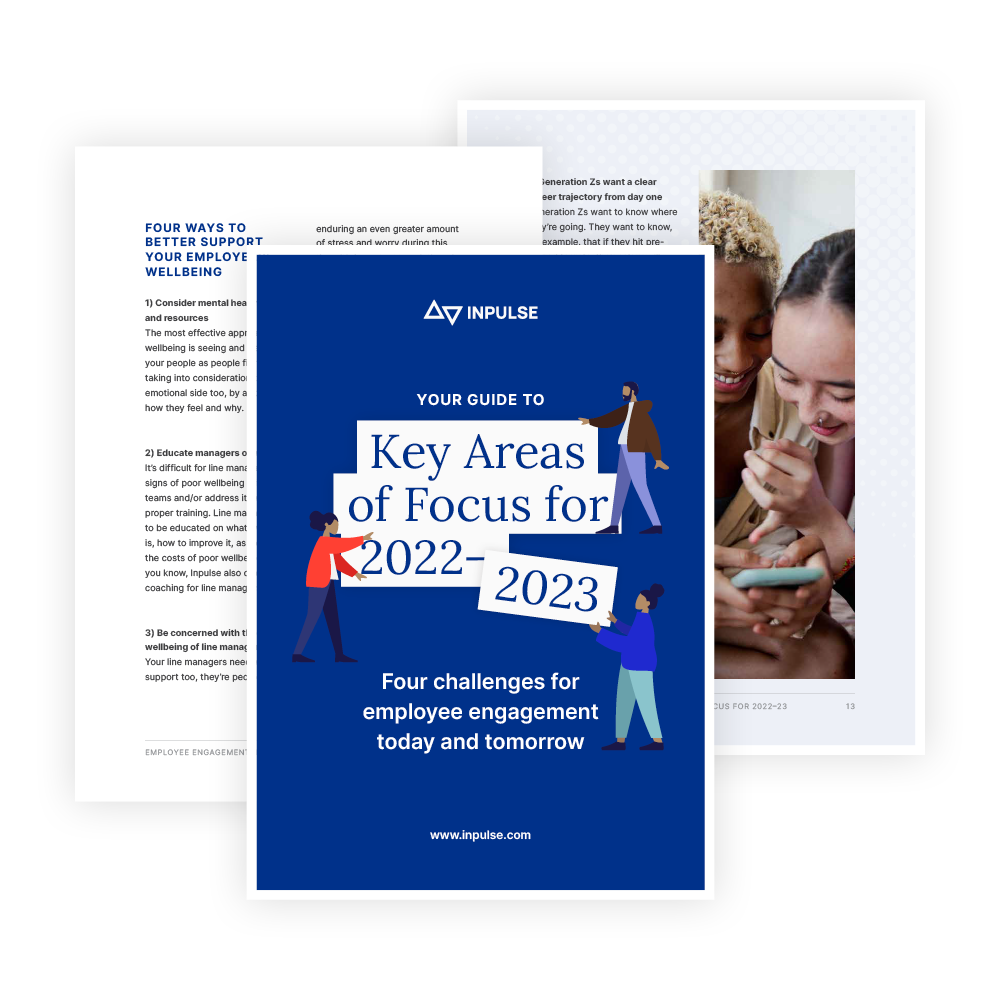 Discover Four Key Areas of Focus for Engagement in 2022–23