Emotions Driving the Employee Engagement Revolution
For many organisations, employee engagement is defined by one thing – the annual employee survey.  The problem with this approach is that it rarely works and can do more to disengage your team. It is time to modernise your employee engagement. 
In this blog post Matt Stephens, founder of Inpulse, reveals the revolution taking place around how organisations engage with their employees. Matt is a leading authority, author and public speaker on employee engagement and experience. He has worked with a wide range of organisations over the past 15 years. 
For many organisations, employee engagement is defined by one thing – the annual employee survey.  Typically, this involves a lengthy survey, takes months to generate results, often fails to engage employees and rarely does anything to actually drive change for the better as a result. Instead, reports are produced and simply get passed down the line and quickly forgotten. Does that sound familiar? As Aon Hewitt noted in a recent report, 'only 18% of employees strongly believe that their survey results will be acted on'  
Engaged employees will increase your company's success 
Thankfully, the days of well-intended employee surveys that achieve nothing are numbered. Times are changing and a growing number of organisations, big and small recognize that they need to engage with their employees in a more meaningful way. Why? Because they understand that engaged employees can make a difference to their business and ultimately, their bottom line.  
So what are organisations doing to engage with their employees in a more meaningful way? The answer comes in two parts – first, how to measure engagement, and second, how to react and address the results 
How to measure employee engagement 
Organisations are living, breathing, organic entities, populated with people, who whilst they may think they are rational creatures, are actually driven in many cases by emotions. Consequently, it is feeling-based personal relationships that have the greatest influence within organisations, causing engaged employees to work more effectively, stay with their company longer and act as ambassadors for their organisation. Our emotions and how we feel determine what we do, which then affects the outcomes we achieve, so we need to measure how people are feeling to understand their level of engagement or disengagement. 
Moreover, with the changing demographics of the workforce, proliferation of technology at work, and varied modern working environments, engagement surveys need to be more flexible and transparent, as well as being simple and easy to complete with a great user-experience. In this context, several features are rapidly becoming the norm: 
Capturing 

employee's

 

emotion

s, 

how they are feeling

 and why

 – about the organisation, the corporate strategy, their manager . . . . 

;

 

Measuring engagement more frequently, in real-time;

 

Sharing the results with everyone 

in real-time 

so there 

is genuine transparency

 
Acting on the results 
Progressive organisations are recognising that it's time to create conversations, not pointless action plans that miss the moment and leave people less engaged, not more engaged. With survey results visible to all, in real-time, it challenges leaders and managers to embrace the 'Leadership Moment' and, rather than making decisions based on historic information, learn to hold conversations and find solutions as they emerge. Organic, real, relevant and powerful. Conversations naturally lead to an action, sometimes the action is 'I've been listened to' or 'it's clear we need to talk more' or sometimes 'we need to change something because of this conversation'. So it's not about not taking action but allowing the conversation to be had first and then guide what happens next.  
Using technology for real-time employee engagement  
So, how can you find out, real-time, how engaged your employees are? What can you use to measure, at the right time how your employees are feeling and why? One way that is being used by companies, such as Kier, Balfour Beatty, Zurich, ASOS, Rolls Royce and others is Inpulse, a simple app which enables organisations to measure employee emotion in real-time and is challenging traditional approaches to engagement by championing the importance of leaders making emotional connections with employees. The app offers a compelling user experience across any platform and provides multiple survey options, powerful analytics and real-time, transparent results. So whether it's a quarterly/monthly pulse check, after your town hall with the CEO, or when the annual results are announced, Inpulse tells you how engaged your employees are, what they are feeling and why. Once you have this real-time information you can take action on any disengagement and address it before it spreads. Simple, but effective. 
Over to you. Have you seen this revolution in your organisation? Do you wish it was happening in your organisation? If you'd like to find out more about how to join this revolution and/or how Inpulse can help your organisation, please contact Matt Stephens (matt@questagency.co.uk) 
Or come and see how one company, Time Inc. UK is using Inpulse to engage with their employees as they transform their organisation. The event is being hosted by Time Inc. UK this Thursday, March 30th (4.30 – 6.30pm including drinks) on the South Bank in London – please contact Lucie Colt (lucie@questagency.co.uk) for more details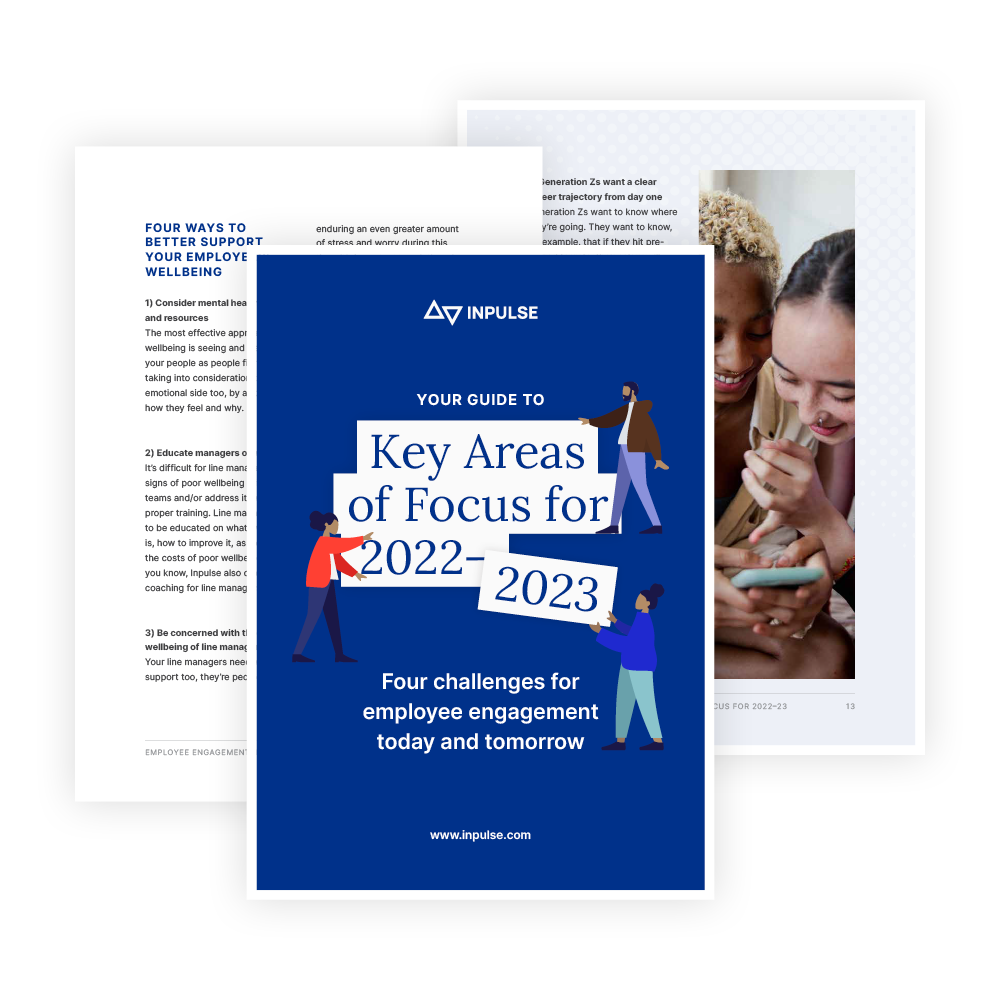 Discover Four Key Areas of Focus for Engagement in 2022–23