8 Methods to Increase Employee Engagement
In many ways, engaged and motivated employees are the foundation of a successful business. When your team share your vision, are committed to the company's values and are working towards the same mission, it's much easier for management to steer the ship in the right direction.  
So how do you engage – and continue to engage – your employees? The simplest approach is often to ask them for their opinions and ideas, to respond to their requests and to take action where appropriate. Employees need to feel listened to, valued and respected. Above all, you should treat your employees as you would wish to be treated.  
Here are 8 methods to increase employee engagement in your company this year which businesses of all sizes can implement.  
Lead by example
If you want your employees to be committed to your company's mission and values, it's essential that the very top of senior management are leading by example. Positivity, drive, honesty and teamwork are key to a successful enterprise, but the motivation needs to flow from the top down.  
Trust your employees
When managers create an environment of transparency and show their employees that they trust them, e.g. by sharing vital business information with them, there is less chance of a chasm of miscommunication and mistrust opening up between management and staff. When employees are made to feel part of a company and not just employees, they are likely to have a much deeper sense of loyalty.  
Be available
If possible, ensure that the offices of managers and/or directors are not separated from the main employee offices. These people should be available as much as possible to provide advice and assistance and to provide positive feedback when appropriate. This can have a great effect on motivation if employees feel supported and recognised for their contribution. 
S

how gratitude
It's easily forgotten, but it's vital that you take the time acknowledge employees for their achievements and the value they bring to the organisation. Feeling underappreciated can have a toxic effect on not only an individual's motivation, but can spread to others very quickly. 
B

uild relationships
Companies are made up of people, not products, machines or property. Genuine relationships between employees and their supervisors and management inspires trust and builds comradery. In fact, a study by Blessings White found that managers who showed their human side were rated 59 points higher on critical skills among employees. 
Be more flexible
If possible, give your employees the option of flexible working hours or remote working from home. Studies have shown that employees who can work to a schedule which fits their lifestyle and family commitments are not only happier and more engaged, but are also more productive.  
Engagement starts with recruitment
The most experienced or highly educated candidate are unlikely to be an asset to your company if they have a poor work ethic or a negative attitude. Your recruitment procedures should be focused on personality and motivations and whether or not they will fit the company culture. If they are lacking in some skills you may be able to offer training, but you often can't fix a bad attitude. When you do hire a new employee, try not to stifle their enthusiasm by burying them under paperwork or health and safety presentations. Get them to work as soon as possible and help them settle into the team through social activities or a mentoring scheme.  
Inpulse 

Employee Engagement Software

 
The Inpulse Employee Engagement platform is designed to give companies crucial insight into levels of employee engagement. The platform uses industry-leading algorithms, survey tools and analysis to highlight potential opportunities for improvement which could lead to significant business growth.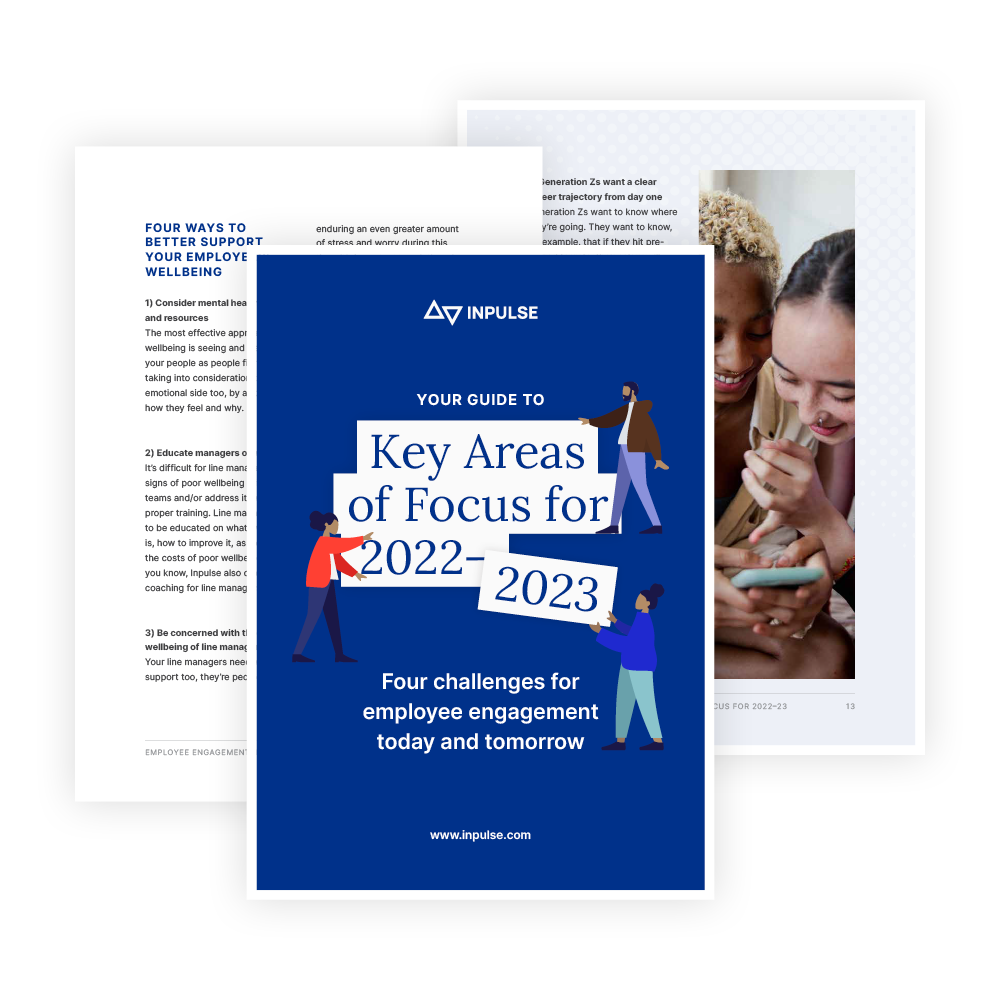 Discover Four Key Areas of Focus for Engagement in 2022–23