The why's and how's of attracting and retaining Gen Z's
You've heard the term 'Millennial's', either you're a millennial yourself or you're currently working alongside them because they make up 50% of the UK workforce. What you may not be as familiar with are the 'Gen Z's', born between 1995 and 2012. Yup, they've come of age and are now entering the workforce. (How time flies!)
Interestingly, there are some stark differences between millennial's and Gen Z's which will positively impact the workplace, but with this comes a need for change in the way employer's retain and attract them.
According to studies, Gen Z's are more motivated, optimistic and innovative than Millennial's, having missed the impact of growing up in a global recession, but living through a pandemic that merged the physical and digital world. "They've never drawn a distinction between the physical and the digital world. For them, whether online or offline, the critical element is that you can seamlessly move between each. They're leading this shift in consumer behavior with their digital fluency and articulating nothing less than a new paradigm for digital experiences." (BusinessWire)
Gen Z'ers are also savvy with advanced technologies like AI, and are driven to address social and environmental issues through the use of technology. Similar to millennials, they're purpose-driven, interested less in salary and more in social impact.
Understand and demonstrate your purpose and their role in achieving it
As purpose-driven individuals with a strong desire to reverse the social and environmental challenges of our time, Gen Z'ers are much more attracted to an organisation's purpose and impact on the world. Their thought pattern is "what are you doing to make the world a better place, and what role can I play in making that happen?" To attract and retain
Gen z's, organisation's need clearly defined goals and objectives. This is incredibly important to Gen Z's who want to know their role in the broader organisational vision.
"Gen Z's are a huge, diverse generation and the fastest growing group of employees, customers, and voters," said Jason Dorsey, President at The Center for Generational Kinetics. "As we've seen over the past three studies, this generation thinks and acts VERY differently. Their connectedness, their ability to navigate change quickly and their desire to have a positive impact on the world are all reflected in their higher expectations of technology and organizations."
Personalise the working experience
Gen Z's have never known life without the internet, they're highly reliant and comfortable with advanced technologies and form no distinction between the physical and digital world. For this reason, employers should find more digital-savvy ways to recruit and retain them. For example, a great tool to retain Gen Z's, is pulse surveys, Inpulse's employee engagement surveys are not only AI-driven but also focus on emotion, both features that align greatly with Gen Z's and Millennials too. Through pulse surveys employers are able to personalise their relationships with their people to better understand their feelings and needs collectively within the workplace, which inspires individual conversations about career goals and needs.
"Personalisation will herein be a major differentiator, explained John Atherton, Head of Leadership Development, Assessment & Succession at Korn Ferry for the UK and Ireland.
Younger people are now getting larger responsibilities earlier in their careers, so it's vitally important to understand what is driving younger generations and what kind of support they need. To do this organisations need to differentiate their workforce according to different needs and at the same time connect on an individual level with people's sense of purpose." (ConsultancyUK)
Place greater importance on Diversity and Inclusion
To attract and retain Gen Z's, companies and employers must want to drive change, preferably both socially and environmentally, but Gen Z's are particularly aware of organisation's values regarding diversity and inclusion.
"Diversity is the watchword for Gen Z: Diversity matters to them through many dimensions, not just isolated to race and gender but also related to identity and orientation. Companies that can better represent the spectrum of differences in their external branding/marketing are much more likely to diversify their talent pipelines." (Deloitte)
Strengthen communication and give regular feedback
What's more, Gen-Z workers want clear expectations, evaluations and communications. When it comes to their job description, 60% of Gen-Z employees expressed the desire to have clarity on the expectations and parameters of their jobs. When it comes to feedback, 60% of Gen-Z workers want direct, frequent communications and check-ins with their supervisors for performance evaluation.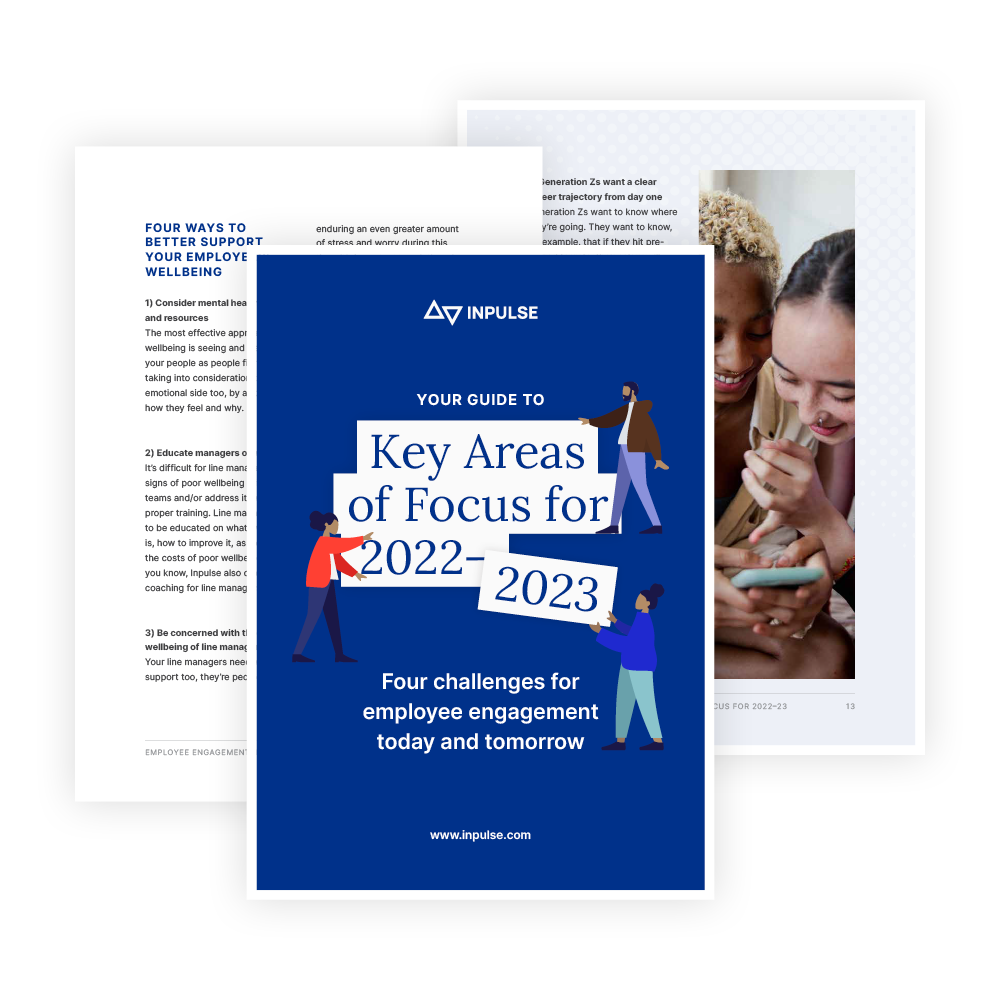 Discover Four Key Areas of Focus for Engagement in 2022–23