National Higher Education day- Do students see their course to the end? The struggles we see in Engagement
Education is something a lot of us tend to take for granted. In the UK, we are fortunate to have it without even thinking about it, but for a lot of people and countries this isn't the case. Higher Education Day, celebrated on the 6th of June, therefore aims to educate and inspire future graduates in the hope of improving the uptake of those looking to pursue higher education. It is also a great way to help improve the experience of those individuals already in higher education. We encourage you to take this day to create an opportunity for growth and development of the higher education system.
National Higher Education Day recognises the significance of education by improving the skills, lives, and experiences of individuals, and the workforce as a whole. Higher education allows individuals to excel in their dream jobs and careers, helping them to have the most accurate knowledge in their chosen fields, which is always changing as a result of the fast-developing world we live in. This is supported and attained best through higher education which provides a wealth of knowledge and experiences which are invaluable. Raising awareness and support for Higher Education is key, because it enables the skills of the workforce to grow- helping to reduce information gaps, poverty and creating a more diverse workforce.
Raising awareness
National Higher Education Day aims to raise awareness as to why higher education has a lower uptake in certain areas, and why many individuals don't see their course degree to the end.
The most frequent reasons for individuals leaving higher education without completing their course are:
– Lack of academic preparation
– Financial difficulties
-Time constraints
– Issues with student life for example, social life, relationships, family
– Large workloads
– High levels of academic competitiveness
This day in June, dedicated to the development of further education, allows individuals, universities, and businesses to research and engage with others to try and improve the process of higher education, and increase the success rates surrounding universities and colleges.
How is National Higher Education Day relevant today?
This day provides an opportunity for those looking to continue their studies, or who hopes to take it to the next level, by allowing specific time to make plans, look into the different available options, research scholarships, and potential career choices. It can also allow them to take part in some work experience or job shadowing. By raising awareness and support for National Higher Education Day in 2023, more guidance for present and future students will arise. It can also help to increase their chances of graduating with a degree, and expand the areas of skill or expertise in the labour force.
Higher Education – the numbers…
– The higher education entry rate among UK 18-year-olds increased from 24.7% in 2006 to 30.7% in 2015 and peaked at 38.2% in 2021. It fell back to 37.5%, its second-highest-ever level, in 2022.
– Over the past decade the number of entrants to 'other undergraduate' courses has fallen by almost two-thirds. The largest majority of these courses are for part-time UK students. Total part-time entrants fell by over 40% between 2008/9 and 2020/21, while part-time students on 'other-undergraduate' courses fell by 73%.
– Brexit meant new EU students would face higher fees from 2021 and would not be eligible for fee loans. Applications from EU students fell by 40% in 2021. The number of EU students starting full-time undergraduate courses fell by 65% between 2020 and 2022 to its lowest level since 1994.
How can you show your support for National Higher Education Day?
70% of UK students** have considered dropping out of university, and higher education, due to the rising cost of living. Your business can help to support those in Higher Education through promoting scholarship opportunities, or by donating to a scholarship program. Other ways you can support National Higher Education Day include offering the opportunity of apprenticeships connected to a specific course or area, allowing students to get real-life experience alongside their studies, enrich their knowledge, and prepare the individuals for life in the workplace.
Another more personal way in which you as an individual or company can work to support those in higher education, is through sponsoring a student. This allows you to give back to the community in a way that is personal and meaningful to you. You could also host an event and invite students from courses that have a strong connection to the areas in which your business is based. This would allow them to gain experience and insight into the world of work, and it would also allow you to see if any students have the attributes you may be looking for in employees. Graduates can speak to the benefits of holding a college degree and the doors it has opened for them, while undergraduates can discuss the positive experiences they've had thus far and their future aspirations. These huge contributions will help to increase the number of individuals encouraged to continue into higher education and the diversity of skills and training in the labour force- possibly one day helping your business or company.
To discuss how Inpulse can help your industry, contact us here. You can also download our free guide all on Higher Education, here, for useful tips on employee engagement.
Sources for statistics:
https://commonslibrary.parliament.uk/research-briefings/cbp-7857/#:~:text=The%20higher%20education%20entry%20rate,highest%20ever%20level%2C%20in%202022.
**,https://technologyonecorp.co.uk/resources/media-releases/seven-in-ten-uk-students-consider-dropping-out-of-university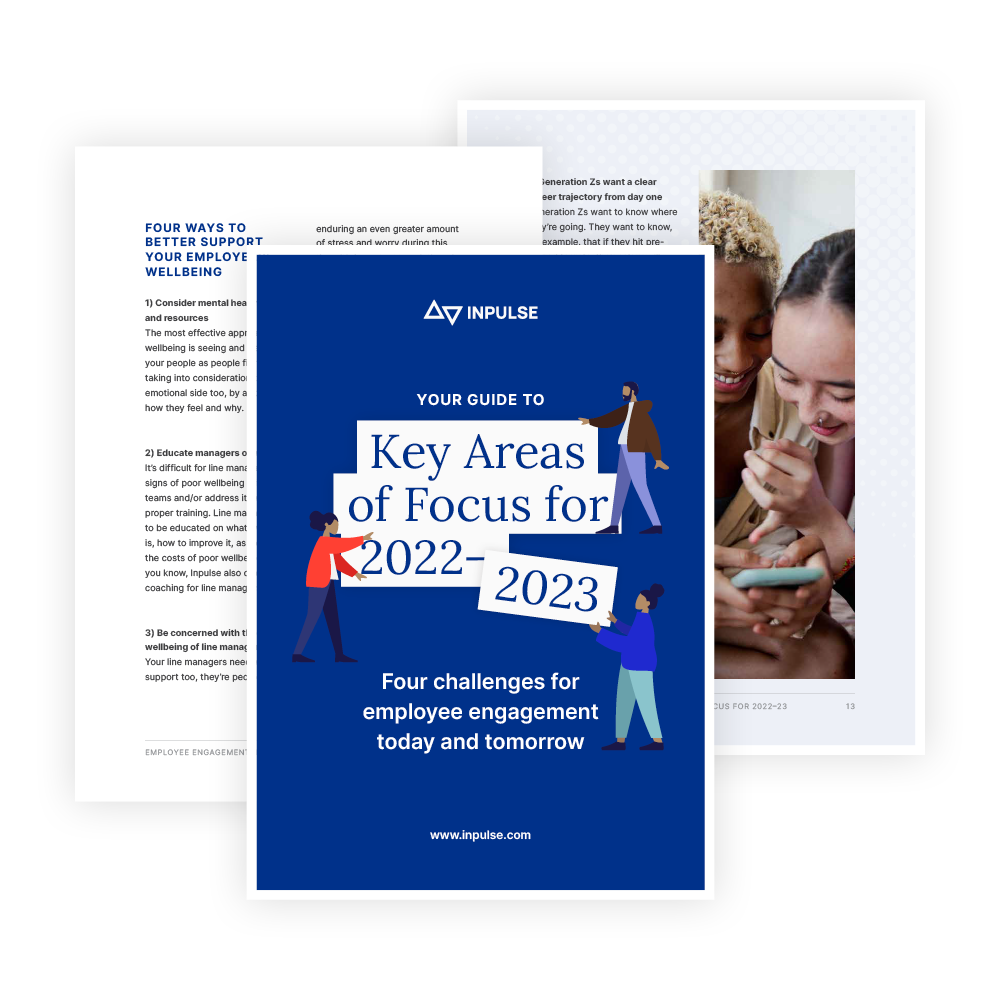 Discover Four Key Areas of Focus for Engagement in 2022–23