Key Takeaways from our Wellbeing Webinar
Over the past year, 25% of UK employees feel as if they have hit a psychological breaking point.
70% of organisations are focusing on Wellbeing and mental health over the next year (IoIC/Gallagher)
The pandemic has created much uncertainty and stress around millennials' and Gen Zs' financial futures. About two-thirds of each group agreed (to some degree) that they often worry or become stressed by their personal financial situations.
40% of millennials and Gen Zs feel their employers have done a poor job of supporting their mental well-being during this period. (Deloitte, 21)
Inpulse research:
Our biggest concern is that many employees across the UK are approaching a breaking point, if they've not already. If organisations don't step in and address employee Wellbeing including high levels of anxiety, stress and worry, we'll be facing a multidimensional crisis that'll affect not only organisations, the greater workplace and the economy, but people's lives.
The cost of poor employee wellbeing
Complete loss of trust
Loss of skilled employees (often very experienced, older employees)
Loss of communication and understanding
Disengaged employees
Decline in performance causing a loss of competitive advantage
6 Ways to better support your employees' wellbeing
1. Consider mental health support and resources
The most effective approach to Wellbeing is seeing and treating your people as people first. It's taking into consideration their emotional side too, by asking them how they feel and why. It's why all our surveys measure employee emotion. Mental health support was one of the number one needs of employees over the last two years and in organisations where it lacked most, a sharp decline in performance, productivity and poor retention and recruitment of talent was experienced.
2. Mental health and emotion shouldn't be taboo
employees should feel safe and comfortable to speak about things like stress and mental health, especially during times of change and uncertainty. Constructive communication and transparency makes a world of difference to employees and helps management to better understand their people. Inpulse's Wellbeing surveys help to create a transparent communication channel that draws accurate data on how employees feel and why (emotional analytics). These two qualities are absolutely necessary to begin, build upon and maintain an effective employee Wellbeing system in your organisation.
3. Educate managers on Wellbeing
It's difficult for line managers to spot signs of poor wellbeing within their teams and/or address it, without proper training. Line managers need to be educated on what wellbeing is, how to improve it, as well as the costs of poor wellbeing. While most organisations have trained their line managers in Employee Engagement, not very many have trained them in Wellbeing, which is an area that has almost the same impact as low engagement. Did you know, Inpulse also offer free coaching for line managers?
4. Be concerned with the wellbeing of line managers
Your line managers need wellbeing support too, they're people who are enduring an even greater amount of stress and worry during this time. It's important to ask them how they feel and why. Are there ways they could've felt better supported during their time at the organisation, and most importantly, now. Our emotion-centred Wellbeing surveys are the most effective way of communicating with your people and drawing data from which to educate and make decisions. 
5. Ensure line managers 'own' wellbeing within their teams
Involving line managers in the design and implementation of Wellbeing strategies is invaluable, but they need sufficient support or they may feel the urge to resist. Not only do line managers need training, they need to feel confident in their resources. Our Wellbeing surveys and world-class platform is easy to use, fully automated and highly accurate. It can be trusted and relied upon to successfully build and maintain employee Wellbeing practises.
6. Move from transactional to more transformational activities and conversations.
A leader who employs a transactional leadership style believes in granting rewards based on employee performance. They function in a heavily structured environment that encourages employees to achieve their best through rules and regulation. Transformational activities and conversations are different in that they support the growth and development of employees from a holistic perspective. Instead of being told what to do and how to behave, organisations create a culture and an environment that helps employees to thrive (and engage).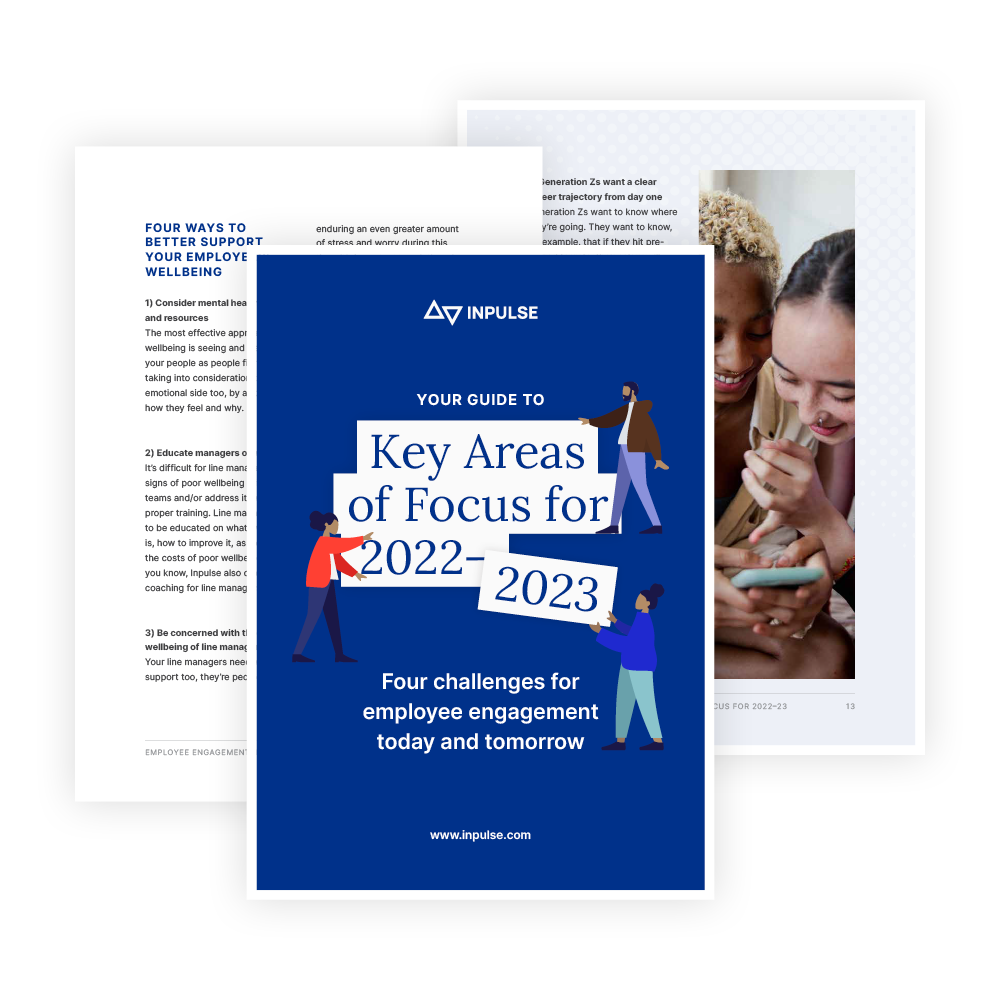 Discover Four Key Areas of Focus for Engagement in 2022–23