Human-Centred Recruitment: How Engaged Candidates Become Engaged Employees
Recruiting new talent for your organisation is often a case of filling a gap – replacing an employee who has handed in their notice or who will temporarily be on leave – or it may arise from the growth, diversification or restructuring of your organisation. Whatever the trigger for your recruitment efforts in 2023, one thing's for sure: they should be shaped by employee engagement.
Finding the Right Fit
The average cost of recruitment and onboarding for a position can be almost as much as the annual salary itself, so ideally you want to get it right first time. This means finding a candidate with the right mix of skills and experience, but also someone who will fit well within your organisation and who will want to stick around because they feel valued and motivated.
The recruitment process is an opportunity for both the employer and the applicant to size each other up. Are you a good match for each other, or are they just well qualified? It's therefore important that you take a human-centred and emotionally engaged approach to the process, from start to finish, rather than treating it purely as a quantitative exercise. In setting this tone, you will also give the applicants a taste of what it might be like to work for you and be part of your organisation.
Your Employees as Ambassadors
Most candidates will do some level of research about your organisation before applying, and this will often centre around word of mouth and social media. Increasingly, candidates want to know what it will actually be like to work for you. They want to know about your culture, and how your current employees feel about being part of your organisation. If your employee engagement strategy is already strong, you should have some positive data and outcomes to share online, and an engaged community of employee ambassadors who are spreading a positive message about you.
A Human Approach to Recruitment
When advertising and interviewing for a position, think about the kind of person you want to attract – not just the specific skills and responsibilities involved in the role. This doesn't necessarily mean finding someone who is a carbon copy of other employees, but someone who shares your organisational values and will bring a fresh and valuable perspective.
In an efficient and succinct way, make an effort to get to know the candidates during the interview phase. Discuss their motivations, ambitions and values. Recognise their achievements and ask about their other interests.
Keep the process moving and keep up communication with applicants so that they know where they're up to. This sets a positive, proactive and respectful tone, giving applicants a snapshot of how you treat your employees. Moving quickly also means that you're less likely to lose the best candidates to your competition, and is less disruptive for your current employees, teams and customers as it gets the position filled with the best candidate as swiftly as possible.
Talk openly about employee engagement during the interview and – where relevant and appropriate – you can use employee engagement data to give candidates an idea of the culture and working environment. This demonstrates that you take employee engagement seriously and that it's not just a buzzword for you. Talk about any changes you've made to address things that were flagged up in the past, and any plans you've got going forwards. This makes you a more trustworthy and attractive employer.
Candidate Engagement & Employee Engagement Go Hand in Hand
Your commitment to employee engagement, and the data you gather from pulse surveys and other analytics, will be a powerful factor in attracting the kind of talent and voices that you want to join you. Setting this tone from day one of the recruitment process will give you the best chance of attracting excellent candidates who will become engaged employees. At the same time, be sure to gather feedback from new hires about their experience of your recruitment process so that you can continue to make improvements and refine your approach.
Of course, once you've put your cards on the table at this early stage, you then have to follow through with human-centred onboarding and an ongoing commitment to your employees as human beings. Check out our 3 Keys to Employee Retention for some advice about how to hold on to the best talent when you find it.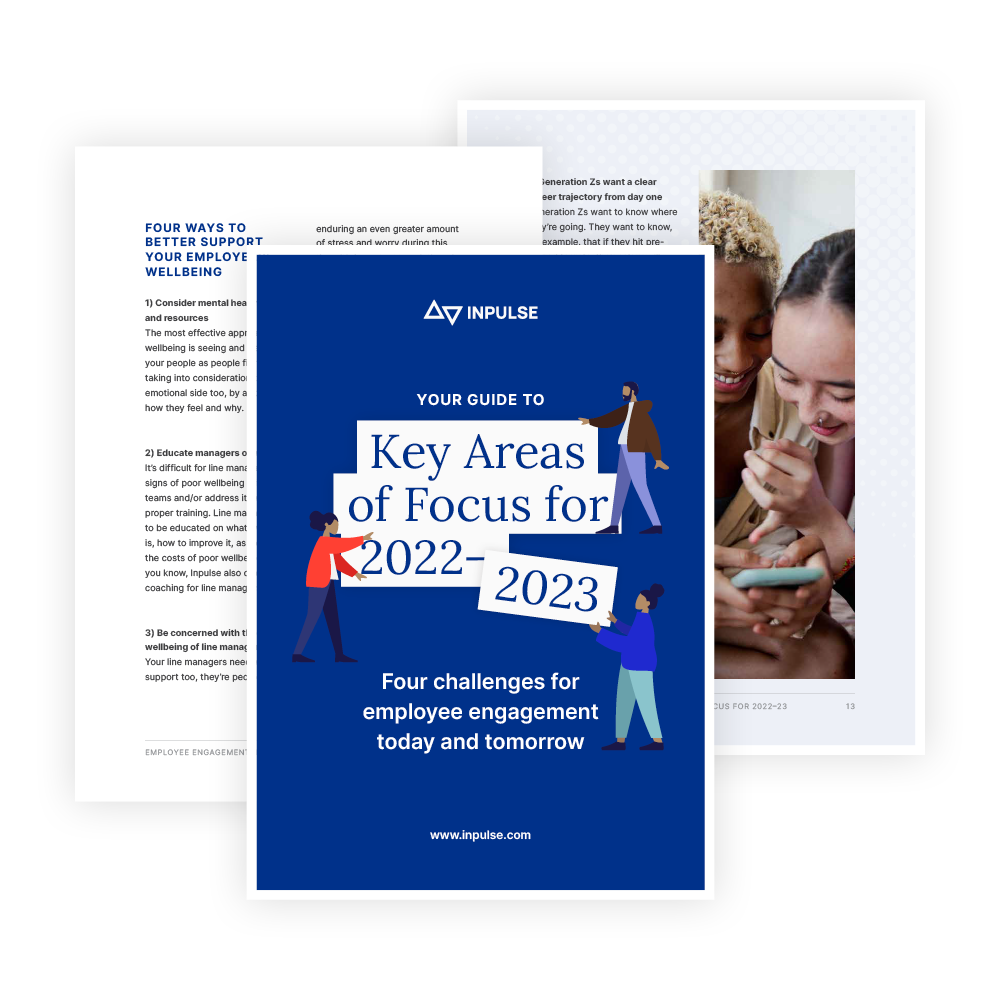 Discover Four Key Areas of Focus for Engagement in 2022–23