Flexible and Hybrid Working: A New Era
This month, the UK government has set out a plan that makes flexible and hybrid working the norm. This marks a huge cultural shift for both employers and employees as it gives people much greater control over where, when, and how they work.
In short, it looks like this:
Employees can make a flexible working request from day one.
They are not required to set out a case for themselves, offering proof that the flexible working arrangement will support them to do their work more effectively.
The employer must either grant the request or enter into a conversation about the various options that will work for both parties.
"Flexonomics": The Data Speaks
This new position is based on tangible data that truly flexible working is beneficial for employers and employees alike. Here are some highlights from the first in-depth study into the benefits of flexible working for the UK economy.
For employers…
Reduced absences, and a happier and more productive workforce (estimated net benefit of £12.7bn)
Attracting talent – 92% of young people and 87% of all people want flexible working
Improved retention – an estimated £2.9bn savings in advertising, hiring and training new employees
Enhanced employee engagement
Agility and adaptability, which means greater competitiveness
More diverse workforce as there are fewer barriers
Refusing flexible working requests currently costs businesses an estimated £1.7bn a year
For employees…
Fewer barriers to employment
Reduced stress and improved mental health
Improved wellbeing and healthy work-life balance
Improved job satisfaction, engagement and motivation
Less "occupational downgrading" because of the need to take a part-time role
Embracing True Flexibility
This new era of flexible working as the default takes into account the fact that not every employee, employer or workplace is the same. A one-size-fits-all model of employment just doesn't work, and not every form of "flexible working" will be suitable for every situation. This is why it's important to consider every aspect of a "flexible" approach, and for employers and employees to work together to find the solution that works best for them.
Flexible working patterns and workload can include:
Part-time
Term-time
Annualised hours
Flexi-time
Staggered hours
Compressed hours
Mutually agreed, predictable hours
Self-rostering and shift-swapping
Time off in lieu
Job share
A flexible workplace can include:
Working on site
Working from home
Hybrid working (office / home)
Remote or mobile working
Flexibility around life events can include:
Career break / sabbatical
Shared parental leave
Phased retirement
By considering the full spectrum of flexible working arrangements, employers can engage and respond positively to flexible working requests from employees – and both parties can benefit.
Employers and Employees in Conversation
The official press release states that, "The government will not instruct employers or employees on how to carry out their work, instead we encourage both parties to have constructive and open-minded conversations about flexible working and find arrangements that work for each side." This legislation is all about making the workplace more accessible, more equitable, more inclusive, more productive, and – ultimately – more human.
At Inpulse, this is what our platform is all about – getting you in touch with your employees as thinking and feeling beings. Our complete suite of surveys is an excellent resource for understanding how your employees are feeling and how you can support them to become more engaged and motivated in their work. As you begin to integrate these new legislative changes and embrace this new culture of fully flexible working for all, these tools may be a good starting point for consulting with your employees and understanding where you may need to make changes.
As your workforce takes on a more flexible, fluid and hybrid form, with people working different hours and from various locations, as the norm, regular pulse surveys are also a great way of checking in with all of your people – whether remote, part-time, job share, or even on leave – gathering feedback, and making sure that every voice is heard.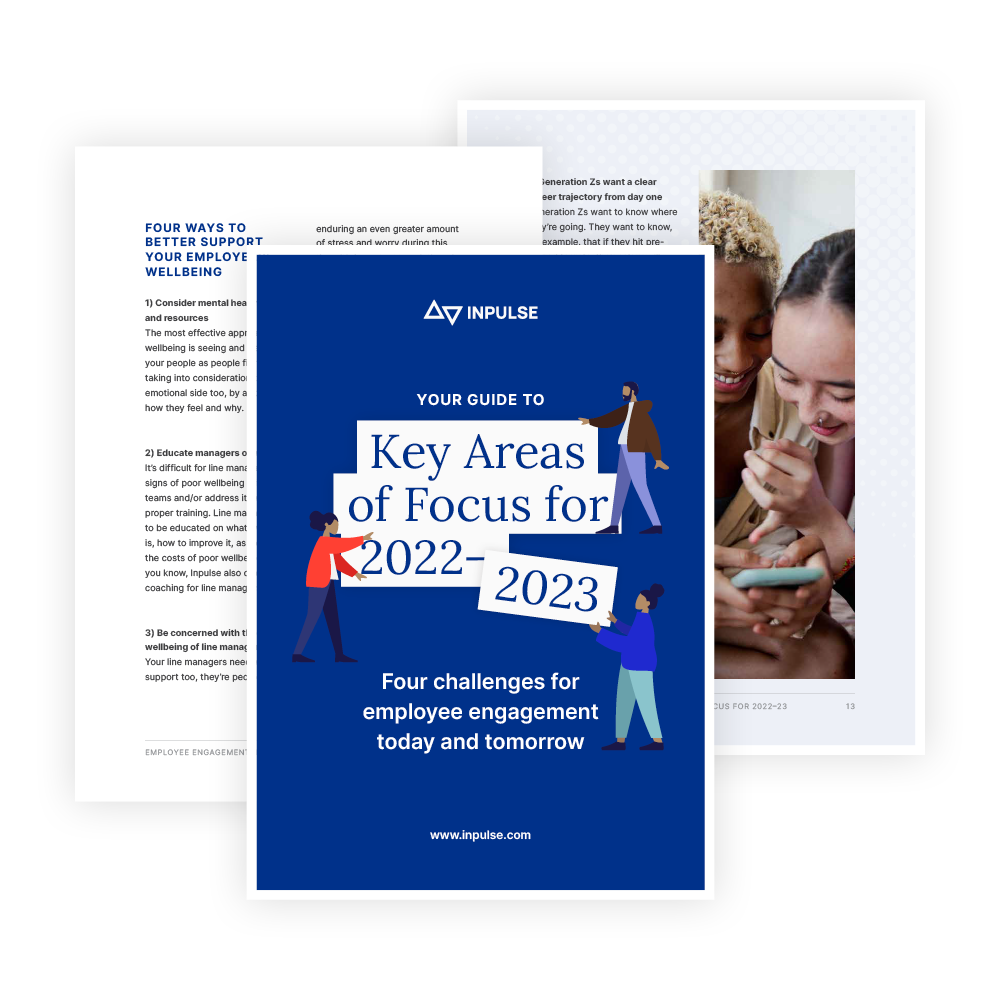 Discover Four Key Areas of Focus for Engagement in 2022–23