The top three positive and negative emotions facing the transport and rail business right now: Inpulse Employee Engagement Platform
Last month marked 160 years of the London Underground, and still, nearly 2 centuries later, the rail and transport industry is considered to be one of the proudest and oldest sectors. The network has expanded to 11 lines and serves a huge 272 stations, making it one of the busiest underground services in the world! However, the ongoing challenges facing it, is becoming all the more strenuous following the pandemic. Since lockdown, commitments have noticeably shifted, travel patterns have increased and budgets are continuing to weigh heavily on the sector, not to mention the increasing challenges facing job cuts, pay disputes and employee engagement pressures.
Whilst HR teams and leaders within the rail and transport sector are indeed recognising these challenges, the pressures continue to build up -causing internal structural issues to appear, such as the break down of communication between colleagues. On the back of this, external pressures like negative press about job cuts and pay disputes, can cause strain resulting in a huge task to even create a thriving, engaged workplace culture.
At Inpulse, we explored the engagement between employees in the transport and rail sector and found that the transport industry had drastically low engagement scores compared to other industries.
Falling behind on engagement
At Inpulse, we are working with 20+ operating companies within transport and rail.
To get our engagement results, we measure the emotional climate alongside engagement, to learn how people are really feeling at work. We also establish why they feel the way they do, and what action must be taken in order to build up their employee engagement.
Based on these methods, we know the top positive emotions for the transport industry as well as the mostly considered negative emotions facing it. Positively, employees are feeling committed, happy and enthusiastic, however the overall positive emotions score is 15% points below the global Inpulse average.
Negatively, the top emotions were discovered to be unappreciated, stressed and irritated, and the overall negative emotions score was a staggering 38%. This sits an uncomfortable 16% points above the global average.
Put simply, we know that people within the transport and rail sector really enjoy the nature of their work, and show high levels of job satisfaction. They feel committed to their role and are happy carrying out day-to-day activities. However, the negative emotions are dominated by people feeling unappreciated alongside feelings of stress and irritation which presents leaders and HR teams with challenges.
The reasons behind employees feeling negatively towards their workplace and culture were targeted towards feeling unheard and unsupported. Some people felt uncertainty towards the future, and this had a negative effect on team morale, as they weren't feeling heard. Other comments included feeling burnt out and having a poor personal wellbeing structure.
Going above and beyond
We found that people wanted to give their best and go above and beyond in their role, but that they were not being given the same level of commitment in return. Employees in the transport sector are the least likely, compared with all other sectors, to feel that they are recognised for their contribution. While pay and lack of care feed into feelings of unappreciation, the lack of praise and the absence of a simple,' thank you,' were left to be desired. A transport employee said that, 'they never get a thanks from the top management,' and another said that their company, 'doesn't value it's employees, (and unfortunately) as a result the employees don't value the company in reverse.' The employees also expressed how, 'it is demoralising to hear colleagues with concerns being ignored,' and so 'morale is rock bottom' as they feel, 'no one cares about the employees, we're understaffed and over worked and not appreciated for what we do.'
How to improve the negativity within rail and transport
Leaders must act to deal with the impact that the current situation is having on their people, or it will only get worse.
They must demonstrate that its people are its greatest asset and therefore looking after and appreciating people is a business priority. They can demonstrate this by dealing with the negative comments above by actively listening to what the employees are saying. Giving full attention, striving to listen, 'to hear and understand,' rather than 'listening to respond'. Allowing questions can help find that mutual understanding to help people feel valued and heard.
Giving genuine praise could help those who feel that they aren't valued within the organisation. Creating a simple habit of saying thank you into the daily practice of line managers shows that all their efforts are appreciated.
Providing regular feedback and positive reinforcement to any concerns also shows that their comments aren't just ignored, and could improve team morale and a new sense of feeling, 'cared for."
Inpulse – the next steps
Inpulse works across a wide range of industries from transport and rail, construction and manufacturing, to food, health and travel. Let us demonstrate how you can discover the power of Emotional Analytics in your team and company. If you're interested in partnering with Inpulse today to revolutionise your approach to engagement in 2023, have a chat with Lucie, she's really friendly and would love to get you booked in here!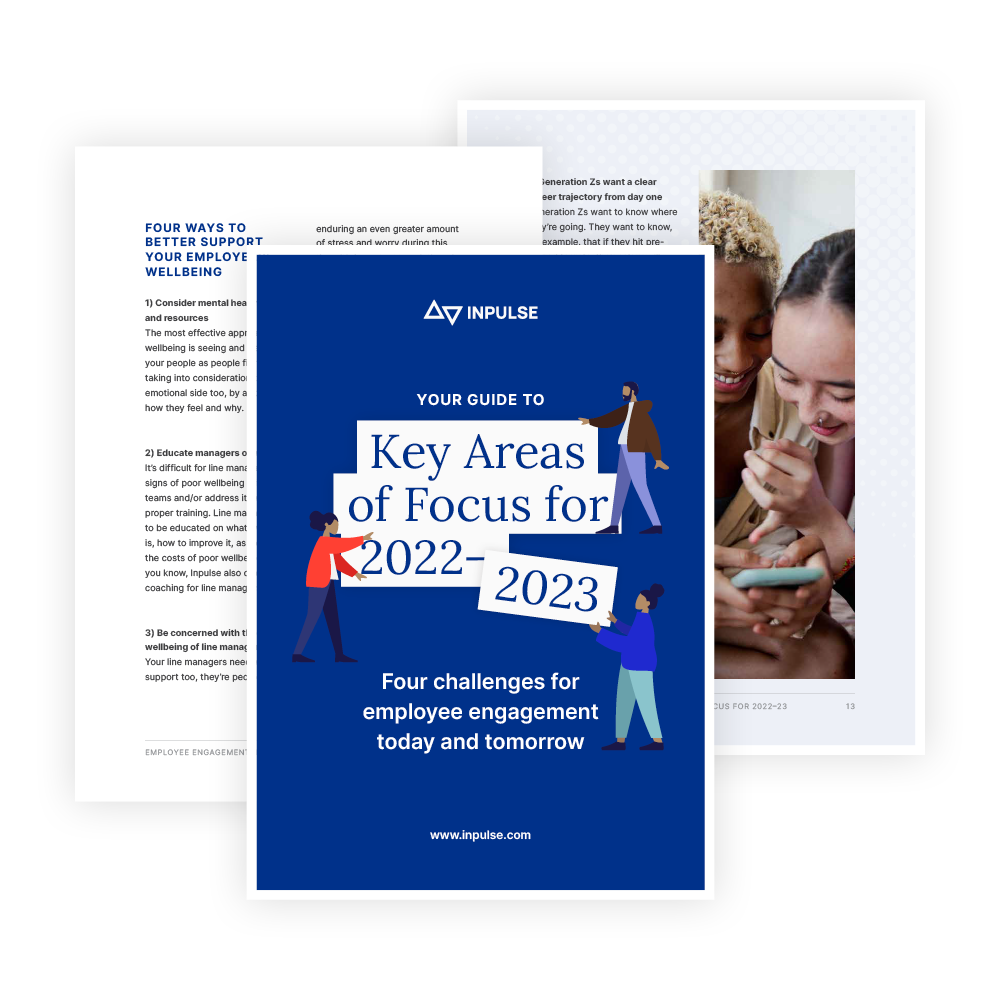 Discover Four Key Areas of Focus for Engagement in 2022–23