4 Extraordinary Ideas for Celebrating Women's Day in the Virtual Workplace
Today, 8th March 2021, is International Women's Day. It's a day to not only celebrate women's rights and achievements, but it serves as a reminder to continue to advocate for gender equality around the world. 
Women's day was established to commemorate the economic, social and political achievements of women throughout history, and the fight for equal rights. 
For many organisation's, Women's day may be a day like any other, in other words, the day holds no real significance and is therefore not celebrated. But in the last few years as the topic of diversity and inclusion (in gender and race) became one of the most, if not the most important movement of our time, more and more organisation's are becoming attuned to the importance of celebrating such a day. Not only because their people would appreciate it, but because they're dedicated to being part of the change. These are organisation's that don't just talk diversity and inclusion, but live it. 
Here are 4 Extraordinary Ideas for Celebrating Women's Day in the Virtual Workplace
1. Take part in the #choosetochallenge social media campaign
This year's official International Women's Day theme (2021) is #ChooseToChallenge. It's a campaign to raise awareness against bias, fighting for gender equality and celebrating women's achievements. Choose to Challenge is a social media campaign that anyone can be a part of by sharing a photo of yourself or your team raising your hands with the caption #ChooseToChallenge and #IWD2021. This is a great way to take a public stance and demonstrate your values as a company. 
2. Involve your male employees 
Because it's Women's day, organisation's may be inclined to involve only their female employees in the celebrations. But organisation's may want to go beyond that and see this as not just a day of celebration, because while women have achieved a great deal and overcome incredible obstacles throughout history, truthfully, there's still a long way to go for gender equality. Let this be a day that opens the floor for discussion and drives change. For that to happen, everyone needs to be involved. For example, share what Women's day means with your male employees too, and have them see how they can be part of the change. 
According to a Harvard Business Review article, when men are engaged in gender inclusion programs, 96% of organizations see progress, compared to 30% of organizations where men are not engaged.
3. Review your company policies to support female employees
You could not give your female workforce a greater gift, nor demonstrate more sincerely your stance on diversity and inclusion than by reviewing your workplace policies and altering them to better support your female staff. 
If you're going beyond the celebration of Women's Day, and are instead expressing your support for gender equality, then it's imperative that you take action and live by your words. Do your company policies reflect your values? 
Here are some points to consider:
Are the women in your organisation receiving fair and equitable pay? 

Have you considered investing in programs to advance women in leadership roles?

Is there mentorship or coaching opportunities for women?

Do you have diversity and inclusion training for current and new recruits? 
4. Encourage your people to join a Women's Day virtual event
If you want to get your people feeling inspired by Women's Day and what it means, (and by your people, we mean men too), encourage your team to join one of the incredible free virtual events below. Here, women will share their stories, experiences and knowledge and therefore demonstrate the power of women in both the workplace and society.
Employers Network for Equality and Inclusion Webinar hosted by ENEI: Hear from the experts about challenging gender bias, discrimination and stereotypes in the workplace. How to raise awareness of Women's challenges in the workplace and how to work towards equal and inclusive workplaces
She-EO's Virtual 2021 Summit: Hear from the extraordinary women working what's next for the economy, education, food security, housing and more. 
Women in Tech's Tech(Know) Day: This online conference will showcase women in tech (cis, trans, non-binary) and their craft, as well as career, personal development, business and strategy insight.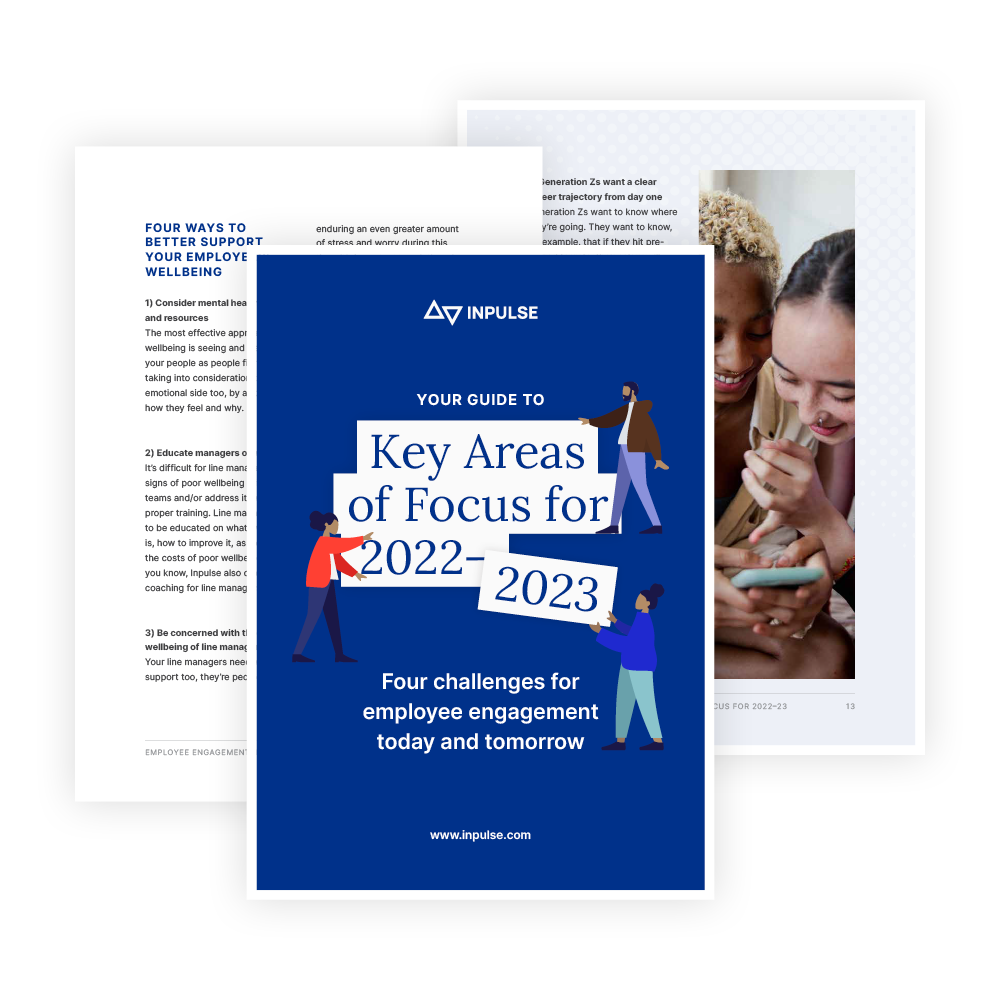 Discover Four Key Areas of Focus for Engagement in 2022–23