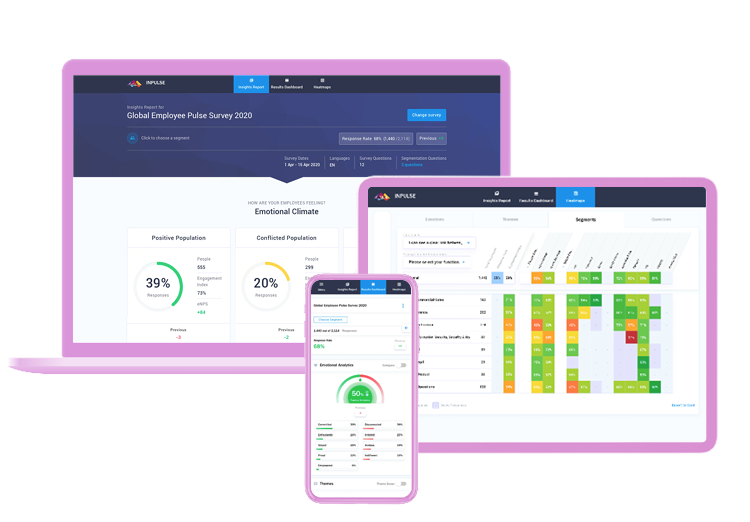 Increase Your Engagement
With Emotion Driven Employee Surveys
Discover why Inpulse is the most flexible employee engagement survey software for real-time insights that improve employee engagement and increases the performance of your company.
Emotion
driven insights that transform companies
Create World-class Surveys For Employees
The Inpulse employee engagement software is disrupting the way HR teams listen to their people. Inpulse surveys go beyond traditional HR analytics, giving you clearer insights into how your people are feeling and why with a variety of survey options including pulse surveys and employee satisfaction surveys. With 'best in class' dashboards and the most effective listening strategy, your company can then take the best action to improve your peoples performance.
Measure what matters
With Inpulse you measure how people feel and why, choose the right Engagement Index for your company and can continue to use historical questions that will give you comparative data.
Easy to use
The Inpulse platform is the most user-friendly and fastest to set up with no coding experience needed! With different levels of users, you can manage how people use the system in a stress-free way.
Real-time dashboards
With real-time results for all surveys we make sure everyone has access to the insights instantly so you can focus on taking action, having an immediate conversation and improving the employee experience.
Powerful People Analytics
With Inpulse you can use the fast and powerful features to get to the heart of your people analytics. Using our employee engagement surveys, find out which employees and teams are having the most impact and help your people perform at their best.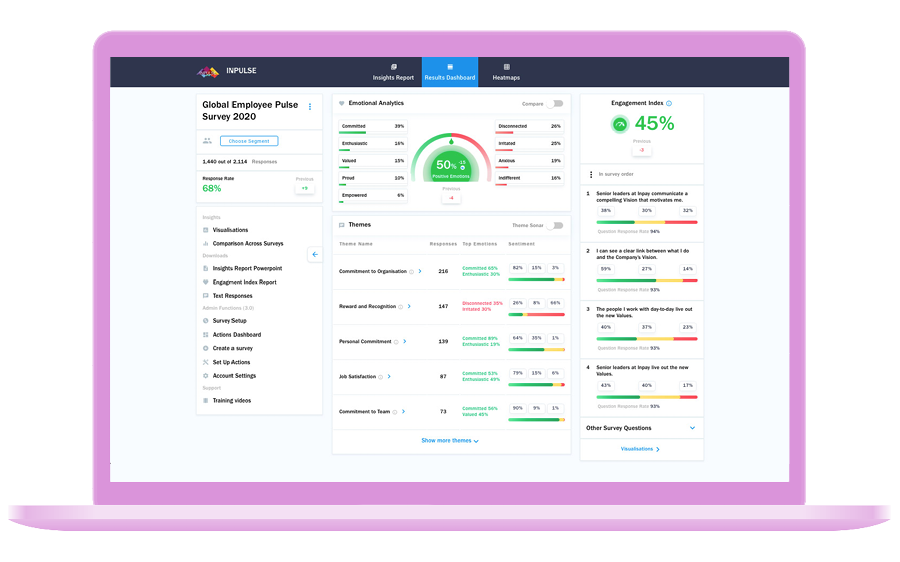 Inpulse has helped us move to continuous listening and ongoing conversations and we have developed a good partnership with their team, finding them responsive and supportive throughout the survey process.
We love the dynamic reporting of Inpulse software – it's an effective, creative and user-friendly way for us to understand what's going on as a prelude to having deeper conversations with our people."
"The Inpulse software has been 'bloody brilliant' for employee engagement – I highly recommend them not just for their platform but their partnership approach too."
Creating your survey
Get the right type of survey
We provide a flexible customized approach to engagement surveys for your company, that takes into consideration your previous experience, business strategy, company purpose, vision and values and from that create a bespoke survey & measurements. Whether it's for creating your employee survey questions for your engagement survey, change management, needing employee satisfaction surveys, brand survey questions for employees, employee engagement analytics, culture survey or more – Inpulse is here to help
Bespoke and flexible
We'll help you create each survey according to your business strategy, experience, company purpose, vision and values.
Create unlimited surveys
However many surveys your company needs, the Inpulse software allows for an unlimited amount of surveys to be created and used.
Better questions that give better results
Creating employee survey questions and engagement surveys can sometimes feel quite quite daunting – that's why your dedicated employee engagement expert is ready to help you in creating the best surveys that will give the clearest insights for your company.

Emotional analytics
Understanding your employee engagement data analytics
We believe that your people's emotional state strongly influences what they do and how they respond to situations. How employee's feel and why, drives engagement and and also provokes disengagement. We've proved that not only is there a direct correlation between how people feel and their engagement level but even more importantly their is a direct causal link, so that focusing on helping employees experience more positive emotional connections, causes engagement to increase for your company.
Emotion focused dashboard
Our emotional analytics dashboard clearly show you which emotions are driving engagement, where and why – so you can focus on improving how they feel and why instantly.
Emotions in the survey
At the heart of Inpulse employee surveys are two unique and key questions that provide emotional insights.
1. How do you feel?
2. Why do you feel this way?
Increase employee health & wellbeing
The Inpulse platform allows you to actively engage in understanding whats driving your employees emotional wellbeing and work to address the issues.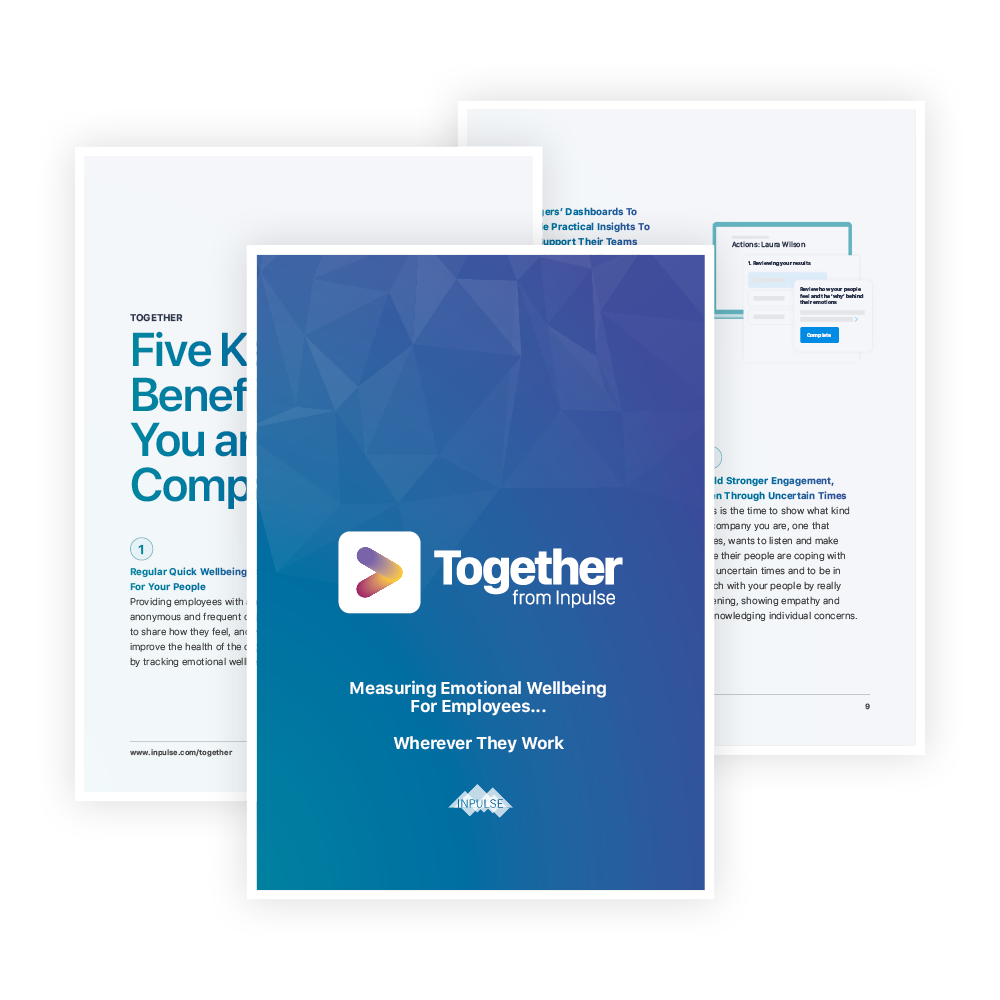 Free Guide: Measuring Emotional Wellbeing for Employees
Discover the wellbeing framework – the seven areas critical to improved engagement and wellbeing and uncover the science behind measuring engagement and wellbeing.
Learn to extract the most valuable data about your people, for the purpose of reducing absenteeism, remedying workplace culture and enhancing customer satisfaction.


Award-Winning Platform


Winner of the Employee Engagement Award
'As we move into an AI-driven world, never have human-to-human connections been more important. Inpulse is a rare example of an organisation that puts your people's emotions at the heart of its approach to enable them to engage, thrive and perform at their best.'
360° analysis with our experts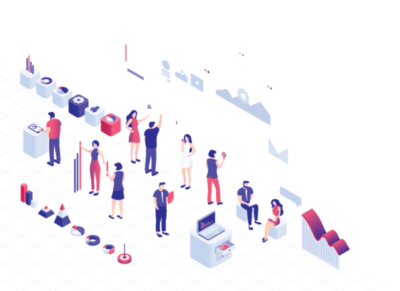 We'll analyse your data with you
More than just employee survey consultants, your dedicated customer success coach will help you interpret your employee performance analytics and data from the surveys, allowing you to discover the best insights so you can take the right action.
Give you an unbiased perspective
Drawing from our experience across multiple sectors, our experts can help you spot trends and patterns in your company from an informed vantage-point.
Create insight reports for decision-makers
We'll create a full insight report for each survey, perfect for management or execs. Your customer success coach can also help you present your findings to your key decision-makers to provide a powerful exec presentation.
Full technical support from our team
We have a team of technical support working every day to help with any assistance you might need.