10 Ideas for an Effective Company Wellness Program
Company wellness programs are nothing new, but they are sometimes fairly limited in scope. Employers might remove vending machines from offices and provide only healthy snacks, or offer support and incentives to help employees to stop smoking, for example. But there is a danger that these kinds of initiatives become more of a box-ticking exercise than a comprehensive, companywide wellness program that actually helps to shape the culture of the organisation.
In putting together an effective and holistic company wellness program, employers must be prepared to take responsibility for:
Normalising conversations around mental and emotional wellbeing, as well as physical health, and making this a companywide priority.
Encouraging a healthy lifestyle, and a good work/life balance for employees.
Facilitating this balance by taking practical steps to make mental and physical health a priority in the workplace.
Incentivising employees to make lifestyle changes and to invest in their mental wellbeing, with professional achievements and progression being just one part of that.
Your program might include anything from encouraging regular breaks and flexible working to partnering with a third-party for wellness sessions or volunteer days. But it's important that your wellness program doesn't become yet another thing for employees to feel stressed about! It should be optional, relaxed, accessible, and positive. Initiatives should be integrated into your working rhythm and culture, not a one-off token gesture or a lot of "extra-curricular" time commitments.
The great news is that an impactful wellness program will bear fruit across your whole organisation – a healthy workforce is more engaged, motivated, and productive.
Aims & Outcomes
Whether you already have a wellness program in place that needs a bit of a makeover, or you're developing one from scratch, it can be hard to know where to start. Your focus should be on introducing initiatives that help to encourage healthy habits – physically, emotionally, and mentally.
It should demonstrate to your employees that you are concerned with nurturing both their personal and professional development, and encouraging their skills, talents, and interests beyond the day job.
The program should help to relieve stress, and should encourage employees to tend to all areas of their wellbeing, as they are all interconnected.
It should help to foster connection and community, contributing to a healthy and positive company culture.
This, in turn, will make you an attractive employer to potential hires, so that you're able to recruit the best talent and hold onto them.
Ultimately, a healthy and focused workforce will be more present and proactive, more motivated and productive, and more collaborative and creative.
10 Ideas For Your Company Wellness Program
Encourage breaks and flexible working
Support your employees to maintain a healthy work/life balance by encouraging regular breaks as a priority for all, and promoting flexible working options.
Small changes for healthy eating at work
A few small and sustainable changes around the office can help to support your employees to look after themselves while at work, and demonstrate that this is a priority for you as an employer. This might be as simple as providing free healthy snacks, and more water dispensers.
Take your meetings outside and get some fresh air and light exercise, while talking shop at the same time. It might even give your employees a whole new perspective on the matter at hand!
Health and fitness challenges
For those employees who love to get competitive, set some weekly or monthly challenges to encourage healthy lifestyle changes and fitness goals. From daily walking to serious cycling – it all adds up.
Gym memberships or wellness subscriptions
Include health and wellness in your employee benefits. This could be membership of a local gym, a course of yoga or Pilates classes, or a subscription to a mindfulness app, for example.
You could partner with a professional or organisation to run sessions or workshops with your employees – a yoga practitioner, a nutritionist, or a wellness expert, for example.
Schedule regular opportunities for your employees to share their hobbies, interests and skills – whatever these may be! This helps them to feel seen and appreciated as more than just a member of your workforce, encourages learning and personal development, and helps to cultivate connection and collaboration.
Recognise and celebrate achievements
You can do this in many different and creative ways, but however you go about it, it's important to celebrate your employees' accomplishments – both in and out of work. This helps your people to feel valued, encouraged, and motivated.
Accessible mental health support
Make sure that your employees are aware that specific mental health support is available, and that they know how to access it. This helps to remove any stigma around asking for help.
You could organise team days to volunteer for a local cause or organisation, giving your employees the opportunity to feel the value of helping others and giving back. This also encourages team bonding and relationship-building, outside of the day to day work environment.
Leading By Example
However your program shapes up, the most important key to encouraging your people to engage with it is for senior leadership and managers to set the tone and lead by example. This removes any stigma around mental health at work, and gives your people "permission" to make this a priority.
There is also great potential for getting your employees involved in shaping the program from the start. People will be much more engaged if they have some ownership over it. Why not start with a survey and take it from there?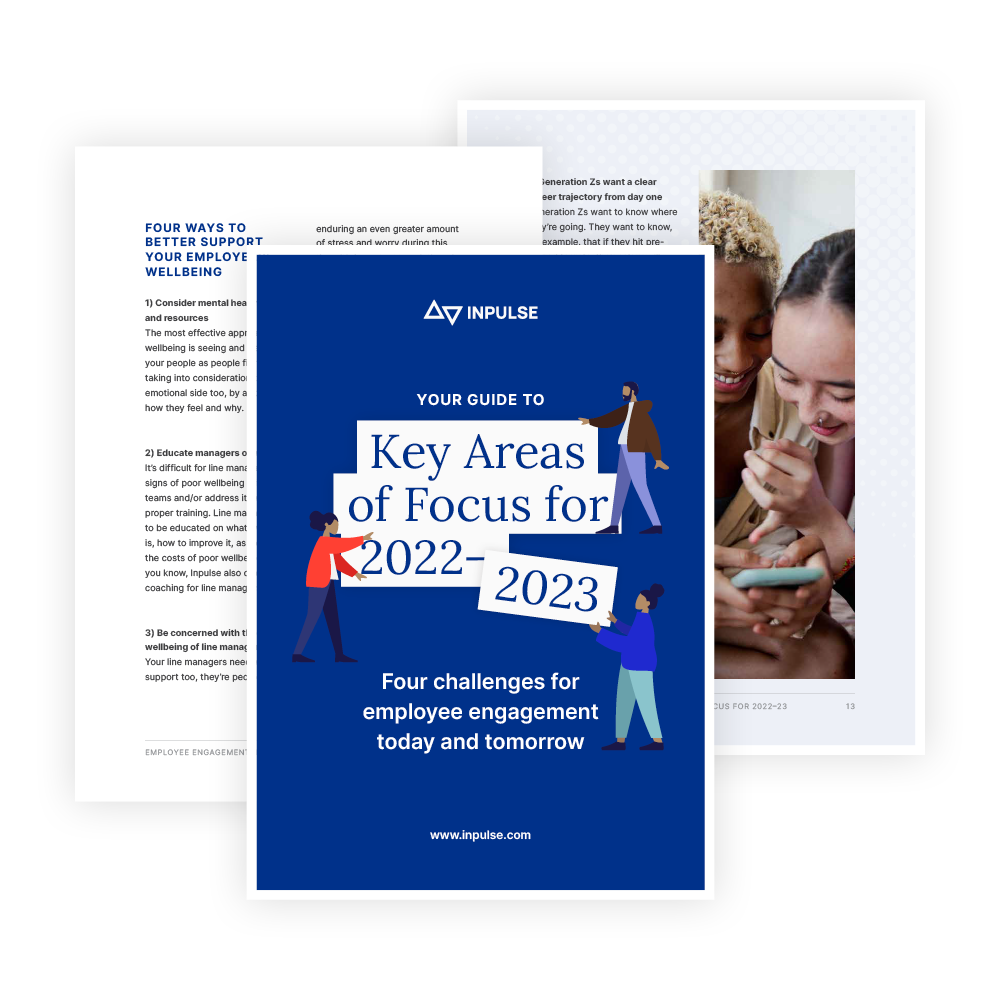 Discover Four Key Areas of Focus for Engagement in 2022–23